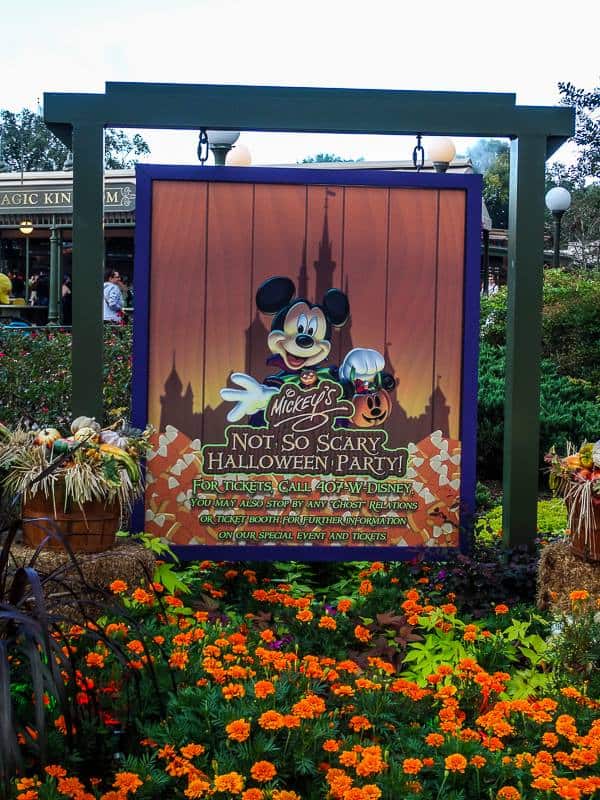 Hello friends!!!
I hope you're having a magical weekend so far. I'm still very much pregnant with Baby Girl, just playing the waiting game now….because I love the waiting game…..*note sarcasm* Anyways, with Fall right around the corner, I think it's only fitting to discuss what's going on in the Wonderful World of Walt Disney World! If you and your family has not experienced Mickey's Not-So-Scary Halloween Party, then you are missing out on such a fun time.
This is a special ticket event, meaning it requires a separate ticket from your regular day ticket. So it will cost you extra, also the ticket price changes depending on the evening and how close it is to Halloween. So basically anywhere from $72 to $105 USD for adult tickets. Kids ages 3-9 are cheaper, as well if you are a Disney Vacation Club Member or an Annual passholder you could save some money during some nights.
This year this event is taking place on select nights between September 2nd and October 31st 2016 at the Magic Kingdom park. This event only sells a certain number of tickets so crowds are a bit controlled….I recommend if you are heading to the party, try to go earlier in the season because the closer to Halloween you get, the busier the parks get and more expensive the tickets get.
So what's the big deal with this party anyways? Is it worth it?
I think it's definitely a party you and your family should do at least once. Magic Kingdom Park closes to outside guests by 7pm, so officially the party starts at 7pm and ends at 12am, however, I have seen guests enter the parks as early as 4pm for the party, so you could totally made the price of your ticket stretch.
Our Favourite Part of Attending the Party
Costumes!!! Chris and I love being able to dress up for Halloween, oh trick or treating. Yup you read that right. You can dress up and trick or treat throughout the park! For those of us who are just big kids at heart, this is a dream come true. Here are two some of the costumes we have worn during the events:


I believe that if you're spending the money for this event, then you might as well take full advantage of everything it has to offer. Plus who doesn't like to dress up in costume! You'll actually see that most guests do dress up for the event, whether it's in full blown costume or in halloween inspired gear.
Entertaining Boo to You parade (held twice during the evening)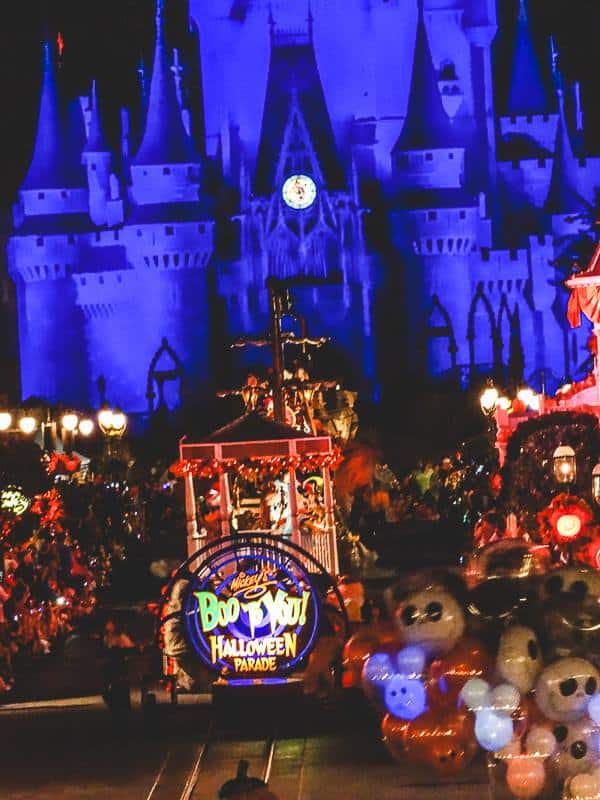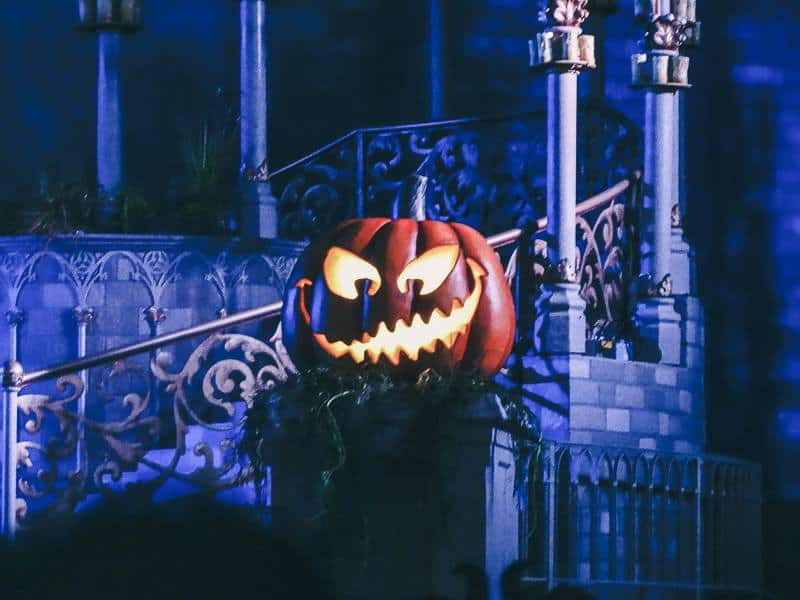 This parade is by far my favourite parade at Walt Disney World…yes it even beats the Christmas parade in my opinion. It's the headless horseman. I love that part, so much so I always forget to set up my camera to catch a good photo of him. If you are going to watch the parade, I recommend that you wait for the second parade time. The parade runs at 8:30pm and 11:15pm. Many parents with small children will be watching the first parade, and if you are all about shorter lineups for characters or rides 8:30pm would be the time to take advantage of that.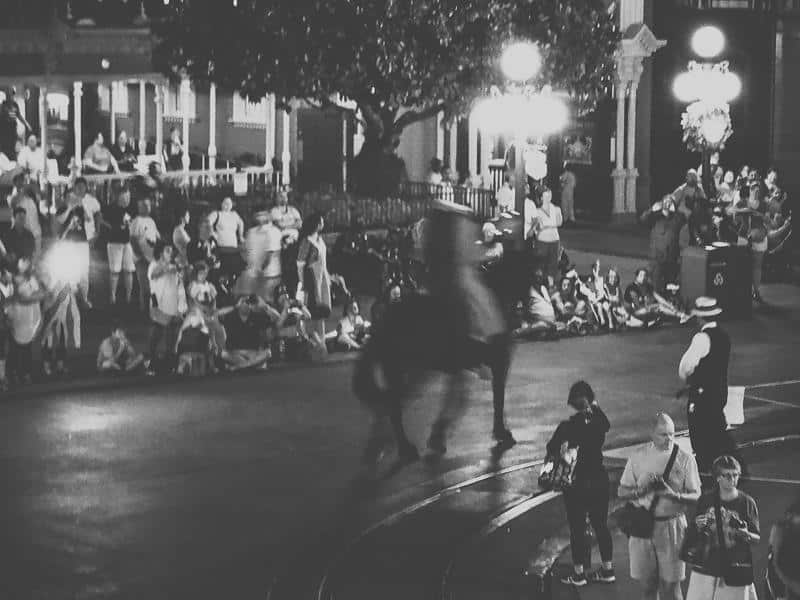 Trick or Treating
The next best thing about the Halloween Party is the fact that whether you are a child or a child at heart, everyone can travel around the Magic Kingdom trick or treating. In recent years, Disney World has even taken to offering those with food allergies options when it comes to trick or treating, which I think is absolutely amazing. When you enter the park, ask the Cast Members handing out the treat bags for a teal bag. Then when you get to each trick or treat station, the cast members there will notice your teal bag and hand you a token. You then take those tokens to the Allergy Free Stations and receive your treats. Awesome, right?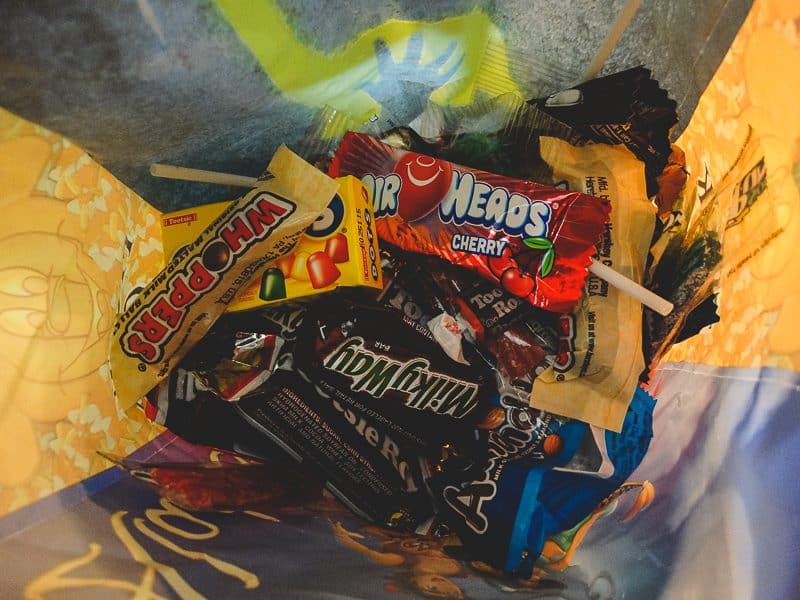 Chris and I personally love the trick or treating. Who doesn't like getting a bag full of treats to snack on. It especially comes in handy on the plane ride back home.
HalloWishes Fireworks Show
The next show that I especially love watching is the HalloWishes Fireworks show. Personally, I'm a sucker for any of Disney's fireworks shows. My favourite being the Holiday Edition of Illuminations in Epcot. But the HalloWishes show is also pretty awesome. Disney definitely knows how to throw together a fireworks display.  If you are interested in watching the fireworks show, make sure you get yourself to a great viewing spot early….Chris and I usually miss out on the great spots because we love walking around and hitting up some rides that might be super busy during regular hours or meeting characters that are only available during the party.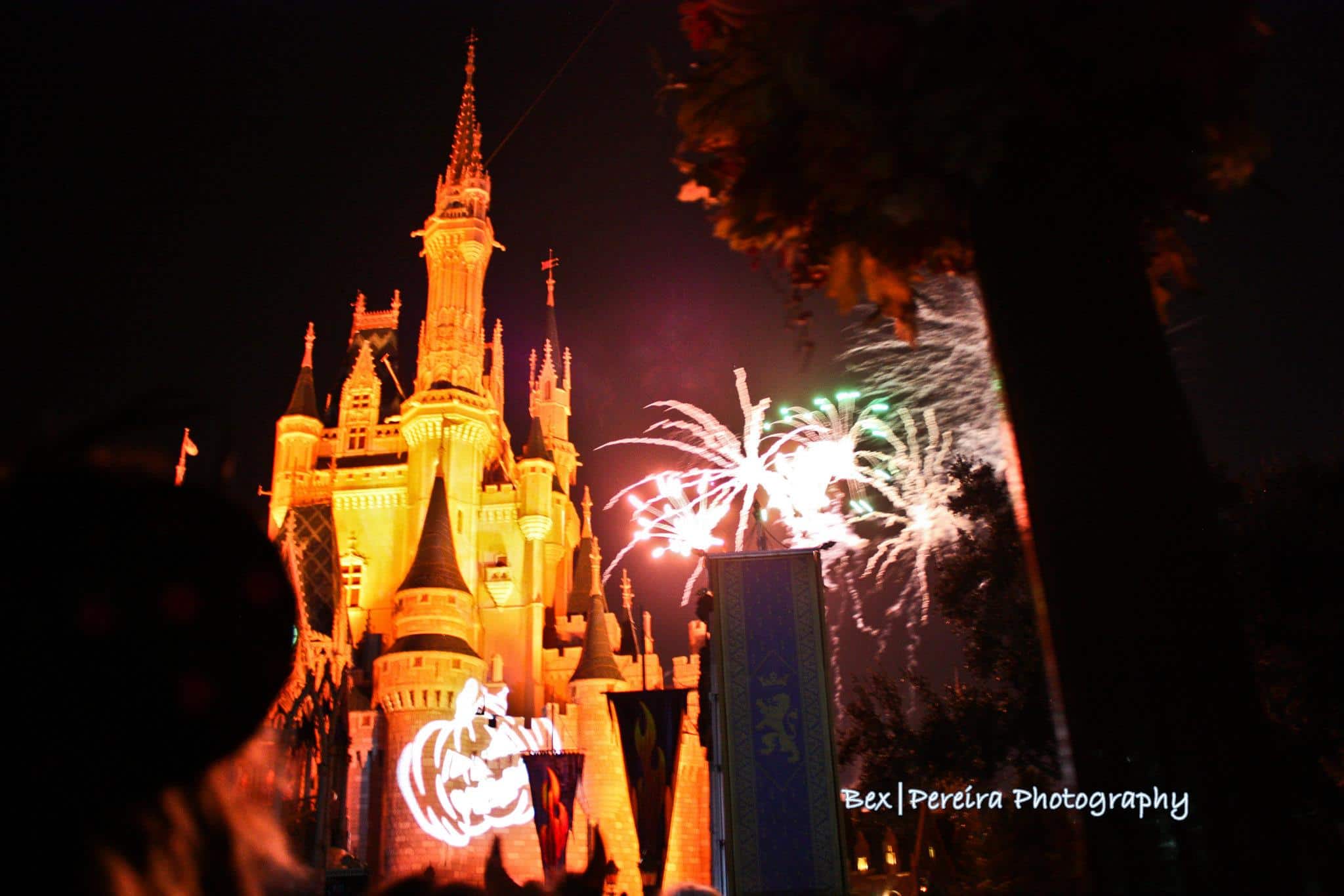 Hocus Pocus Villain Spelltacular Show
Another amazing part of the party, especially in the last two years, has been the Hocus Pocus Villain show. If you love the corniness that is Hocus Pocus, then you are love this show. You can catch it three times during the evening, 9:15pm, 10:40pm and 12:00am. I recommend. It is wonderful to watch. The last time Chris and I watched it, we stayed after the last parade time and managed to get a great spot in front of the castle for the 12am show. Like I said, the show is pretty corny….but what Disney show isn't, but it is wonderful and will "put a spell on you"….okay I had to…sorry….moving on….
Scream-o-Ween Dance Party in Tomorrowland
If you want to dance the night away, head over the Tomorrowland and dance it up with the Monsters from Monsters Inc. It's a fun time, or so I have seen. Chris and I usually skip this but we d0 boogie our way past it…it's hard not to when you hear the music and watch such cute kiddies dancing away with their families. Perhaps when Wendy is older, we will partake in the dance party. We'll see if it's something Wendy would enjoy.
Snacks
If you've been to Walt Disney World before, you know that Disney knows how to do themed snacks. The walk down Main Street USA usually has Chris and I stopping to buy a sweet treat or two….and now with a Starbucks we grab a treat and a coffee to enjoy. During the Party, the treat expectation is no different. Disney always have fall treats to make your mouth water.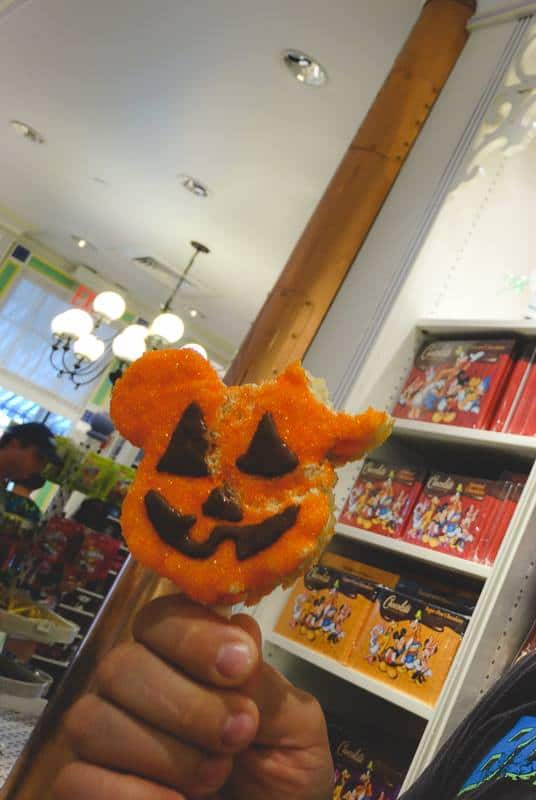 Characters, Characters, Characters!!!
If you want to take photos with some limited timed characters, like the 7 dwarves or the ghosts from the Haunted Mansion, during the party would be the time to do so. Many of these characters are only available during the party. Just keep in mind that the line-ups are generally pretty long to take your photo with them, but I personally enjoy a good photo with characters, Chris not so much. He would skip it entirely….maybe with Wendy he'll feel a bit differently about it. Regardless, he's still a great sport about it when I want to have our photo taken.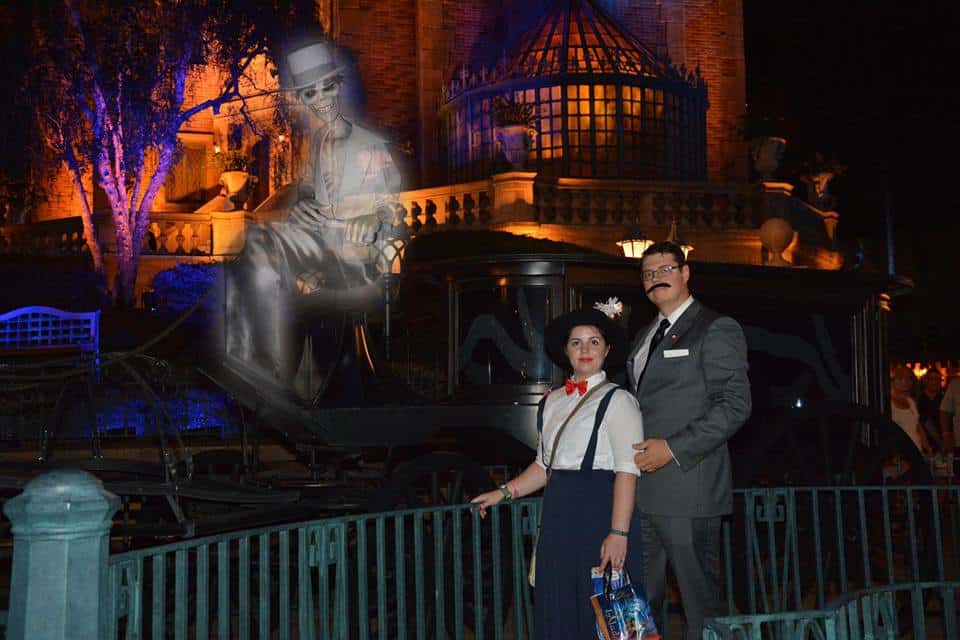 Exclusive Merchandise
If you're a pin collector like I am or you love a good tee, the party does sell exclusive merchandise. You'll be able to find this stuff at four locations throughout the park: The Emporium, Mickey's Star Traders, Box Office Gifts, and Big Top Souvenirs. Don't forget if you are Passholder to bring your card along and you'll generally get a discount on some items. I know it's saved me a ton of money.
So go ahead and grab your tickets and head on over to Mickey's Not-So-Scary Halloween Party. Wear your best costume, grab your trick or treat bag and eat a treat or two. I promise you won't regret it!
What do you love about Mickey's Not-So-Scary Halloween Party?