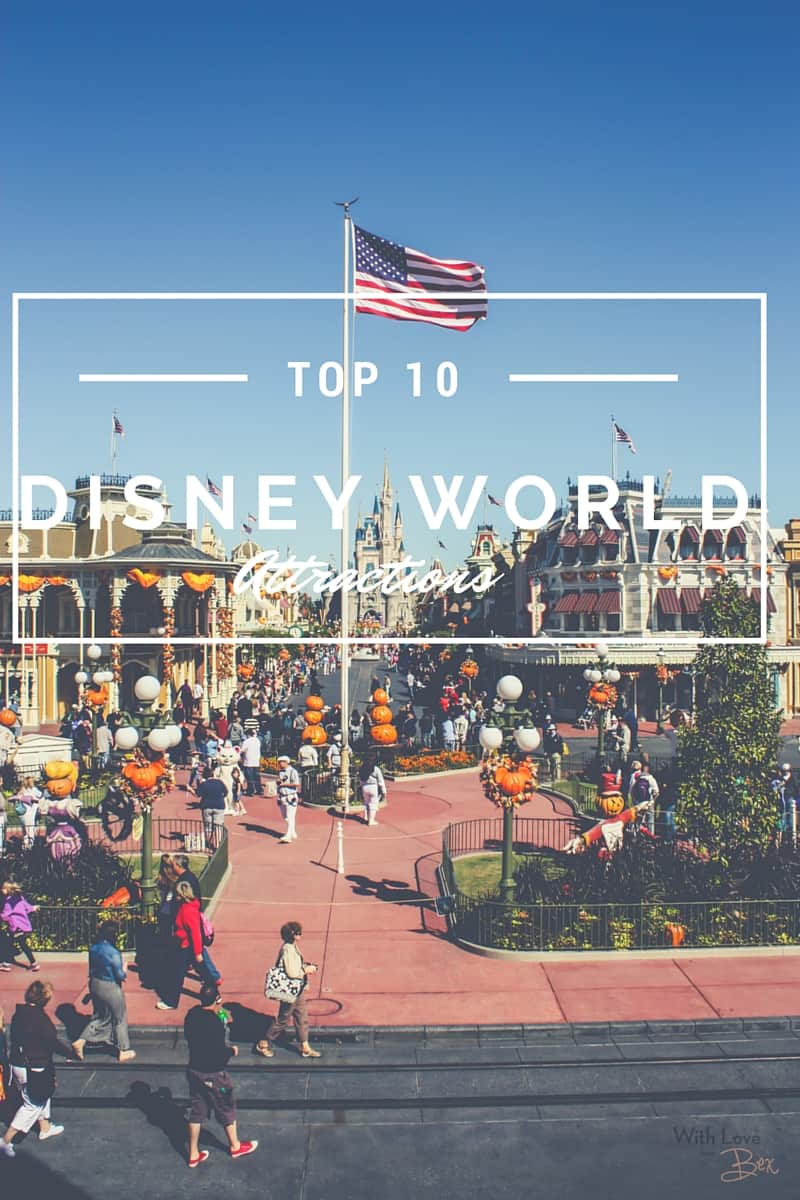 Hello Friends! Happy September!
I hope you're having a terrific Tuesday! I'm currently craving some Disney time right now, although Chris and I will be heading to The World in 27 days (!!!) so I will definitely get my Disney kick then. In the meantime, let's talk attractions!! One of the women that I work with had asked me what my favourite Disney World attractions were the other day and I was actually kinda stumped. Guys, I really had to think about that and even after I gave her my answer, I had to rethink it later when I got home.
I am such a child at heart and I have a feeling that it'll shine through my list of my Top 10 Favourite Attractions at Walt Disney World. I should probably state that this is strictly my Top 10, not Chris'. He has a completely different Top 10 favourite attractions….maybe I'll blog about that in the future…or he will. *Note to Chris <– I've put it out on the internet, so it's official you are going to have to write a blog post! *
Okay, here goes.
#10 – Journey Into Imagination with Figment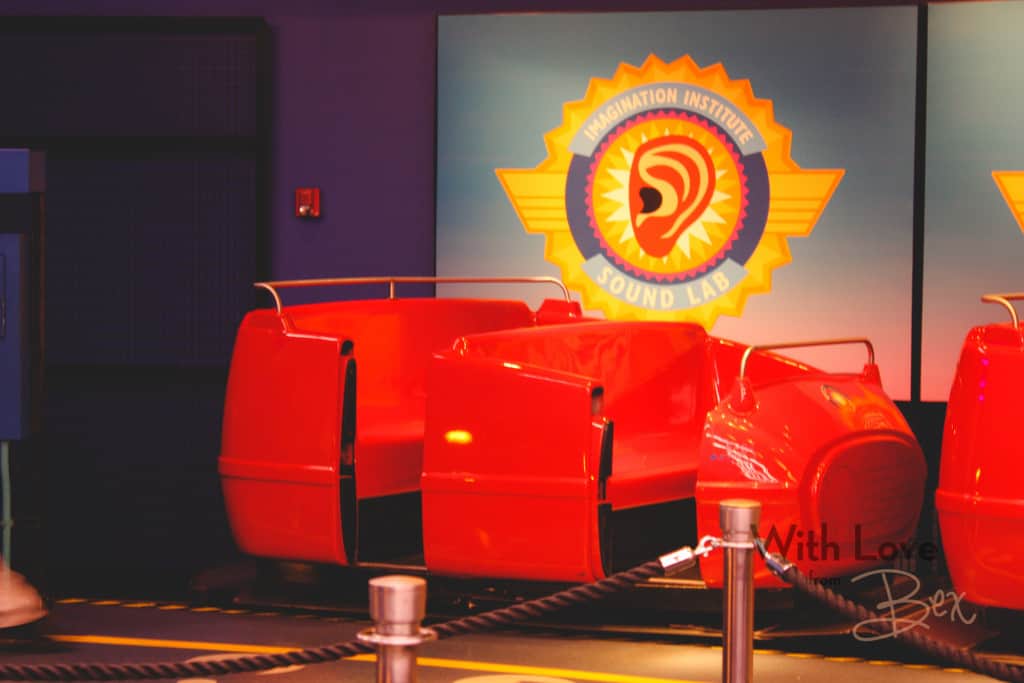 I had never heard of Figment before my first trip to Disney World back in 1999, but once we were acquainted we became best friends. I love Figment. I mean he's cute, funny, and a little shit…kinda like me. Anyways, Journey Into Imagination made the list because I absolutely love the song, it's so catchy, I love how colourful the ride is, and it's a ride for those of us who have SQUIRREL! syndrome. I recommend you check it out and don't forget to play in the play area after you exit the ride! Send yourself or your family or friends an e-card.
#9 – Spaceship Earth
Spaceship Earth made the list because I am a history nerd and it's a great ride whenever it starts to downpour, which is super common in Florida. It's relaxing and who doesn't love listening to Dame Judi Dench?! She rocks my socks, I was very upset when they [SPOILER ALERT] killed off her character in Skyfall. WHY! WHY! WHY! Anyways….I'm going to try and put that behind me…I recommend Spaceship Earth….I'm going to go grab a tea….
#8 – Expedition Everest – Legend of the Forbidden Mountain
GET ON THIS RIDE AND SCREAM! That's what I do. I have a love-hate relationship with thrill rides. I love them but I get super anxious before I even get in line. To be entirely honest, I even psych myself out a little before and sometimes it takes a little coaxing from Chris to get me on the ride. Crazy? right? But I do love Expedition Everest. The first time I rode, I went solo and ended up sitting beside a woman who only spoke Spanish. We couldn't understand each other's spoken languages but we did connect over the echo of our screams and laughs. It was actually one of the best times I had on a ride. We both laughed, smiled and screamed and it was awesome, so Expedition Everest has made it to my Top 10 list because it triggers a random amazing memory.
#7 – Kilimanjaro Safaris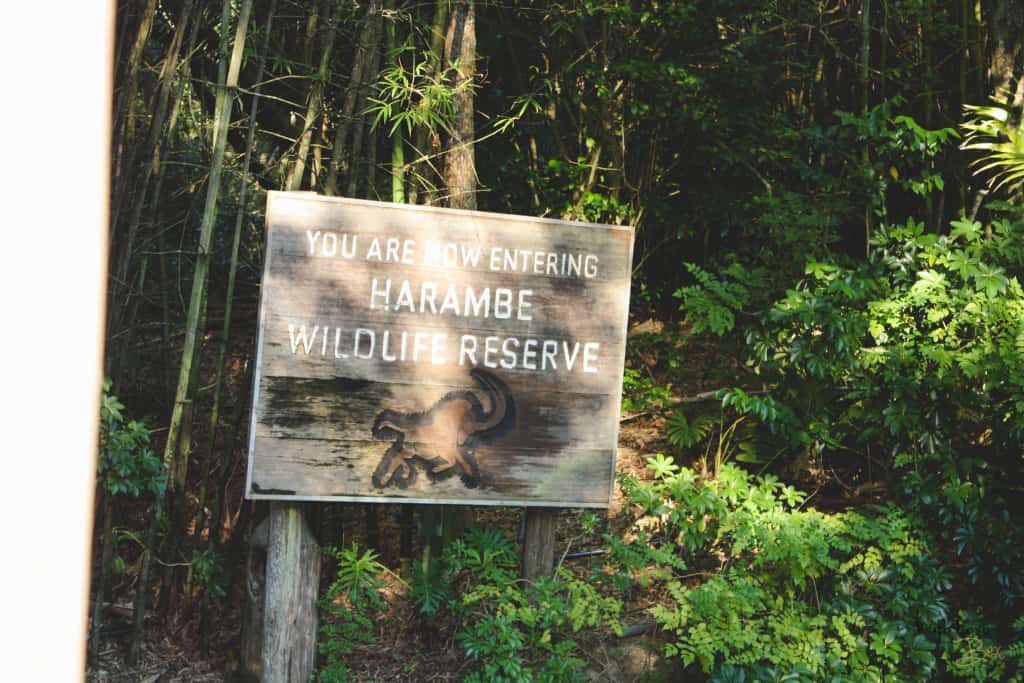 I LOVE animals! Like LOVE them, so it comes as no surprise that Kilimanjaro Safaris made the list. If you love animals and want to see them up close but safely i recommend hopping on this ride. I also recommend doing it right as the Animal Kingdom park opens as it does get busy and the line gets long….or you could made a fastpass reservation. Either way, I don't recommend riding this at about noon. I have always found that most of the animals find it very hot around that time and they tend to lazy it up in the shady areas or they are sleeping, so I have always tried to do this attraction first thing in the morning. Funny enough, I actually miss an aspect of the ride that they removed, i guess recently, or something. When I first rode it, it was back in 1999 and they use to tell riders that you were actually suppose to be on the lookout for poachers. I Loved that because I absolutely dislike poachers. No one needs ivory but an elephant and Nobody needs a white tiger skin rug. UGH! Anyways, I noticed many years ago that Disney actually removed that part of the storytelling on the ride. I guess it did kinda feel like a last minute add-on but I thought it was a great way to spread a message, especially with some future generationers (kids) onboard. Oh well, I still love the ride. I always see something new, I mean they are animals, they are just as random as people so chances are they are always doing something new. ALSO I am beyond excited that Disney announced at the D23 that they are expanding it!! More room for the animals!! YAY!!! So excited. So if you love animals, love getting up close, and don't want to worry about being eaten by a lion, I totally encourage you to get your butt on the Safaris ride!
#6 – Gran Fiesta Tour Starring The Three Caballeros
EPCOT is one of my very favourite places when I visit The World. You have fun, characters, science, history, and culture all in one location. What's not to love?! If I had to choose a world showcase pavilion to be my favourite, it would probably be Mexico. I think it's so romantic, so colourful, and has one of the most colourful and cartoony rides staring my man, Donald Duck. In case you have never been, when you walk into the Mexican pavilion, you enter an "outdoor" market. There's a restaurant, a glass maker, and a few places that look like vendors that you can purchase some pretty things from. Anyways, if you want to ride something that is relaxing and entertaining, I recommend the Gran Fiesta. It will have you smiling and swaying before you exit the ride…maybe if you are lucky and ask the Cast Member, you'll be able to stay on the ride and enjoy it again! I have done that….many times.
#5 – It's a Small World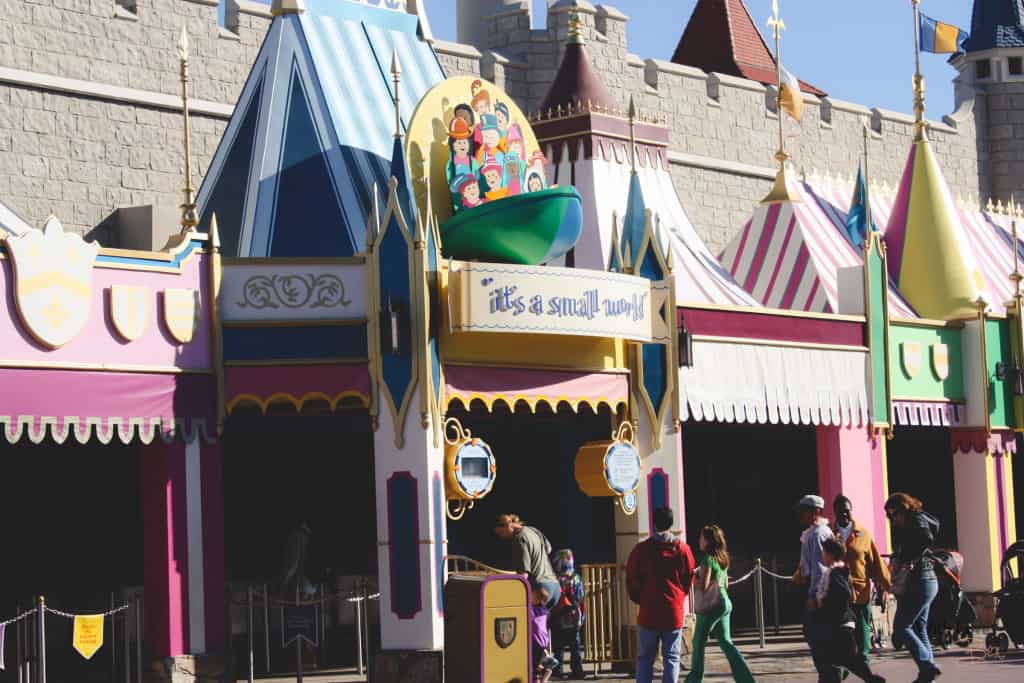 It's a Small World after all! It's a Small World after all!!…Okay I'll stop because I know you know the song. I think most people know that song. This is a 'classic, everyone must do' ride. I usually only do this attraction once or twice a trip because I don't want to bore Chris too much. It definitely isn't his favourite ride haha. But I love it and it screams DISNEY to me. I know it isn't everyone's cup of tea but I enjoy it. It's part of Disney history and speaks to the Era it was created. I would have loved to be an attendee at the 1964 World Fair. If you have never been to Disney World before, I'm going to have to say that you have to ride it. Keep an open mind, I know that most people roll their eyes before even getting on the ride, but you will probably enjoy yourself and if not, well you rode a classic.
#4 – Star Tours – The Adventure Continues
In a park, not so far away you will find one of the best rides EVER. If you're a Star Wars fan, like me, then this ride needs no introduction. ALSO can I just say that I am SUPER DUPER SUPER UUPER excited for the Star Wars Land expansion!!!!!!!!!!!!!!!!!!!!!!!!!!!!!!!!!!!! Yes I am excited. Star Tours is a 3D adventure ride. I don't recommend if you are prone to motion sickness, pregnant, or a Sith Lord. Although, Darth Vader is my hero…or anti-hero (I was surprised to find out that there is actually a HUGE debate as to whether D.V. is a villain or an anti-hero). Anyways, Star Tours is one of those rides that Chris and I can go on, over and over, and over, and over, and over. Oh, and Tatooine Traders, man I can spend my whole pay cheque at that store. I would actually venture to say that Star Tours is my family's ride. My brother, who is a HUGE Star Wars fan, loves this ride and basically anything related to Star Wars…minus the Holiday Special….He and I will probably be making a trip to next years D23 to hear more about Star Wars Land and perhaps a Disney World trip is our future, Kev???
#3 The Muppet Vision 3D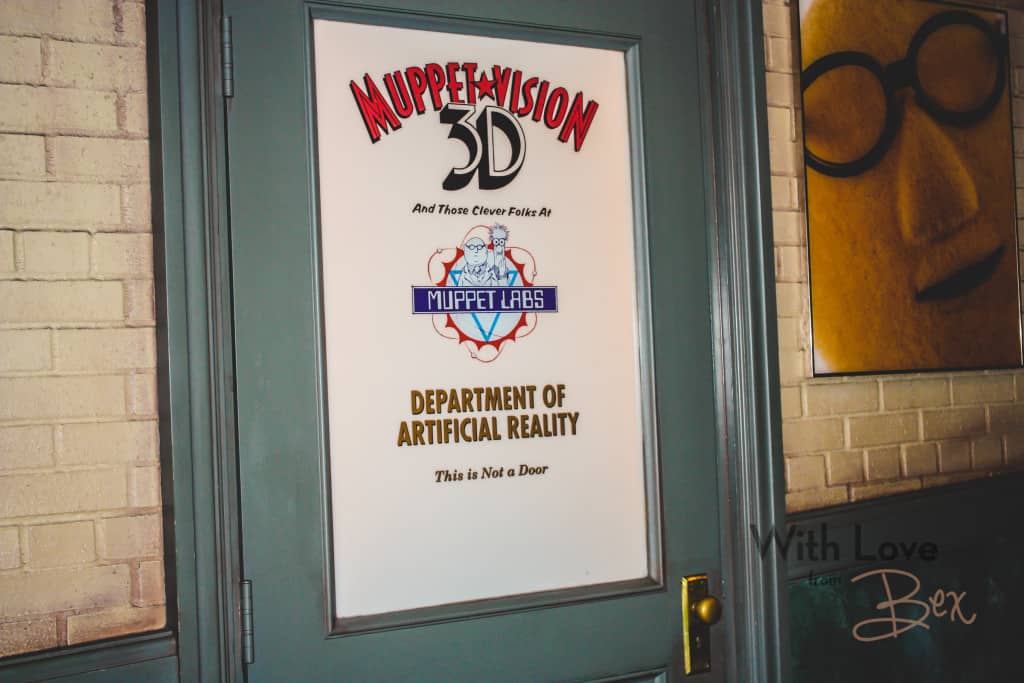 The Muppets! They rock. I really don't think I need to explain this one. I will cry if Disney World ever shuts this down…which I hear is a possibility…hopefully not.
#2 – Walt Disney's Carousel of Progress
This is another big classic in my opinion. I always enjoy it and I love the attraction song. It's a Great Big Beautiful Tomorrow! The only thing I would probably say is the most annoying part, is that it usually goes down, multiple times during the day. It's old, so I guess that makes sense. It is a must-see. I recommend, even if you only do it once. Like I said earlier, I'm a history geek, so an attraction that goes through decades and touches on a lot of the advances that we have made, definitely gets my attention. Plus, John and his family are kinda funny. Visit the attraction and you'll see what I mean.
#1 – Disney's Magical Express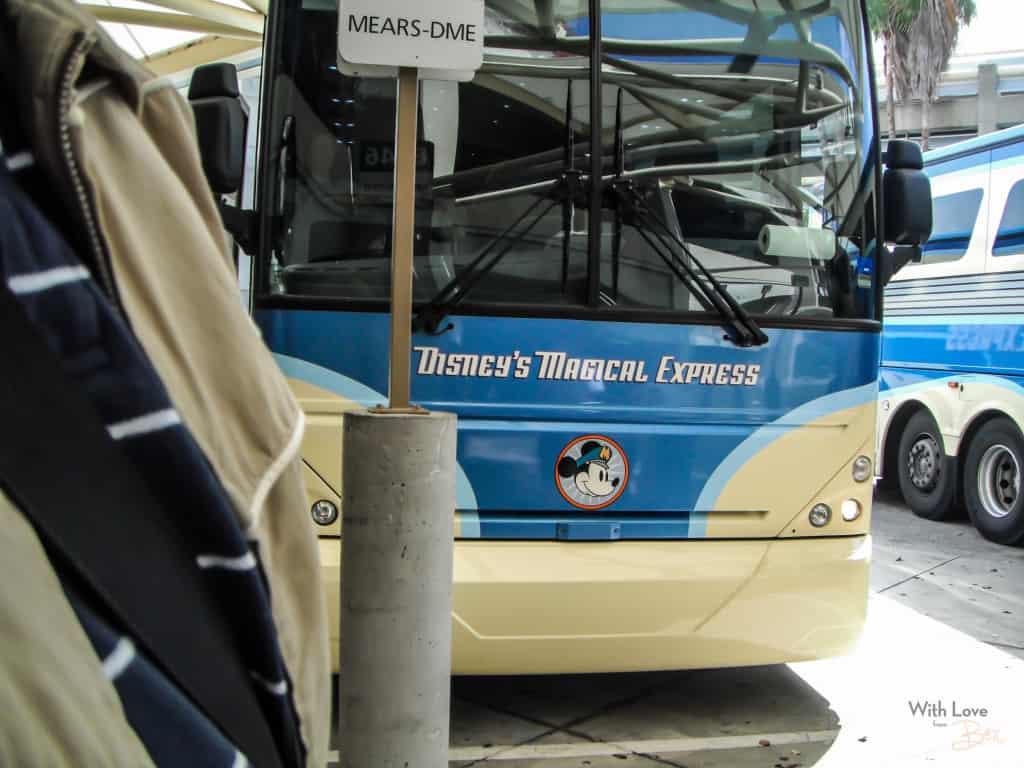 And Finally, my most favourite of favourite attractions, Disney's Magical Express. I consider this an attraction. I mean, you get off the plane and load onto a bus that takes you to the most magical place on earth. It is the bestest of feelings people! Surprisingly enough, it's also my least favourite Disney attraction, and I'm sure you could guess why. Yup you guessed it, you have to ride it at the end of your magical vacation/home away from home. *sad face* *shed tear* ….until next time *GRIN*
So there you have it, friends, my top 10 favourite attractions at Walt Disney World. I recommend that you hop on the Disney train and book your trip and check these attractions out! Come back and tell you what you think.
27 days until our next WDW vacation!!! Stay tune, we'll be youtubing our trip!
So what's on your Top 10 Favourite Attractions list?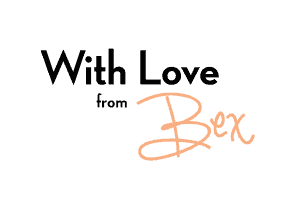 *disclaimer, this list is ever changing because I'm like that.