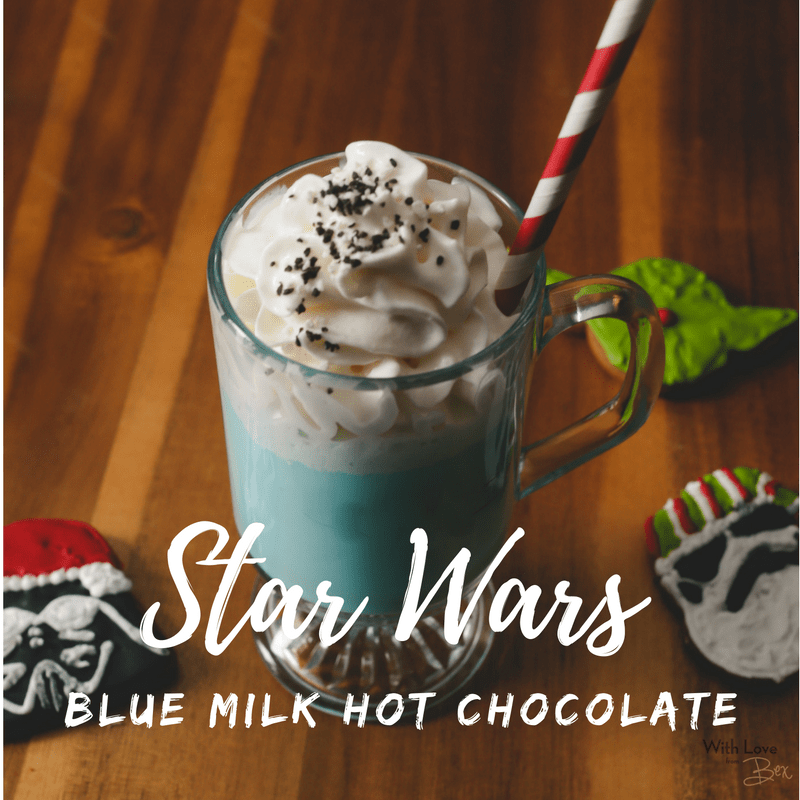 The Star Wars films are some of our favourite and go-to films for our quiet nights in. I mean, it has everything anyone could want: action, comedy, romance, cuteness (who doesn't love BB-8?). I really hope Wendy will grow up and appreciate these classic films, but she will not watch episode 1 until she is old enough to dislike Jar Jar….what an annoying character. Anyways, since it's bloody cold out and a new Star Wars film was released today, I figured I would share a Star Wars blue milk cocoa with you! It's Star Wars related, it tastes good, and it's warm for anyone out there experiencing the cold blues.

Star Wars Blue Milk Hot Chocolate
Author: Bex
Serves: 2 Cups or 1 Large Serving
Ingredients
2 cups of milk (I used Lactose free 2%)
¼ cups of white chocolate chips
½ tsp of peppermint extract
1 drop of blue food colouring
optional whipped cream & sprinkles for topping
Instructions
In a medium saucepan, heat the milk and white chocolate chips until the chips have melted.I heated the milk and chocolate on medium-low. I don't enjoy the filming coating once milk boils and you don't want to burn the chocolate either. So take it slow.
Once the chips have melted, stir in the extract and the food colouring.
Remove from stovetop, pour into a clear mug (one that can handle hot liquids), top with whipped cream and sprinkles!
Enjoy
Now go make yourself some hot cocoa and enjoy a Star Wars film, I recommend Star Wars: The Force Awakens!
Enjoy!