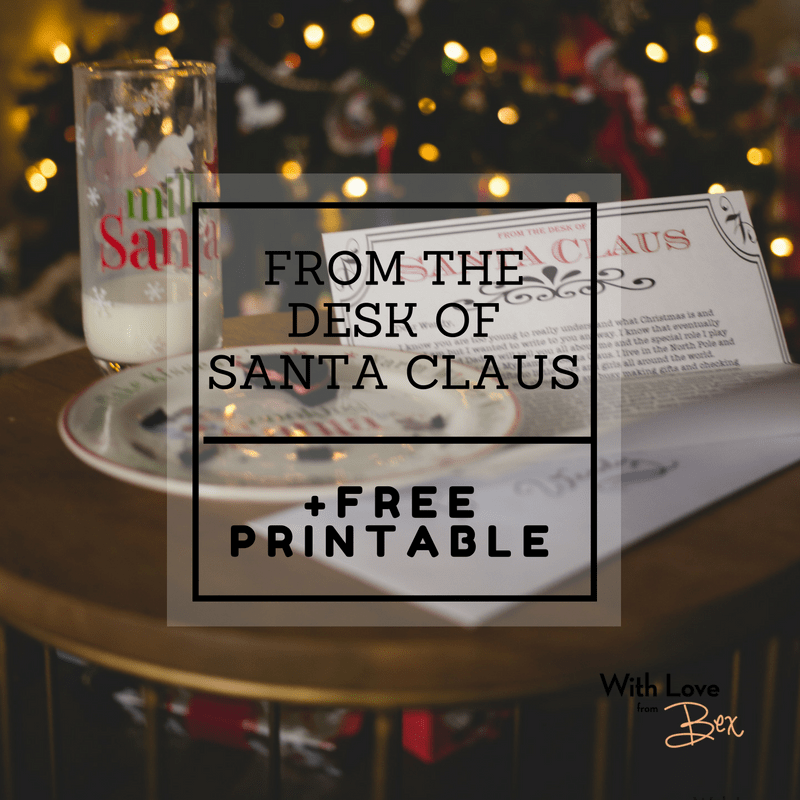 Can you believe it's almost Christmas?! Holy holly this year is zooming by. It's been an exciting year and even though Wendy is too young to understand who Santa Claus is, or even why we have a tree in our living room….let's be honest, she is just figuring out that her arms and legs are connected to her, I still wrote her a letter from Santa. Crazy? Possibly. But I enjoy it and it'll be another thing I give to her when she is older and able to understand the things Chris and I did for her. My hope is that when she's at that magical age of believing, it'll make it even more magical for her to think that Santa has been writing and watching from the beginning. Or maybe that'll creep her out a little…who knows.
Since I believe that a child's imagination should be encouraged, I'm sharing my letter from Santa template with you. I bet that your little one would LOVE to receive a personalized letter from Santa. Here what you do: Download the template, print it out, type your letter on Word,  or any other word processing program, insert your printed template into your printer and print your letter. BOOM! Done! Official letter from Sandy Claus. (FYI, when you type out your letter just make sure to leave enough space around the edges so the letter doesn't print over the template design).
If you need inspiration on what to write in your letters from Santa, here's something I typed up that you can use. Just personalize anywhere that says [insert…].
Dear [insert child's name],
Ho Ho Ho from the North Pole!
I hope this letter finds you well and that you and your family have been having fun this holiday season. The elves have been busy making lots of toys and helping me look over the Naughty and Nice List one more time before Christmas. It's a very busy time of year for us.
Mrs. Claus has been baking up a storm here. It's been very tasty. She always makes my favorite cookies, SUGAR COOKIES!! They are so yummy and I could eat them all.
I had some extra time in my day and just wanted to write to you. I wanted to let you know that you have made it on the Nice List this year!! Isn't that exciting! I know I was very excited about it too. I know you've had such an exciting year! [insert a special moment that your child experienced this year]
Anyways, I need to get back to the workshop, the elves are asking me to approve a new nose polish for Rudolph….the one we used last year made him sneeze all night long, it almost woke up whole neighborhoods!
Enjoy the Holiday season!
Yours Truly,
Santa Claus
From the Desk of Santa Claus Letter Template pdf
So download your free copy of the template above! Don't forget to share this post with all your friends. Pin it, share on facebook or tweet about it.
Happy letter writing!!!