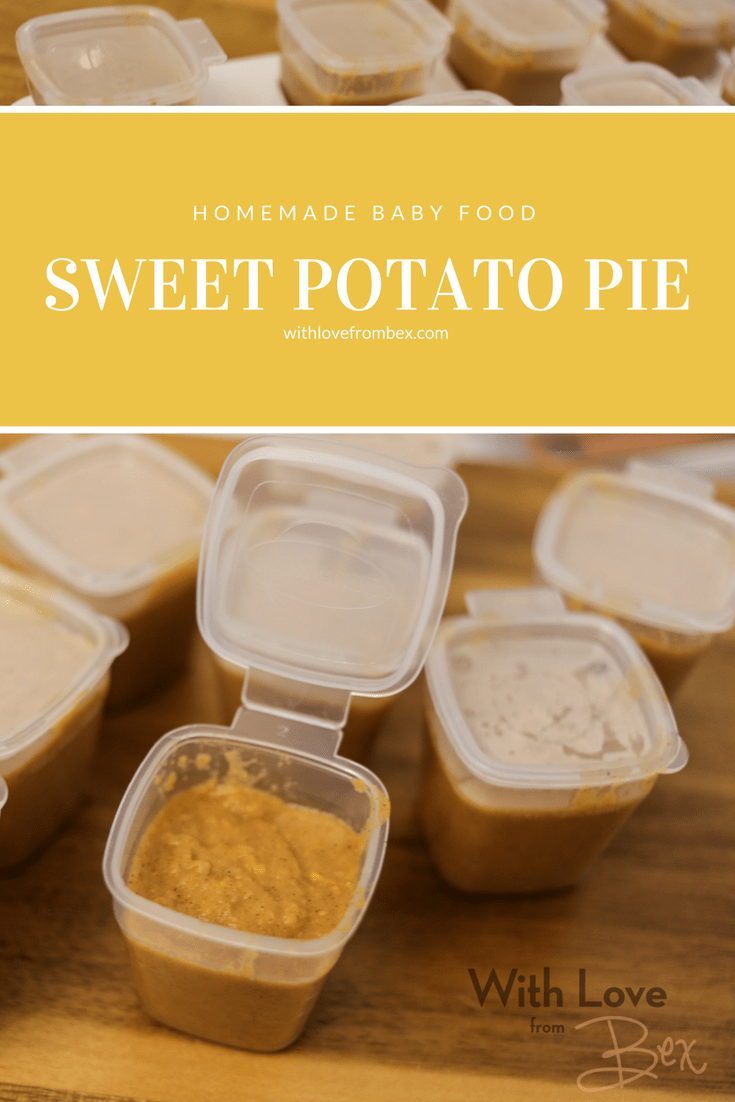 Feeding Wendy all kinds of food is probably my most favourite thing about dinnertime as a mom right now. I love that I can be creative in the kitchen and she'll pretty much eat anything I give her, even when she makes a face of disgust. I know it won't last long or can change in an instant but for now, I quite enjoy it.
Recently, Wendy has really come to enjoy sweet potatoes and apples, so I thought, hey what if I combined the two! Then as I was blending it I realized it smelt like pie, so I decided I would add some cinnamon and wow. What a hit it's been in our house. Wendy loves it, and I don't blame her, I tried some and I enjoyed it. This is the perfect recipe for your baby around Thanksgiving if your baby is eating pureed food. Wendy will probably be grabbing at my pumpkin pie slice by then.
So here's what you'll need to make this dish for your little one:
Ingredients:
2 medium sweet potatoes (or 4 mini sweet potatoes)
1/2 cup unsweetened applesauce
1/2 tbsp of cinnamon
1/2 cup of water, I used the water I had steamed the sweet potatoes with
Directions:
Firstly, peel and slice your sweet potatoes. I cut my sweet potatoes into thick slices because I personally find it steams quicker and it's easier to blend them later.
Once sliced up put your sweet potatoes in a steamer. You could also microwave them, or boil them. I prefer steaming vegetables for Wendy because you lose the least nutrients by steaming it and I want to make sure she gets all the nutrients she needs.
I use the OXO Good Grips Stainless Steel Steamer with Extendable Handle and I recommend it. It's so easy to use. I just fill the bottom of my pot with some water, put the steamer basket in, cover the pot and steam away.
It took about 15 to 20 minutes to steam. Once steamed I let it cool for a few minutes so I didn't burn myself, because I'm pretty clumsy in the kitchen.
I have a KitchenAid blender that I absolutely love but need to replace soon because I've had it for so many years and I've really worn it down. I'm actually looking into to replacing it with the Vitamix Professional Series because I've heard so many great reviews about it.
Place all of your indgredients into the blender and blend. If you need to add more water to the mixture, do so now. Just think baby food consistency.
Remove from the blender and fill into freezable baby containers. I received these at my baby shower and I haven't had any issues with them. They have been such a great baby tool. If I want to feed one to Wendy, I remove it from the freezer the night before and let it defrost in the fridge.
Do you make your own baby food? What's your baby into right now? I would love to hear from you and see all the wonderful things you create.  Comment down below, or post it on Facebook or Instagram and tag me @withlovefrombex.