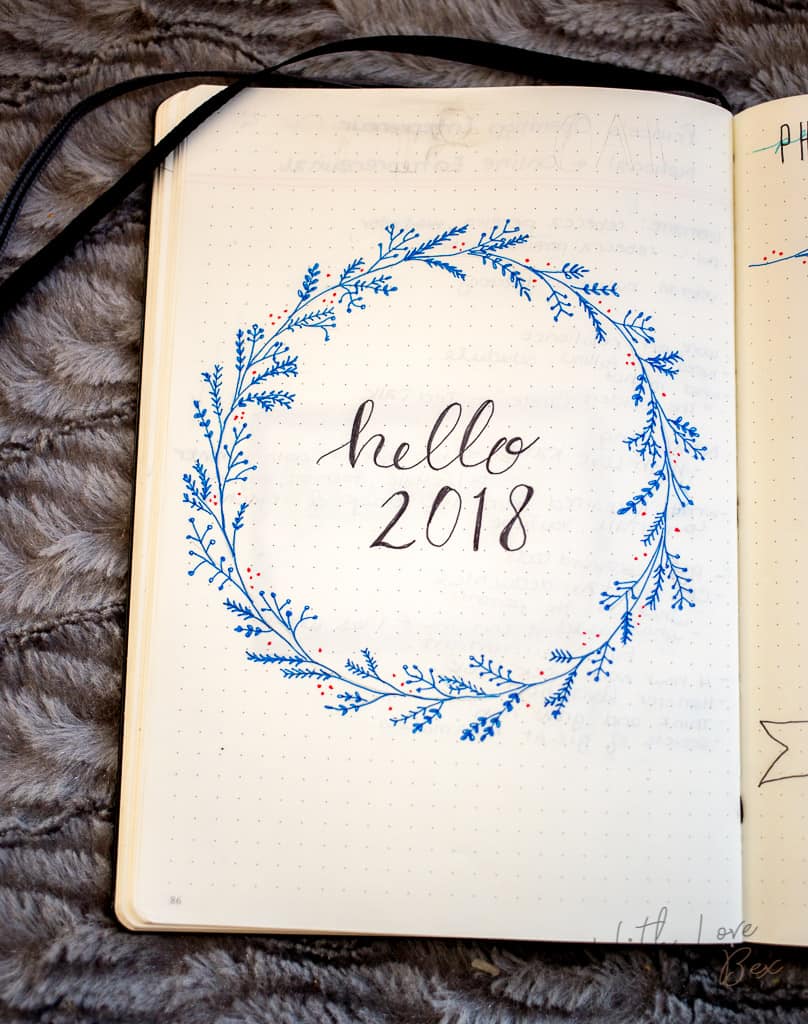 It doesn't matter if you're new to the whole bullet journal thing or you've been keeping a bullet journal for years, I'm sharing over 10 bullet journal templates that will inspire you and some will even help you stay organized! Win-win, right? Plus, I love doing this kind of stuff. It's really therapeutic to sit down every Sunday and draw out some new templates. Some are inspired by other bloggers, just with my own twist, and others are completely my own. So anyways that's enough chatter from me, let's get dive into some inspiration.
Related Posts:
15+ Bullet Journal Ideas to keep you on track
Start a Bullet Journal and start tracking
PHRASE  FOR YOUR YEAR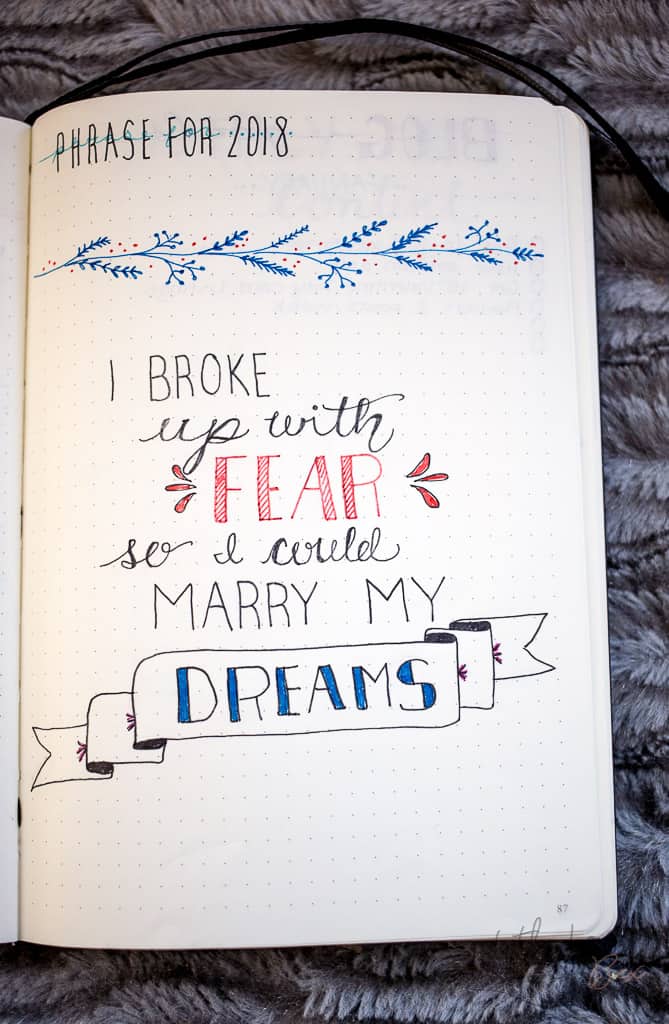 This one is pretty simple and you can get right into practicing your hand lettering. I've recently been introduced to skillshare and I'm learning some modern calligraphy skills that I'm super excited about it. I've always wanted to improve my creative lettering skills, and now seemed like a great time to start. Skillshare is actually having a HUGE promotion right now.  You get three months for $0.99 and no they aren't paying me to say that. I just know that I couldn't resist a website with thousands upon thousands of courses, ranging from lettering, to business, to how to use photoshop, and the list seriously goes on. I honestly, can't say enough good things. I've been signed up for less than a week, and I've already started a number of course.
Anyways, I wanted to start my year differently than most of my other years. I wanted a phrase, something I could look at, or repeat to myself with things got tough, or when life gets complicated. So I came up with this but I won't bore you, so I'll just say that I recommend coming up with a phrase for your year. You can read more about my phrase and this year's resolutions over here.
RESOLUTIONS PAGE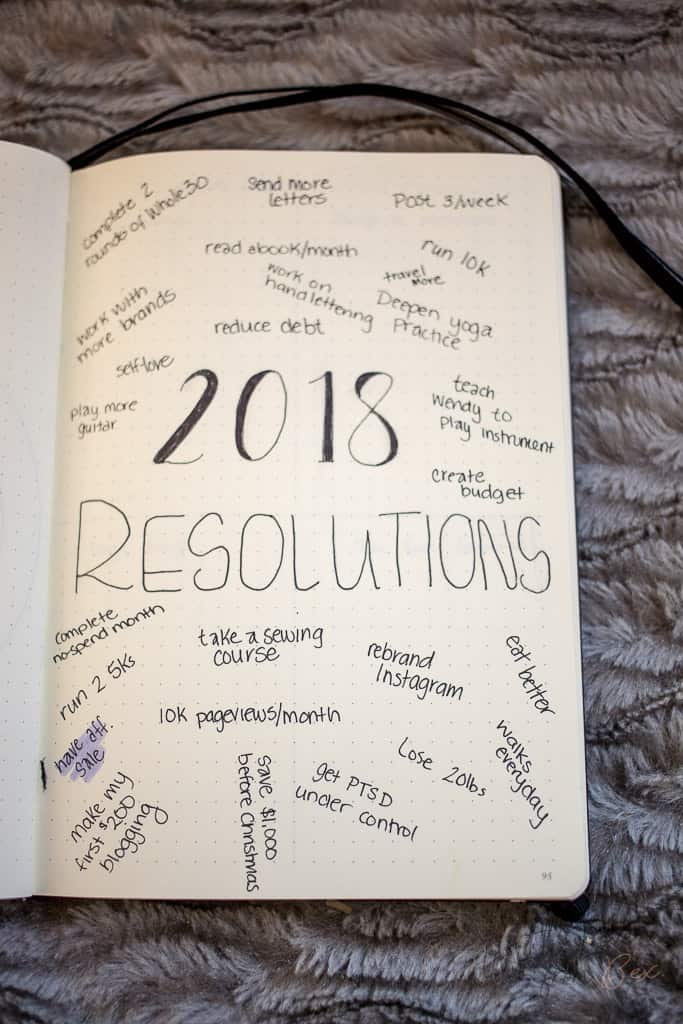 I don't think this page needs much explaining. It's nice to have one page with all my resolutions, it'll be easy to look back throughout the year. Sometimes you forget about the resolutions you make early in the year because life happens. But this makes it year, just flip back to it and when you complete something, cross it off with a marker.
WEEKLY SPREAD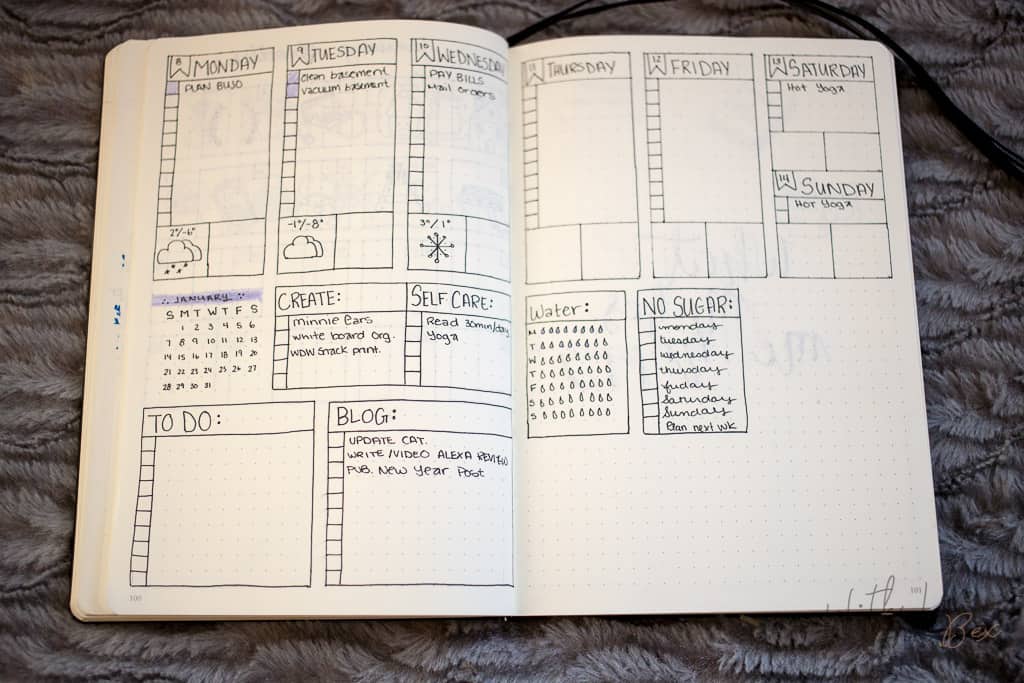 So this is actually something new for me, I originally wasn't going to do weekly spreads in my bullet journal because I still use my Erin Condren LifePlanner and my Mambi Happy Planner but as I was wasting time on Instagram I came across so many beautiful weekly spreads, so I wanted to try my hand at one. I wanted to see if it worked for me because at the end of the day your bullet journal needs to work for you. I still not sure if I'll be keeping up with weekly spreads yet, but I'll be sure to let you know.
JANUARY DAILY DOODLE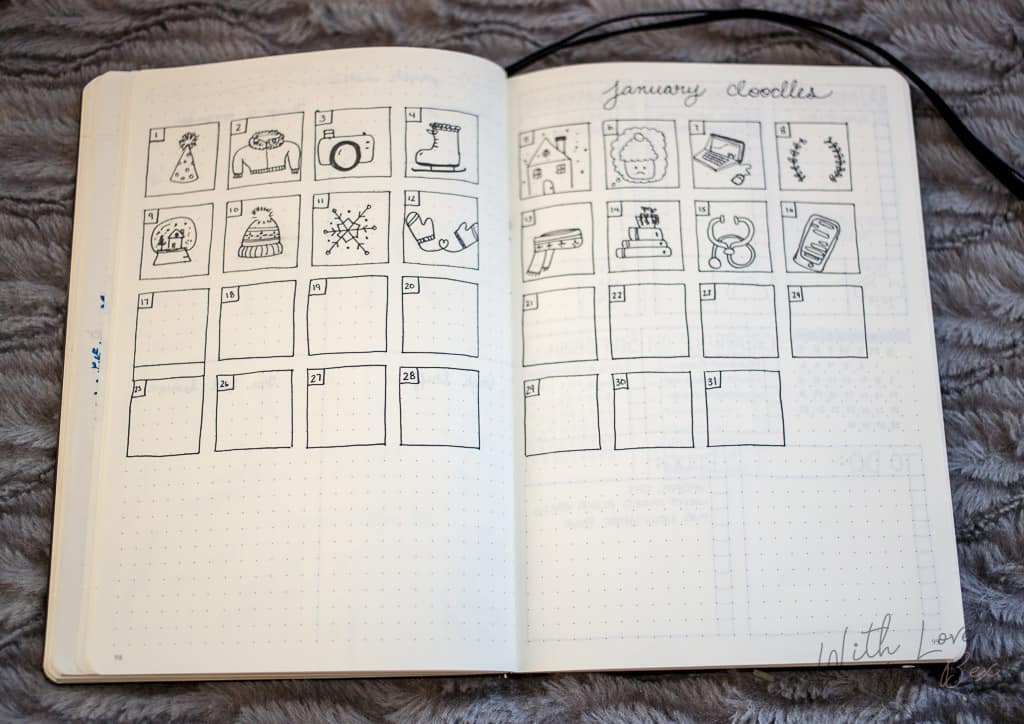 If you're looking to improve you doodling or you just love to doodle this is perfect for you. So I actually wanted to do a separate memory page but then thought 'why not make it a doodle memory page?' So each day I draw a simple doodle that represents something I want to remember whether it's a funny story or just really cold weather.
SELF CARE IDEAS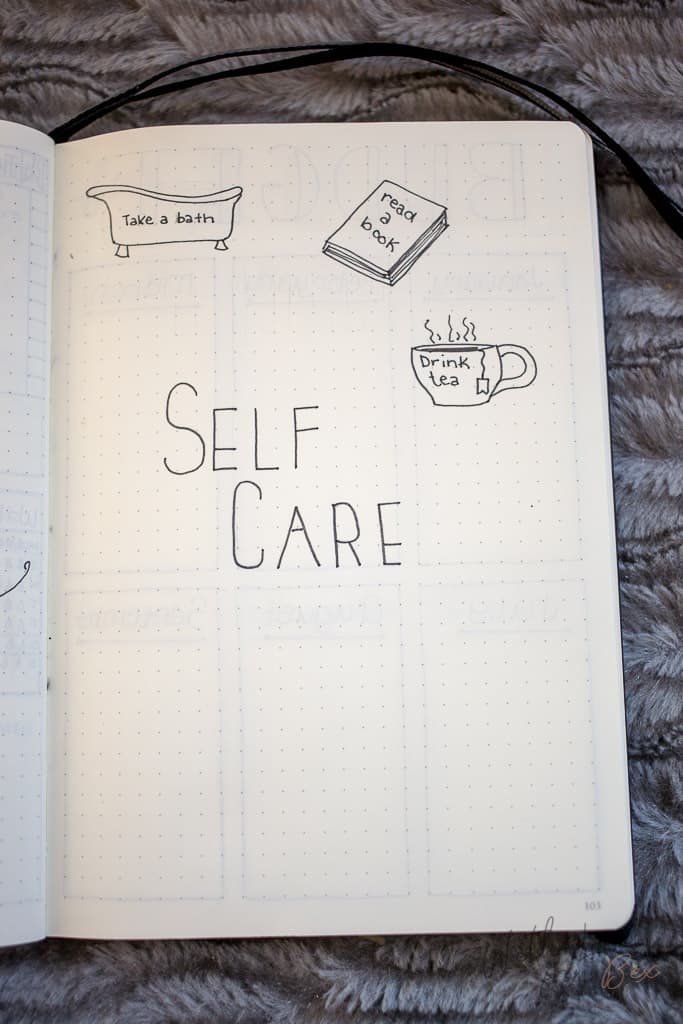 Sometimes it's hard to think of self-care ideas that work, especially when things aren't going as planned, this page is for both coming up with self-care ideas that work for me and a page to remind me what to try when I need to refresh myself.
BUDGET OVERVIEW FOR THE YEAR

I'll be writing my monthly budget for groceries, bills, clothes, entertainment, etc each month.
MONTHLY & YEARLY BILLS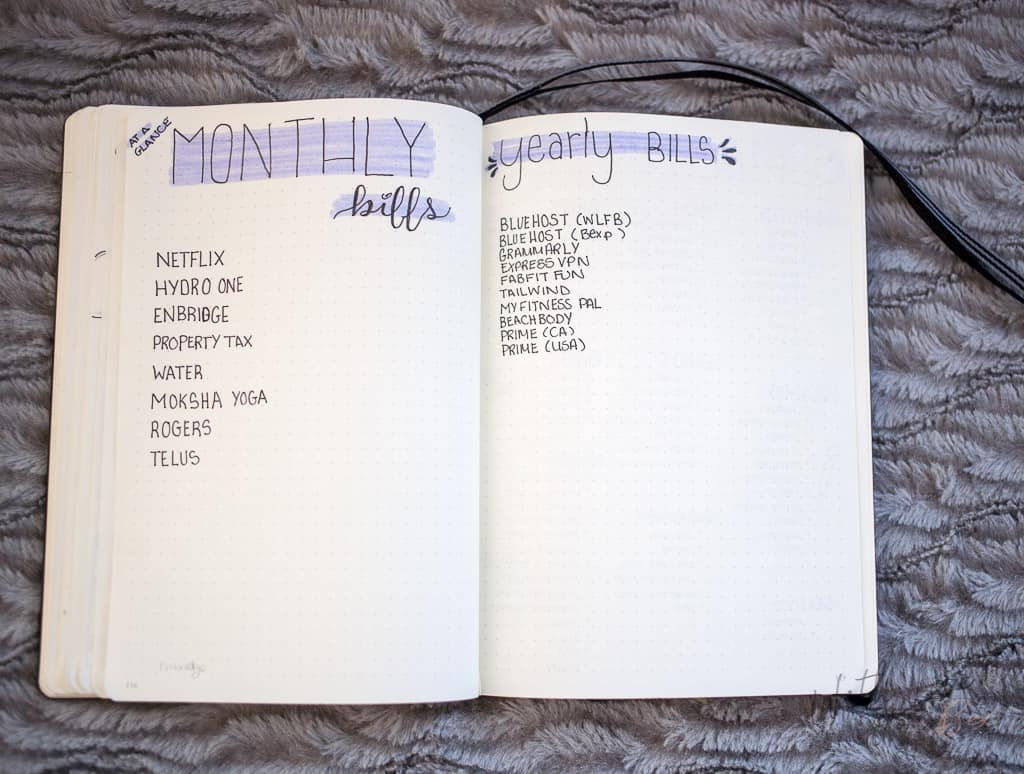 These are the bills that come in routinely every monthly or yearly. I'll be writing the date that they are due on the righthand side.
DOODLE IDEA PAGE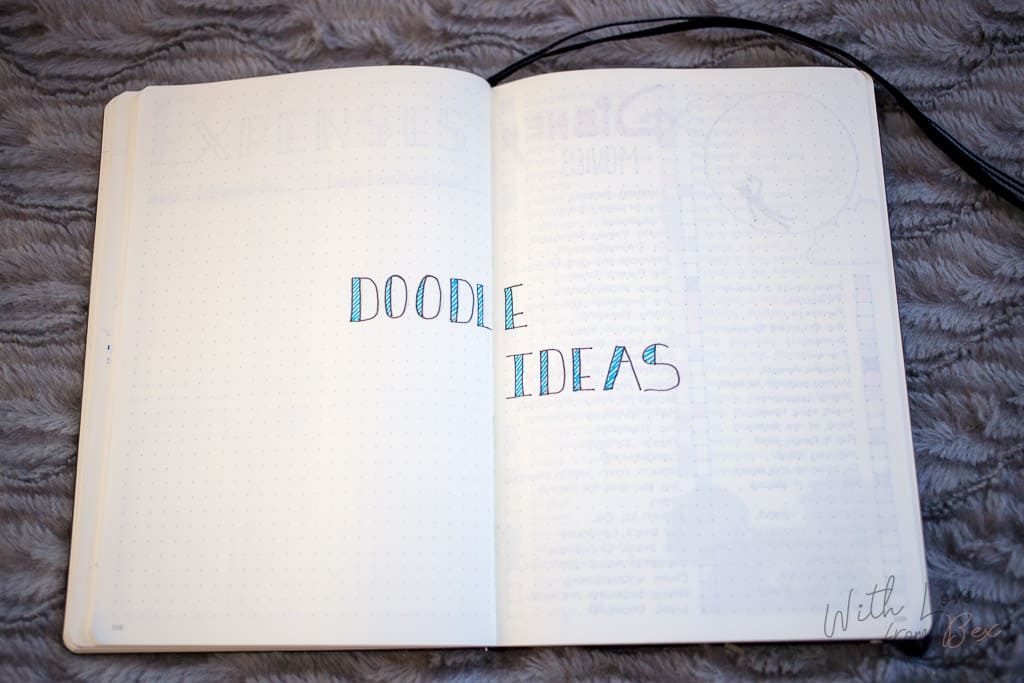 Still blank right now, but it's again another page to help you improve your drawing and doodling. It's also really relaxing, speaking of which I think I'll  be including doodling on my self-care page.
DISNEY MOVIES OWNED PAGES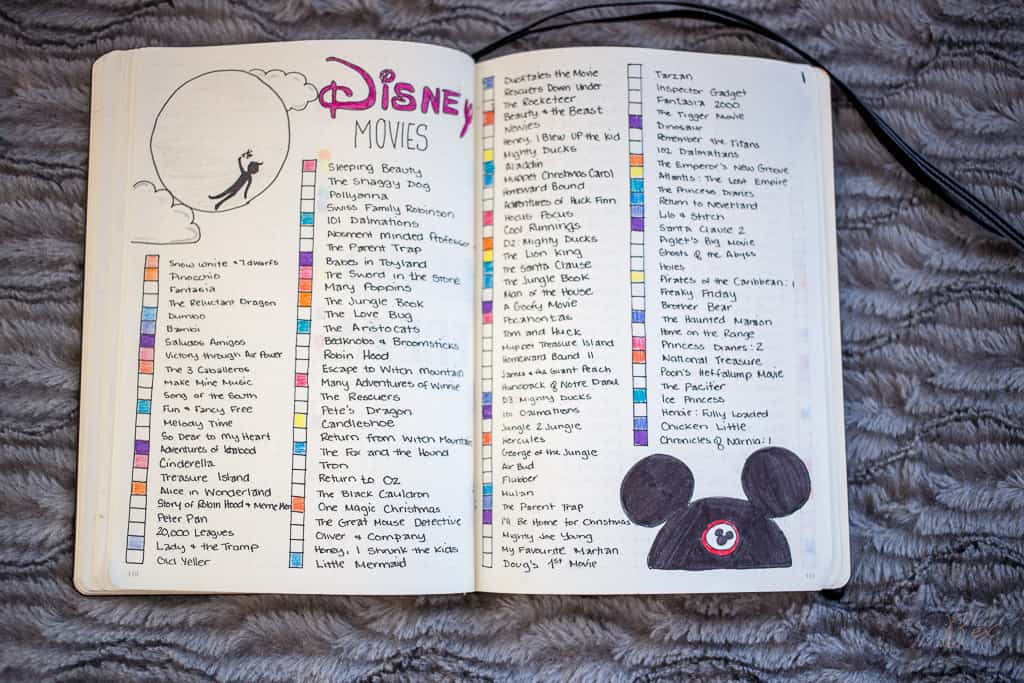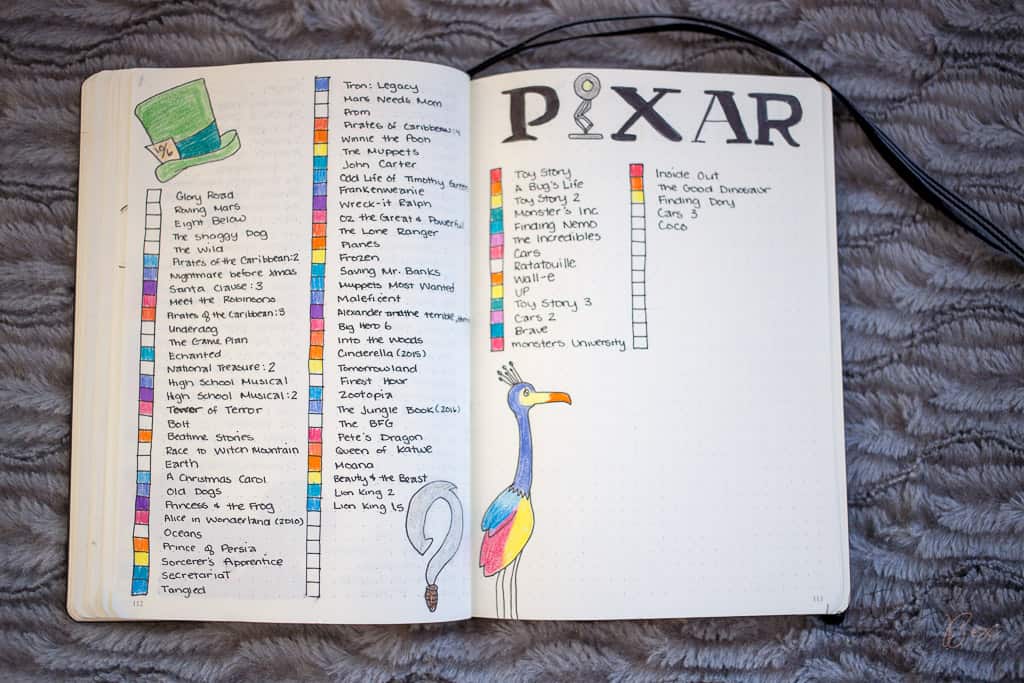 This is actually my favourite template! Probably the Disney fan in me, but it's so handy and pretty. I love how colourful it is and I finally a list I can look through to see which movies I own and which I still don't.
MASTER GROCERY LIST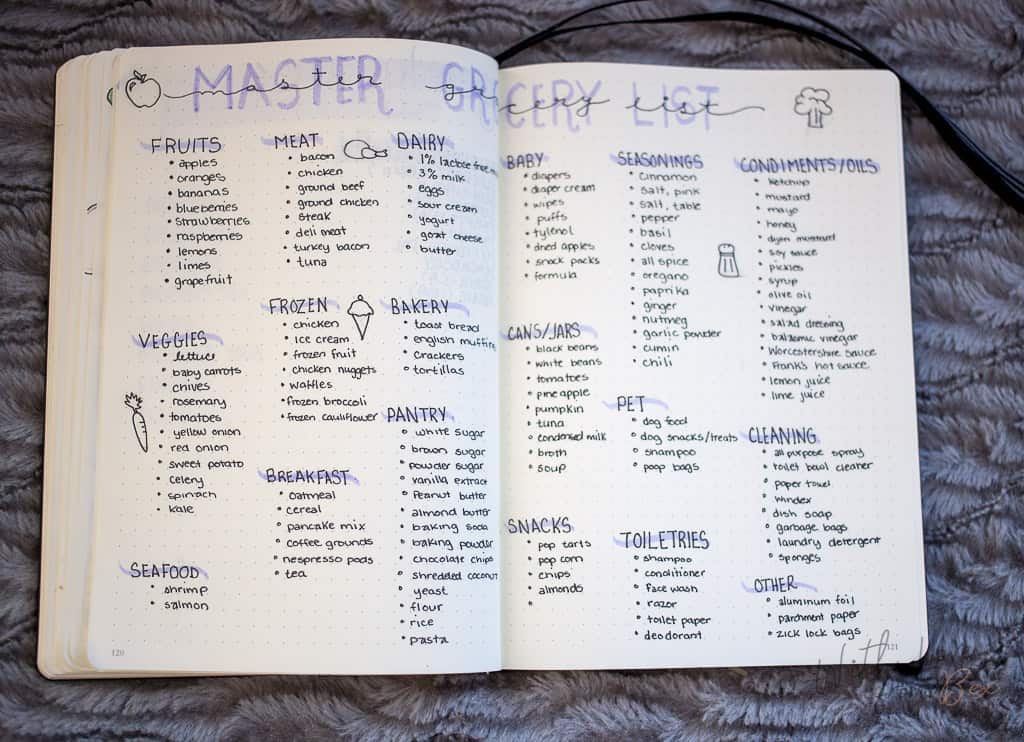 BIG MOMENTS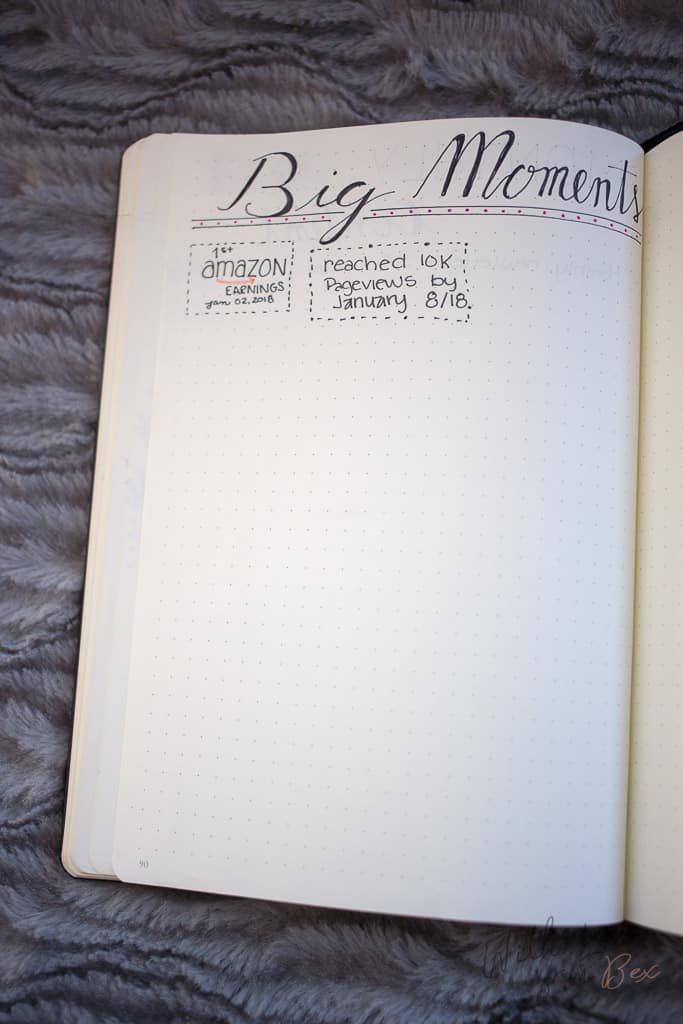 This one I'm specifically keeping for big moments or milestones when it comes to With Love From Bex and my Etsy Shop.
So there you have it, over 10 bullet journal templates that are going to inspire and help you this year! Are you using a bullet journal? I want to see your templates, tag me on Instagram (@withlovefrombex) or post them on my Facebook page
If you're wondering what tools I use for my bullet journal, I've included some links below.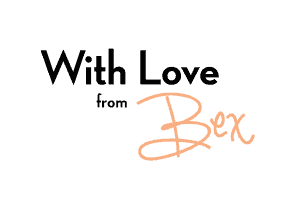 WANT MORE INSPIRATION? CHECK OUT THESE POSTS: