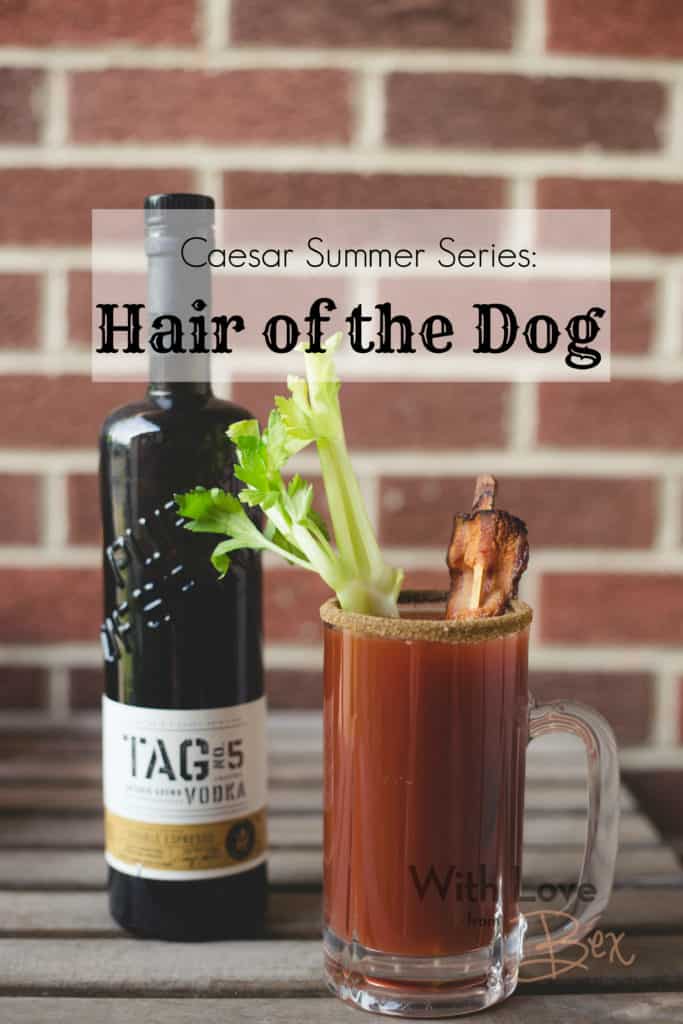 Good Morning Friends,
It's that time of the week again, time to share another amazing caesar with you. This time, Chris took the lead and created his first designer caesar, or as he refers to it, The Hair of the Dog. If you're like me, you might be asking what the hell does that mean? Or maybe you totally know what it means and you won't have to look it up on wikipedia….here's the link incase you are interested (Hair of the Dog).
Anyways, Chris had found this amazing smelling vodka a few months back while he was browsing through the local LCBO, Tag No. 5 Vodka. It smells just like espresso and according to Chris, has a strong coffee flavour. So this may not be the vodka you use for a Saturday night out or pre-drink nor would you probably drink it straight unless you want to be up all night but Chris immediately thought that it would be the perfect alcohol for brunch or a perfect cure for a hangover. Of course I could not taste it but it smelt amazing! The perfect brunch drink, it's coffee inspired and has bacon in it! That's the stuff brunch is made of.  At least in this house. Mind you, if you can't get Tag No. 5 Vodka in your area, a good coffee flavoured vodka will do just fine.
So here's what you need:
A Tall Glass
5 squirts of Lime juice
10 squirts of Worcestershire sauce
Caesar Rimmer
3 squirts of Tabasco
1 shot or more of Tag No. 5 Vodka or any coffee flavoured vodka
2-3 shots of brewed coffee
2 tsp of bacon maple syrup (we used PC Bacon Maple Syrup)
enough Clamato Juice to fill the rest of the glass
celery stalk  for garnish
1 bacon strip for garnish
How To:
Pour some rimmer into a small bowl *make sure you glass rim fits in the bowl first* and then pour lime juice around the rim of your glass. This will allow the caesar rimmer to stick to the rim of your glass
Bake your strip of bacon in the oven at 425C for 25 minutes or until crispy
Now mix the rest of the ingredients together in your glass, adding the Clamato juice last.
Add the celery stalk and bacon strip and mix
Enjoy your miracle hungover/brunch cure
So here's another Caesar to add to your must-have caesar list. Coffee flavours, bacon, and caesar, is there anything yummier to start your morning.