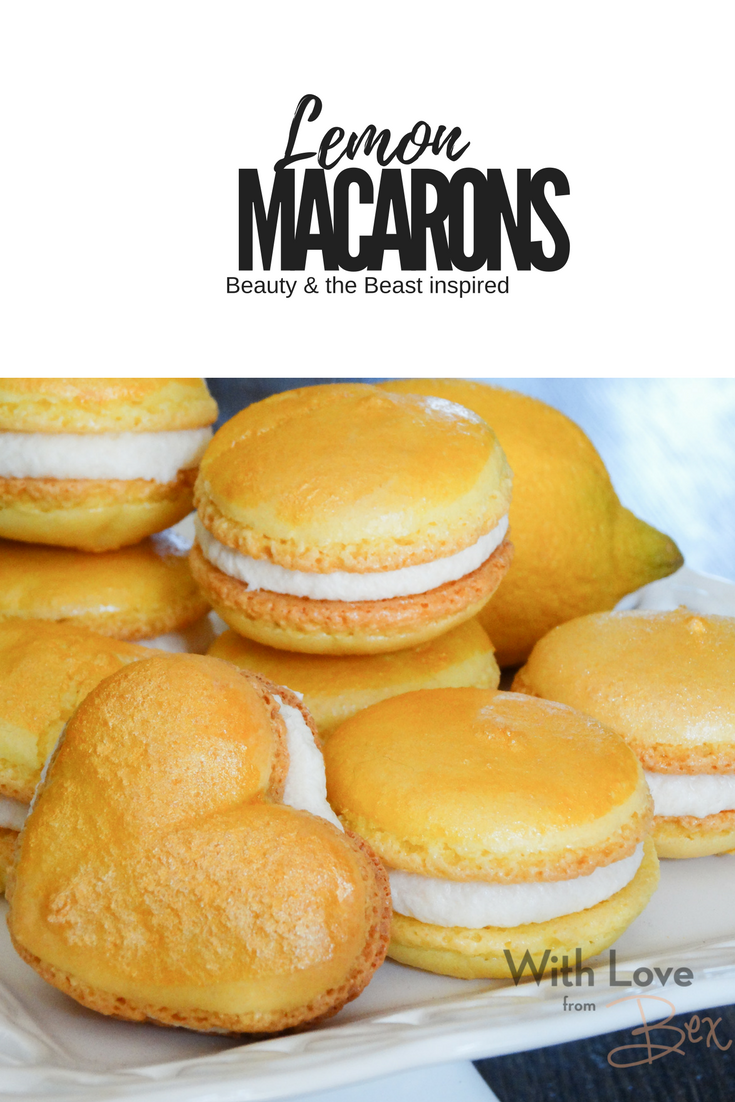 I can't get enough macarons. They are tiny and light and look so pretty! Plus I have a soft spot for bite-sized treats. So the other night when we searched the kitchen for something to snack on, I had a thought, why not make macarons. I had never made them before but I wanted the challenge and an excuse to get Chris to sit and watch my favourite Disney cartoon, Beauty and the Beast…for the blog of course.  I search google and pinterest for recipes and found a blog called Sweet & Savory  and her recipe of lemon macarons. So I took her recipe and changed a few things to make it my own and make it work for my kitchen and oven. So if you want to make your own macarons, here's my recipe.
For the Shells:
100 grams finely ground almonds
100 grams confectioner (powdered) sugar
50 grams of egg whites (2-3 egg whites), at room temperature
1/4 tsp cream of tartar
2 tsp of lemon zest
1/2 tsp vanilla extract
1/2 tsp lemon juice
a few drops yellow gel food colouring
For the buttercream:
3 tbsp of butter, softened
1 cup confectioner (powdered) sugar
1 tbsp lemon juice
1 tsp lemon zest
1/2 tsp almond extract
2 tsp 2% milk
Edible gold dust for dusting
Directions:
In a large bowl, mix the sifted the finely grounded almonds and confectioner's sugar together. I sifted the mixture three times just to make sure there were no large clumps of sugar or almonds.
Using the whisk attachment, beat the egg whites in a very clean mixing bowl. When the eggs become foamy, add 1/4 tsp of cream of tartar. Whisk on medium-high speed until stiff peaks form.
Add the 2 tsp of lemon zest, 1/2 tsp of vanilla, 1/2 tsp of lemon juice, and 4-5 drops of yellow food colouring.  Continue to whisk for another minute.
Sift the almond mixture into the whipped eggs.
This is the most important part. Gently fold the almond mixture into the whipped eggs. I counted my folds, 55 to 60 folds. You want the mixture to fall off the spatula like a ribbon and set back into the bowl within 10 seconds.
 Once mixed transfer the mixture to a piping bag fitted with A1 round tip.
I lined a baking sheet with parchment paper, and piped rounds of batter on the sheet.
Tap the baking sheets against the counter to release any air bubbles
Preheat oven to 300 degrees (convection).
Let the rounds sit for 20 – 30 minutes in order to form almost like a skin over the rounds. You'll know they are ready to be baked when you can touch the round and no batter gets on your finger
Place baking sheet in your preheated oven and bake for 15 to 20 minutes. Each oven heats up differently and cooks differently. My oven is a little hotter so things cook quicker. I start checking on my macarons at the 15 min mark
Remove the macarons from the oven and let them cool entirely.
In the meantime, start your buttercream. Cream the butter in a mixing bowl.
Add the powdered sugar, lemon juice, lemon zest, vanilla, and milk. Combine ingredients.
Pipe the buttercream and sandwich your macarons.
With a food brush (a regular paintbrush that hasn't been used for anything but food) brush on some edible gold dustings for that extra shine.
Enjoy your beautiful wonderful creations.
These were so good and did not last very long at our house. Plus we loved having them as a sweet treat as we watch the original Beauty & the Beast classic. Okay fine, Chris could care less for the film, I'm 100% positive he was there for the macarons.
Hope you guys enjoy making these little suckers. Let me know how it went for you. Show me your creations either down below in the comments, or on facebook, or hashtag #withlovefrombex on Instagram or twitter and I'll be sure to check them out!
Happy Tuesday!