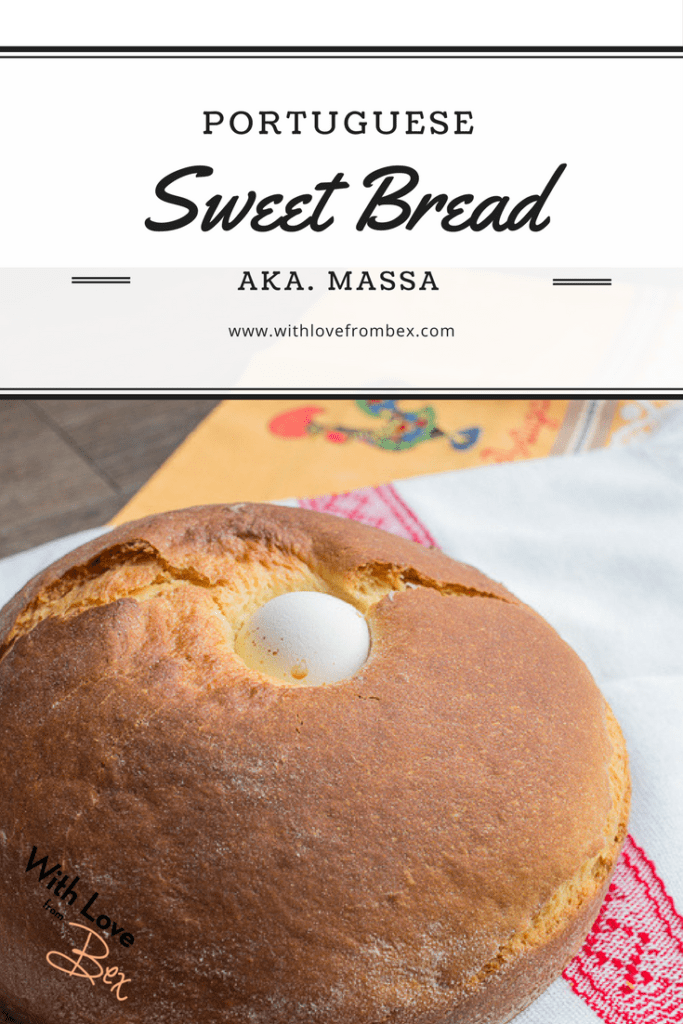 Hello friends!
Our house is slowly getting ready for Easter. I say slowly because we are all getting over one heck of a cold…and sinus infection….not fun. Lots of antibiotics and hot water with lemon and honey. I should have bought stocks in lemons and honey….Anyways today I wanted to share a recipe that has been a family favorite for years. Portuguese Sweet Bread, or as we say in our household, Massa. This bread is sweet, and tastes amazing with a little bit of butter, not to mention it smells amazing.
For years, my mother and my grandmother have each made this bread. I remember Good Fridays spent kneading a dough, letting it rise for hours, and then anxiously awaiting as it baked in the oven. Those were good memories, which made me think, those are the kind of memories I want to pass on to Wendy. However, in order to do so I had to learn how to made this magical bread. SO that's what I did this year, I watched, I listened, and I learned. I spent an entire Saturday with my mom watching and taking notes as she made the bread. It wasn't difficult, well, the letting it rise for hours was difficult. I'm a girl of little patience but I survived and I'm sharing my family recipe with you!

Portuguese Sweet Bread - Massa
Author: Bex
Prep time:
Cook time:
Total time:
Serves: 2-3 loaves
A sweet Easter treat, made with Portuguese love.
Ingredients
4½ tsp of yeast
½ cup of warm water
2 tsp sugar
2 cups of milk, warm
1 stick of butter
1 tbsp salt
1.5 cup of sugar
8 eggs
Rinds of a lemon
2 tbsp shortening
7½ cups of flour
Instructions
*Dissolve the yeast in ½ cup of warm water with 2 tsp of sugar. Do not over mix the mixture, you'll run the risk of killing the yeast....I know this from experience. Let this mixture sit and rise for 10mins.
In the meantime, heat the milk to just before a boil. 180F. Add the butter, then the sugar and salt. Set the mixture aside.
Beat the eggs in a mixer, add 1 cup of the milk mixture.
Once combined, add the yeast starter mixture.
Now add flour, 2 cups at a time, alternating between flour and the rest of the milk mixture.
Once mixed (the dough will still be a little sticky) transfer the dough to a bigger floured bowl.
Cover with saran wrap and a warm damp towel.
Let rise for 3 to 4 hours (I left mine overnight)
Preheat the oven to 325F
Once the dough has doubled in size, separate the dough into two or three and place in a greased and floured round pan.
Cover the round pans, and let the dough rise again for 30mins.
Brush the dough with an egg wash and bake for 30 - 40 mins, or until the loaves are golden brown.
Now go grab some butter and a cup of tea and enjoy your Easter bread with friends!