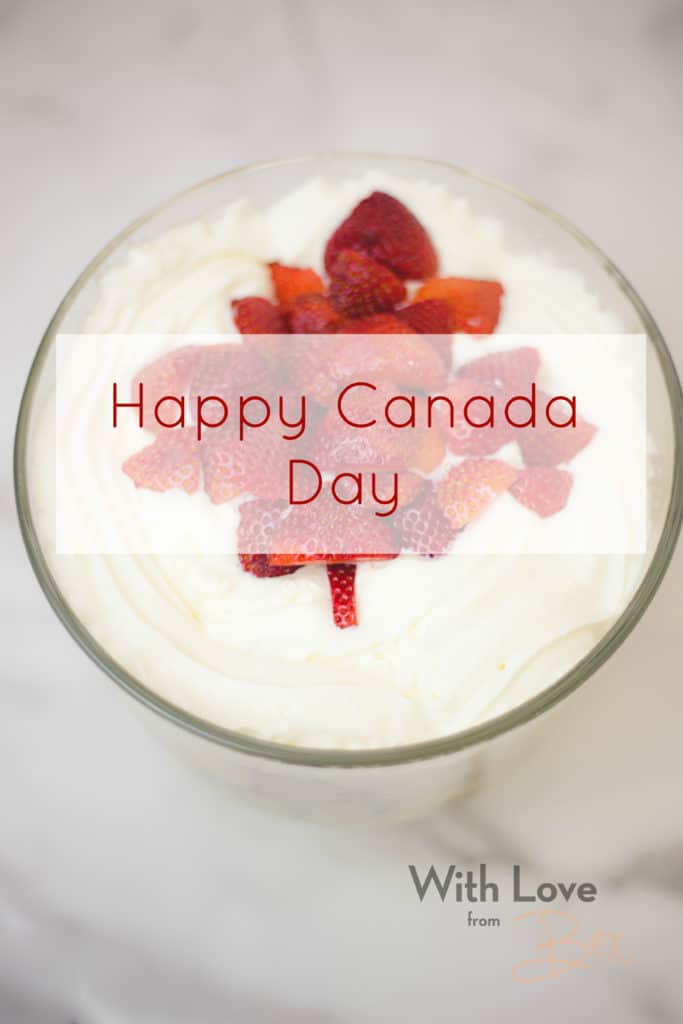 Hello friends!
I hope you are having a wonderful Canada Day! I know Chris and I are. We have a day full of car washing, dessert eating, and park walking planned…yes I lead a very exciting life indeed. Although, as of right now it's raining and kind of damp outside. Whatever, I still maintain it's a great day!
So to celebrate the birth date of the great nation we live in, I decided to create a cake pudding dessert. So my house smells pretty amazing right now.
Here's what you'll need:
1 boxed white cake
3 drops of Red Velvet Emulsion or Red Food Colouring
2 cups of blueberries
2 1/2 cups of sliced strawberries
4 pudding mixes (i used 2 vanilla and 2 banana, you'll also need milk for the pudding)
1 can of whipped cream

Directions:
Mix the boxed cake as according to the instructions o the box. Now take 1/2 cup of the cake batter and place it in a separate bowl. Add the Red Velvet Emulsion to the separated cake batter and mix it together.
Pour the white cake batter into a 9 x 13 inch baking pan. Now marble in the red cake batter. I used a knife to create the marble look.
Bake the cake according to the box.
When the cake is baked, remove from oven and let cool.
Once cooled, remove from the pan and cut into cubes. The cake will be on the softer side. I'll let you in on a little trick, if you put the cake into the freezer for 15-20 minutes it'll make it easier to get cleaner cuts.
Mix the puddings in separate bowls. Place them in the fridge for 15 – 20 minutes, or until set
Now use your best parring knife and slice the strawberries.
Time for assembly! Banana pudding on the bottom, then add a layer of blueberries, then a layer of strawberries, add a few cubes of cake and then add a layer of vanilla pudding.
Keep doing that until you fill your dessert bowl.
Now add a layer of whipped cream and top with a beautiful maple leaf made of strawberries….or just layer strawberries on top
Enjoy
This didn't take me long to make at all and it's been a BIG hit with my family! I hope you enjoy your Canada Day!