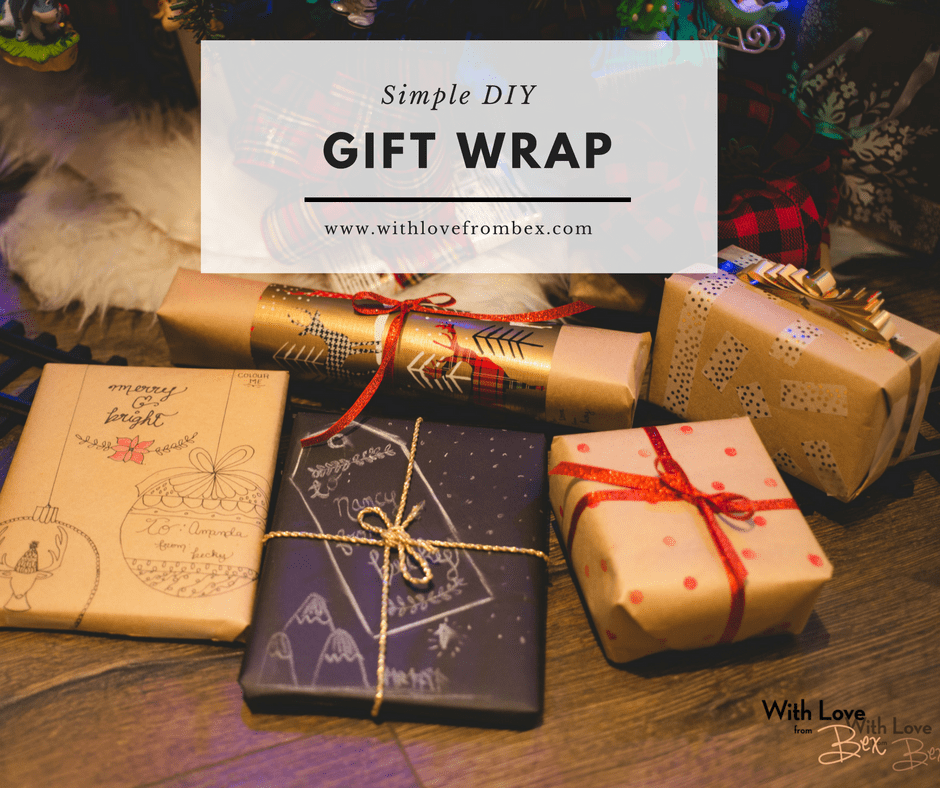 Now that Black Friday has come and gone, I'm sure I'm not the only person left with a bunch of gifts that I need to wrap…and a pretty scary bill… So Sunday I sat down and started wrapping. Here's what I came up with.
*THIS POST CONTAINS AFFILIATE LINKS, MEANING THAT IF YOU CLICK ON THE LINK AND MAKE A PURCHASE, I MAKE A SMALL COMMISSION. THIS DOES NOT INCREASE YOUR COST OR CHANGE YOUR EXPERIENCE AT ALL. ALL OPINIONS ARE MY OWN. THANK YOU FOR SUPPORTING WITH LOVE FROM BEX!*
Chalkboard Gift Wrap
You'll need:
Scissors
chalkboard paper (mine was actually a  disposable chalkboard table runner that I bought at Target when it was going out of business here in Canada)
Chalk (I used regular chalk but I would recommend using a chalk pen for a cleaner and longer lasting look)
Your gift
Ribbon (optional)
Instructions:
Wrap your gift with the chalkboard paper. Use chalk or chalk pen to draw on the paper….very simple, right?
2. Polkadot Stamp Gift Wrap
You'll need:
craft paper
a pencil with an intact eraser
stamp pad
Your gift
Ribbon in the same colour as the stamp pad
Stamp the craft paper before you wrap your gift. Let it dry, then wrap your gift and add a bow.
3. Colour Me Wrapping Paper
You'll need:
I recommend cutting your craft paper to the right size first and then drawing in pencil and tracing with a fine tip Sharpie or the Sharpie pen.
Personally, I love my hipster reindeer…. Just have fun with it.
4. Never waste a scrap of wrapping paper gift wrap….
Use craft paper to wrap your gift then use the leftover wrapping paper to decorate your package. Add some pretty ribbon and boom, savvy gift wrap.
There you have it, 4 simple DIY gift wrap ideas that are unique and easy.
How are you wrapping your gifts this season?