So it happened! Disney Parks confirmed so many of the rumors that were flying around the Disney new-sphere and I've gotta say, I am so flippin' excited! In case you missed all the excitement. here are my favourite announcements below! I should probably mention, I'm pretty much excited about all of them….
It was revealed that the new Star Wars areas at Disneyland and Walt Disney World will be named Star Wars Galaxy's Edge. These lands will be opening in 2019 and will be set in a remote trading post on the edge of "wild space." Hints were revealed about the types of attractions and restaurants guests can expect to experiences.
A new Mouse centered attraction will be coming to Disney's Hollywood Studios where guests can experience the attraction in "2 1/2 D" and is going to have more hidden Mickeys than any other attraction
Ratatouille Attraction is coming to the France Pavilion in World Showcase, EPCOT at Walt Disney World
China Pavilion at Walt Disney World's World Showcase  is getting a new film
A Guardians of the Galaxy attraction is coming to EPCOT
Brand New resort coming to Disneyland Paris, Hotel New York!! YAY more Marvel theming!
Mission: SPACE is getting a new green mission where you can soar over Earth. PLUS you'll be able to dine at a new table service restaurant with views of space
TRON attraction coming to Walt Disney's World Magic Kingdom, next to Space Mountain
New Theatre coming to Main Street USA at the Magic Kingdom in time for the 50th anniversary
A New Star Wars Resort was announced. Fully immersive experience
New Transportation options coming to Disney World. Uber but for Disney World and the Disney Skyliner
Brand New DVC resort coming to Disney World, The Disney Riviera Resort
Toy Story Land Opening in Summer 2018 in Hollywood Studios
More Pixar coming to Disneyland Resort in California.
Halloween is coming to Cars Land
Spider-Man and the Avengers will be joining Guardians of the Galaxy at California Adventure!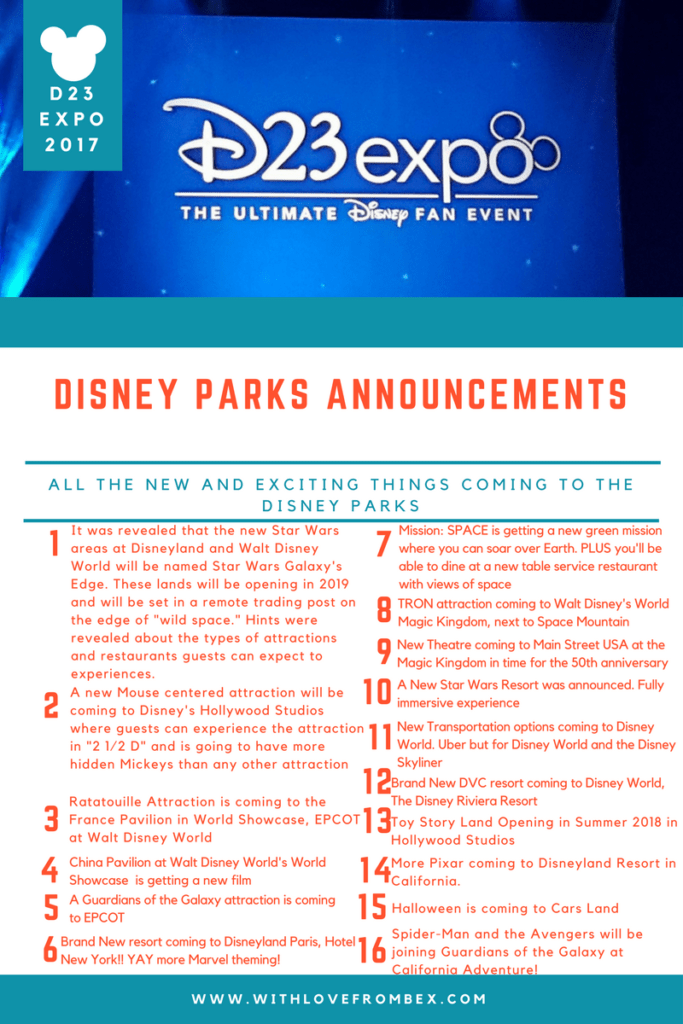 Although there's a lot here to get excited about, I still wish they would have confirmed some of the other Disney rumors going around. I would like a Zootopia themed land or an Inside Out ride that goes through Riley's brain or is personalized to your moods! How cool would that be! I have no idea if it's even possible but it's Disney, so anything is possible, right?
What are you excited for???