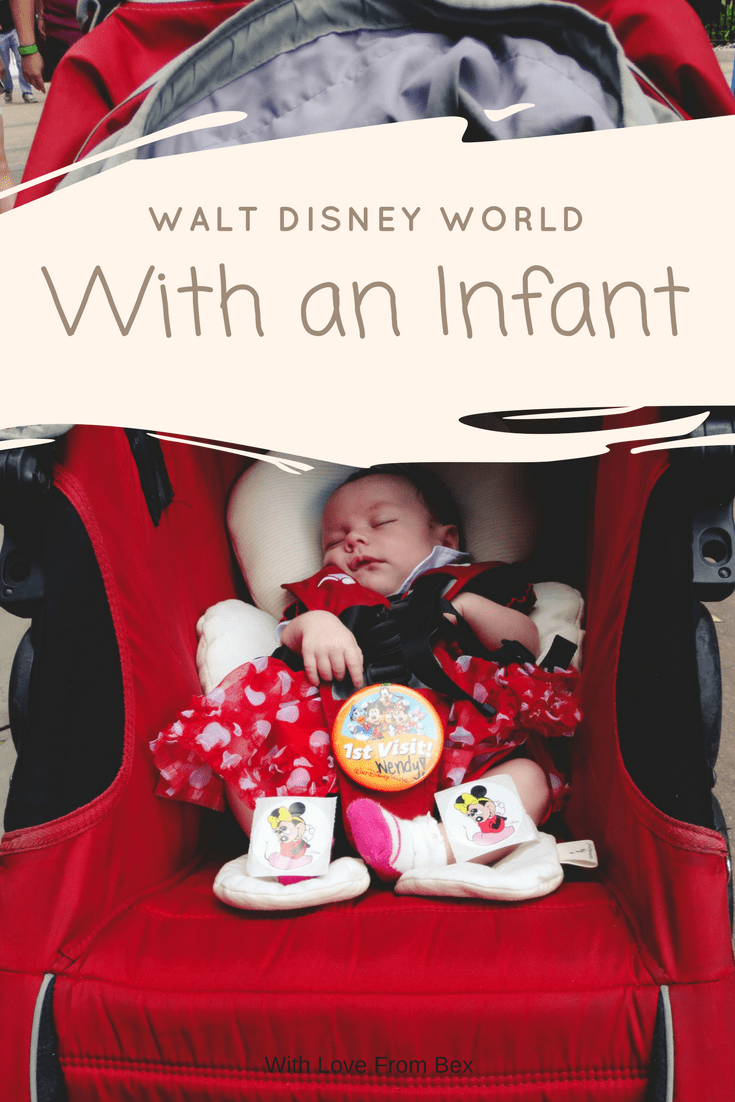 Recently Chris and I took a trip to our home away from home, Walt Disney World. We had this trip booked well before we become pregnant with Wendy. I booked the trip because I bought tickets to attend Type-A Parent Conference, which was amazing, back in fall of 2015. When we found out Wendy was due in September, we had to make a decision. Were we going to brave it and bring a possible five week old (at most) to the most magical place on earth, or cancel the trip and sell my conference ticket?
We decided to brave it and I'm so happy that we did. It was such a wonderful trip, even though I was busy at the conference. Chris and Wendy enjoyed some serious Daddy-Daughter time. He was so happy to brag about the fact that he bought Wendy her first pin, took her on her first ride (Pirates), and met her first characters with him. Because of this trip, we learned a few things.
There is definitely a difference between taking an adult-only trip to Disney World and taking one with an infant. Whatever expectation you have of racing through the World, drop it. It was a completely different experience with Wendy. Early morning Starbucks run? Nope. Riding Expedition Everest together? Nope. Late nights at special ticketed events? Do you want to sleep or not?
Yea it's completely different. But different in a wonderful way. There were things we brought and did that helped us make the most of our trip. Some are items, others are tips. If you're heading to Disney World with an infant here are our tips.
Bring a baby carrier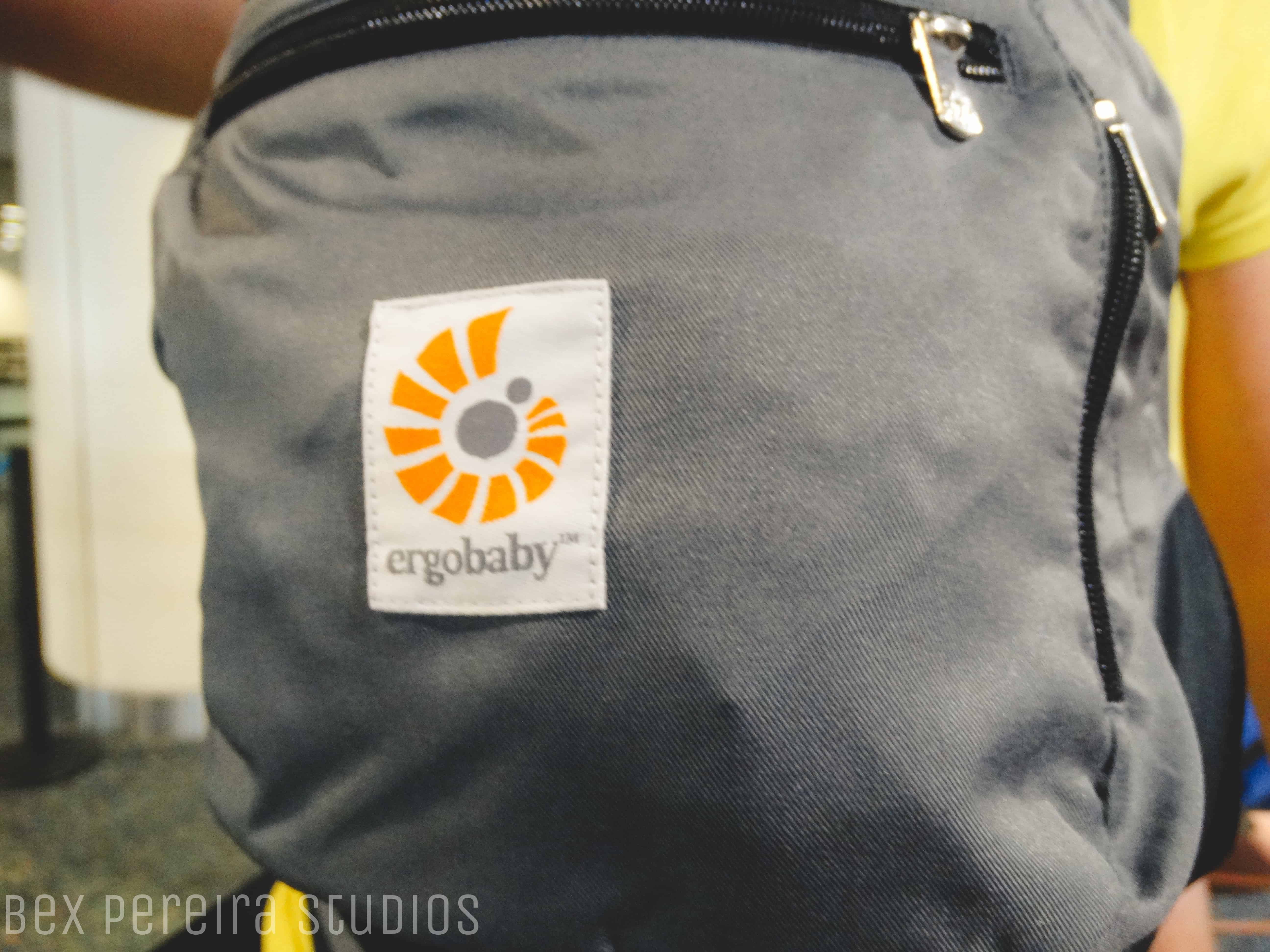 Walking through an airport was made easier because of a baby carrier. Since Chris was the one heading around the parks, we found a baby carrier, The Ergobaby ,that worked best for him. We actually registered for it before we had Wendy. Chris enjoyed wearing it. He is such a proud Daddy. We didn't use the baby carrier too much throughout the parks because Wendy was just 5 weeks old. She enjoyed being in the stroller, however, when we didn't have the stroller with us the baby carrier worked wonders for us. We also found that Wendy slept the minute she was placed in the carrier, which was nice as we strolled through the parks and shared some snacks.
Rent a Stroller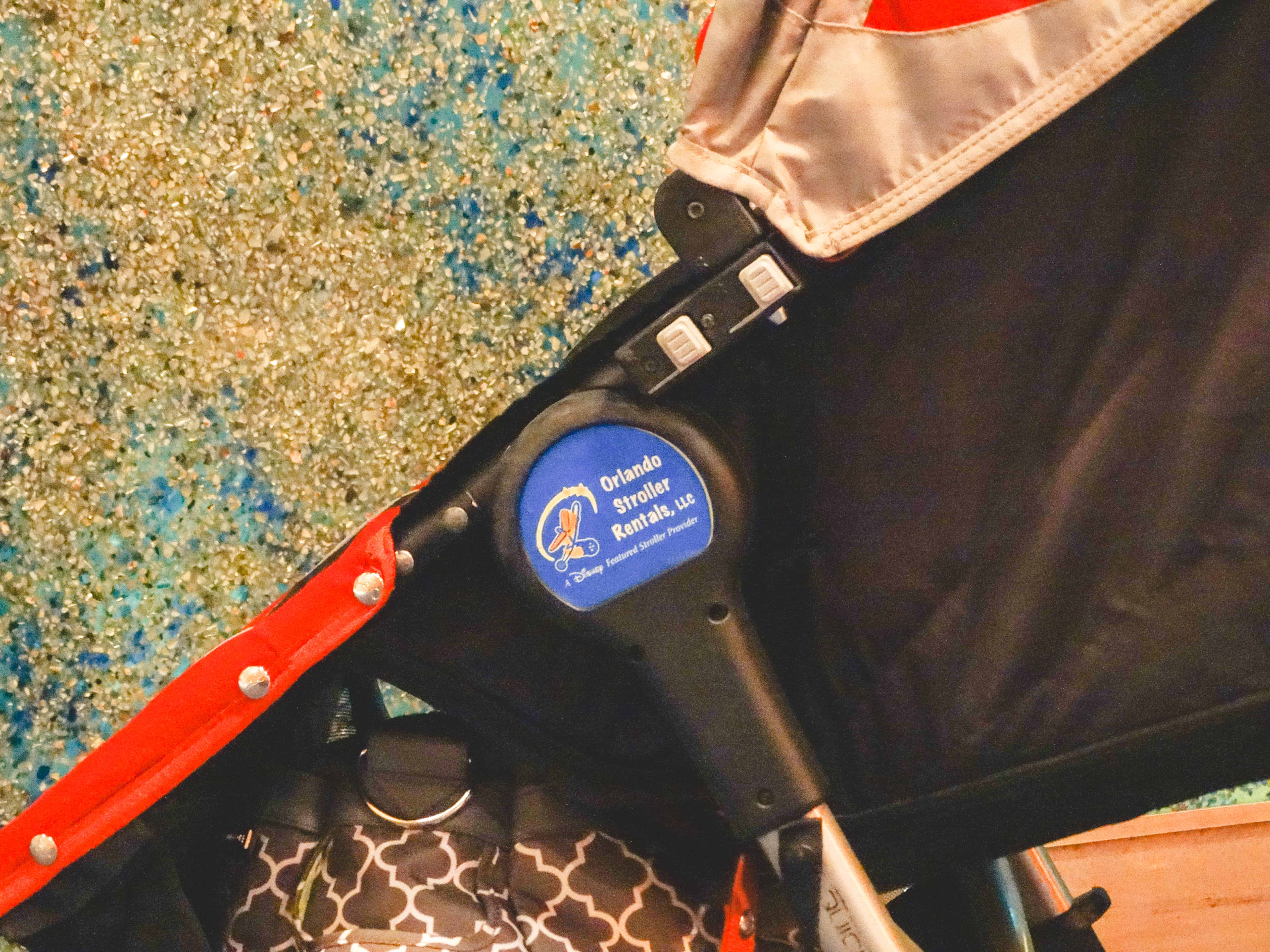 As the heading says, we rented a stroller from Orlando Stroller Rentals. They were amazing and so easy to deal with. I would definitely recommend. We had the stroller delivered to our resort and picked it up at Bell Services. Drop off was super easy too, we just dropped off the stroller at bell services and off we went. We had heard so many horror stories of bringing your own stroller on airplanes and we were not willing to risk damaging our BOB Revolution jogging stroller. The next best thing was to rent a stroller. Wendy enjoyed strolling around in her stroller. It was such a great idea too. During dinners, Wendy slept in her stroller, as we walked around the parks she either slept or looked around at everyone and everything. The rented stroller was also extremely easy to fold up and get on the buses, OH you don't need to fold up the stroller on the monorail or the boats, which was really convenient.  It was also pretty inexpensive to rent the stroller. Just think of the risk, bring your own stroller on the plane and risk damage (that the airline will NOT cover) to a $400+ piece of baby equipment. OR rent a stroller for under $80 for the week, with included insurance, and don't stress about airline damages or someone stealing your stroller.
Bring a comfortable diaper bag
We brought both a backpack diaper bag and a shoulder diaper bag. To be honest we used the shoulder bag a lot more than the backpack. When we walked through the parks, we put the diaper bag in the stroller basket which was super easy and saved our backs and shoulders. We never kept anything of real value in it, though, just in case someone stole our stroller or bag.
Have some products shipped to your hotel
Baggage prices can get pretty expensive. For this trip, we traveled with Southwest, which allowed us two pieces of baggage per paying customer, but other airlines generally only offer one piece or none and you have to pay to bring baggage. Because of that, we didn't want waste any space, so we ordered some formula, diapers, batteries, and wipes from Amazon.com. We had it delivered to the Contemporary Resort (where we stayed). BEST. DECISION. EVER.
Baby Care Centers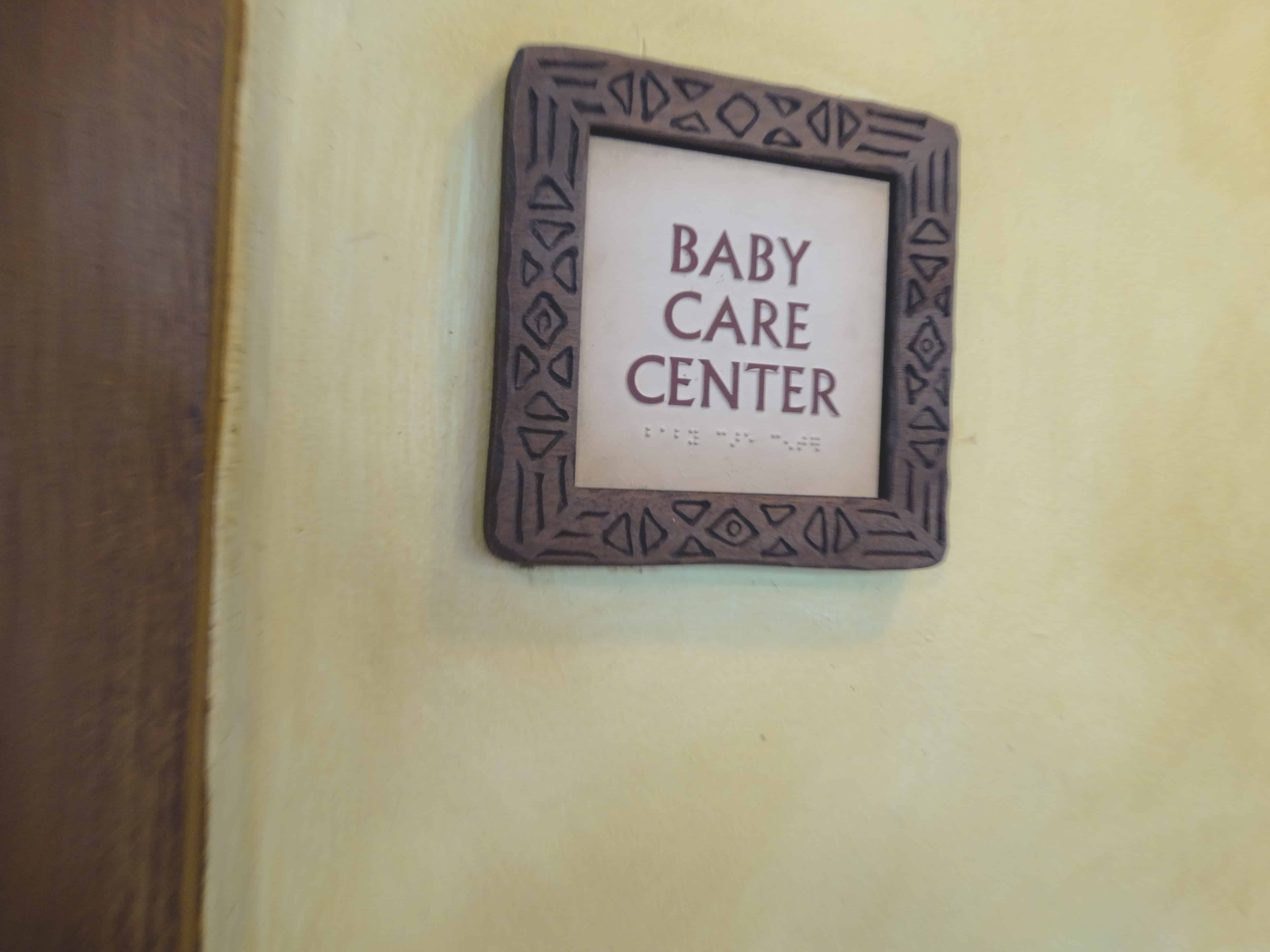 Each of the Disney Parks offers a Baby Care Center. The water parks and Disney Spring do not offer Baby Care Centers. These centers were fully staffed and featured a shop where you could purchase items you forgot. We didn't purchase any of the products, but we did utilize the centers for feeding/nursing Wendy. The parks can get hot, and if your infant gets distracted a lot….like Wendy, the Baby Care Centres offer a quiet place to nurse. The Baby Care Centres at Epcot, Animal Kingdom, and Hollywood Studios offered private nursing rooms with wooden rocking chairs. The Magic Kingdom offered large Lazy Boy style rocking chairs. The centers at Epcot, Animal Kingdom, and Hollywood Studios also offered private rooms for nursing (one person per room), while the Magic Kingdom center offered a shared room. I actually didn't like the room offered at the Magic Kingdom. The light was turned off, there were two other women in the room who had essentially built lazy boy chair forts around them, and it felt like if Wendy started crying I would be inconveniencing these women. Some of the nursing rooms also needed some care or upgrading, but they were a lovely escape from the heat and the crowds. The centers weren't just for nursing there were areas for change tables, unisex bathrooms, feeding areas with highchairs, kitchenette with microwaves and sink. Each of the centers also included an area with couch/chairs and television (which featured Disney cartoons for the kiddies to watch…or feeding Daddies). These centres are great for nursing and getting away from the crowds for a bit so I would definitely recommend taking advantage of them, BUT there can be such a trek to get to if you are on the opposite side of the parks. Here's the link to the Disney website with a map of the baby care center locations, you can see where the centers are located.
Here are some pictures I took of the centers.
Fastpass your way to Characters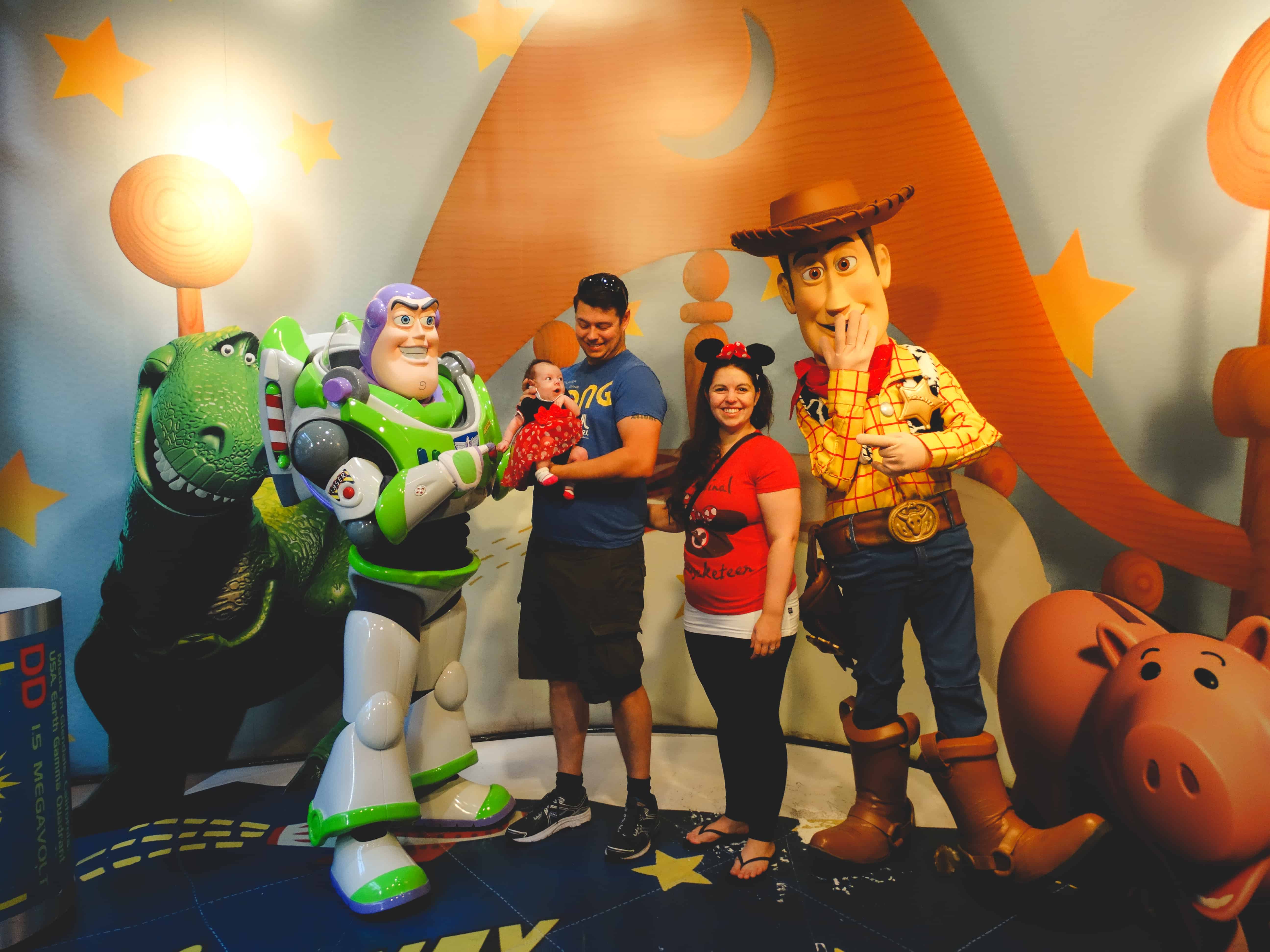 Schedule your Fastpass+ early. Waiting in line with an infant isn't that much fun. You can't bring a stroller through any of the lines, so you'll have to either carry your infant or wear them. Having Fasstpasses allowed us to meet as many characters as possible and limited the amount of time we spent waiting in line. Plus CHARACTERS!!!
Memory Maker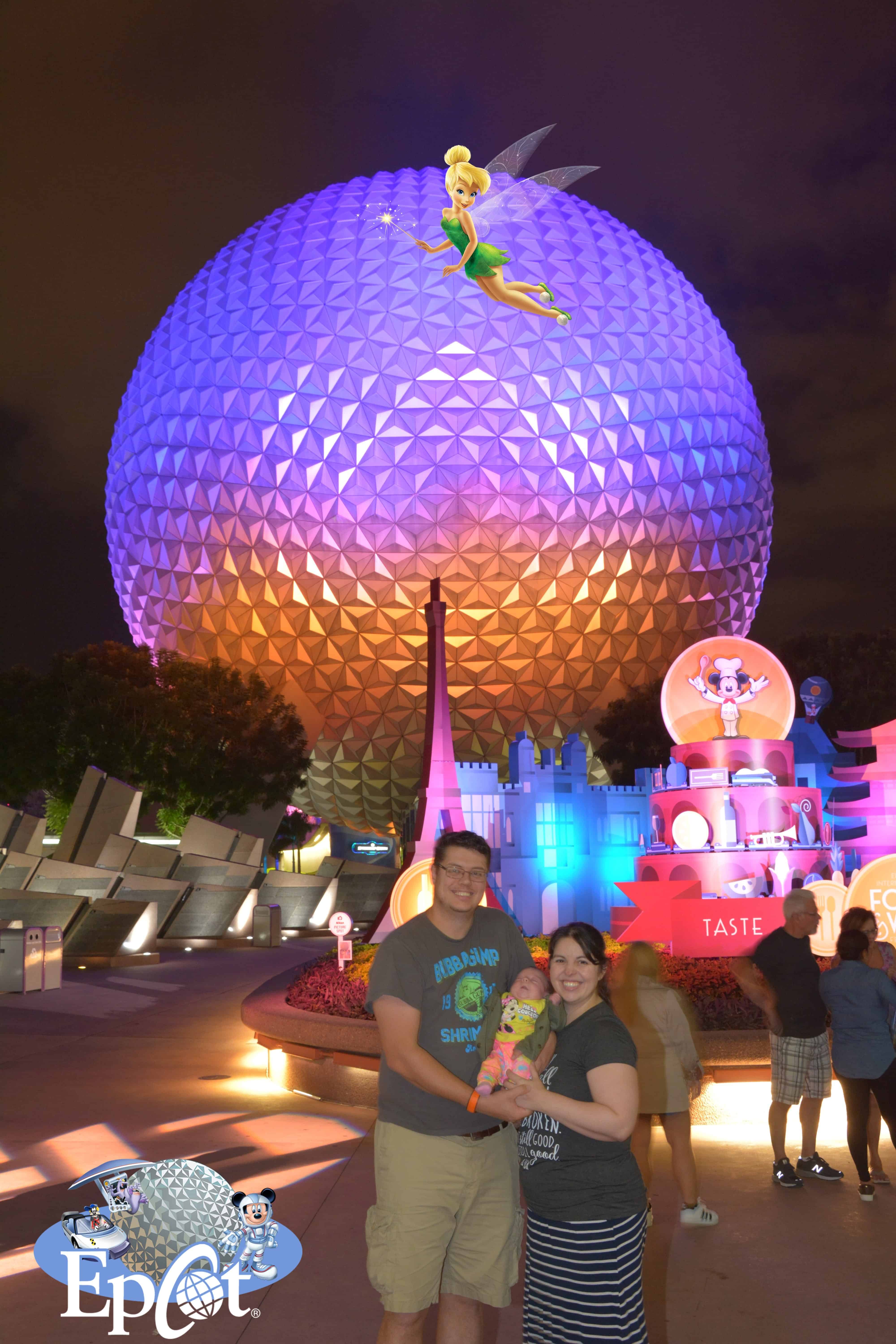 We are annual passholders, so memory maker is included with our passes but even if we weren't I would definitely purchase the memory maker. It convenient and a lot of the photographers add some special bonus shots. Plus the photographers seem to capture more photos when they use their own cameras vs ours. Disney Photographers have captured some candid shot that Chris and I just absolutely love.  Just don't forget to download them after your trip.
So there you have it, some simple tips for taking an infant to Walt Disney World. I know that the thought of taking an infant to Disney World might sound frightening, but trust me it's not. We took our time through the parks, if we needed to head back to the resort we did, we didn't stress. There were plenty of rides that Wendy could go on, not to mention countless characters to meet, and Cast Members who just went above and beyond our expectations. So hopefully these tips help you have a magical trip! Let me know if you have any more tips, or tell me what didn't work for you. I'm more than happy to hear from you guys!






ALSO, I should mention Wendy's favourite rides included The Many Adventure of Winnie the Pooh, Peter Pan, The Great Movie Ride (which was very loud but she didn't seem to mind), and Pirates of the Caribbean.
Happy Weekend, Friends!