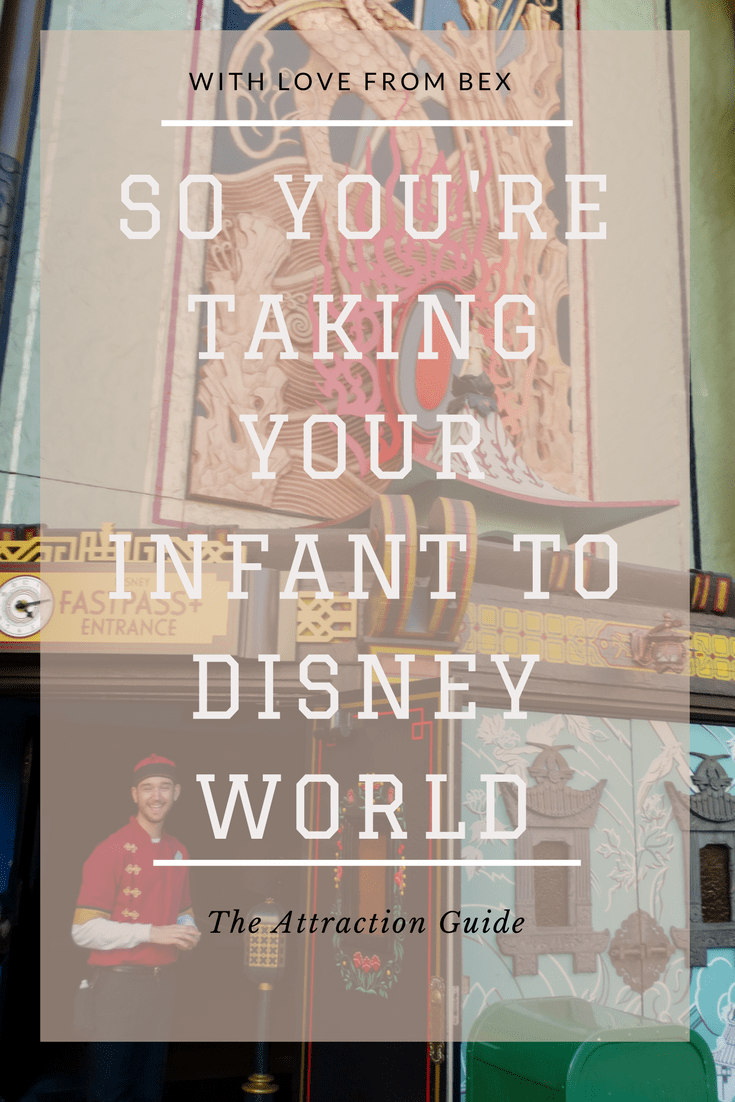 So you're taking your infant to Disney World and now you're wondering what the heck will you and your baby be able to do there. Well, there is plenty! The thing I love about Walt Disney World is that it is so much more than just an amusement park. Walt Disney World is designed to tell a story every step you take. Each ride a new wonderful tale, you just have to be open to it.
Walt Disney wanted to create a theme park that worked for adults and kids alike. He was tired of taking his daughters to amusements parks where he could not experience the fun with them. That's when his idea for Disneyland was born. So Walt Disney World is an extension of this idea. There is plenty to do with your infant or toddler.
When we took Wendy at 5 weeks old, we actually enjoyed every minute of it. We enjoyed awesome dining and went on many rides with the little munchkin. She also looked like she was having a lot of fun. Here's a list of attractions you can enjoy with your little munchkins. Chris and I enjoyed many of these with Wendy. We had so much fun and I'm sure you will too!
Magic Kingdom Park
Astro Orbiter  (Tomorrowland)
Buzz Lightyear's Space Rangers Spin (Tomorrowland)
Country Bear Jamboree (Frontierland) – This is a classic animatronic show which is totally corny but enjoyable. It's also a good spot to cool down during those hot and humid Florida days.
Dumbo the Flying Elephant (Fantasyland)
Haunted Mansion (Liberty Square)
it's a small world (Fantasyland)
Jungle Cruise (Adventureland)
Liberty Square Riverboat (Liberty Square)
Mad Tea Party Cups (Fantasyland)
Mickey's PhilharMagic Show (Fantasyland) – This is a 3D show.
Monsters, Inc. Laugh Floor (Tommorwland)
Peter Pan's Flight (Fantasyland)
Pirates of the Caribbean (Adventureland)
Prince Charming Regal Carrousel (Fantasyland)
Swiss Family Treehouse (Adventureland)
The Magic Carpets of Aladdin (Adventureland)
The Many Adventures of Winnie the Pooh (Fantasyland)
Tom Sawyer Island (Frontierland)
Under the Sea – Journey of the Little Mermaid (Fantasyland)
Walt Disney's Carousel of Progress (Tomorrowland) – This is a rotating animatronic show. It's air conditioned and a great place to breastfeed your infant. It's dark and the tune is super catchy.
Walt Disney's Enchanted Tiki Room (Adventureland)
Walt Disney World Railroad
Tomorrowland Transit Authority PeopleMover (Tomorrowland)
Characters Meet and Greets at Magic Kingdom: 
Tinkerbell (Town Square Theater)
Mickey Mouse (Town Square Theater)
Ariel (Ariel's Grotto)
Cinderella (Princes Fairytale Hall)
Elena (Princess Fairytale Hall)
Princess Tiana (Princess Fairytale Hall)
Rapunzel (Princess Fairytale Hall)
There were other characters that we met at the Magic Kingdom that are not listed above. Be sure to grab a park map, and a daily guide to locate all the characters for that day. I should mention that Character meet and greets do change without notice.
Epcot
Advanced Training Lab (Future World)
American Heritage Gallery (World Showcase)
Bijutsu-kan Gallery (World Showcase)
Bruce's Shark World (Future World)
Coral Reefs (Future World)
Disney & Pixar Short Film Festival (Future World)
Ellen's Energy Adventure (Future World) – A great place to relax and breastfeed
Frozen Ever After (World Showcase) – Just be aware there is a very short drop but it reminded me of the drop on Pirates of the Caribbean which was no big deal at all.
Gallery of Arts and History (World Showcase)
Gran Fiesta Tour Starring The Three Caballeros (World Showcase)
Impressions de France (World Showcase)
Innoventions (Future World)
Journey Into Imagination with Figment (Future World)
Kidcot Fun Stops (World Showcase)
Living with the Land (Future World)
Mexico Folk Art Gallery (World Showcase)
O Canada! (World Showcase)
Reflections of China (World Showcase)
SeaBase (Future World)
Sea Turtles (Future World)
Sharks and Stingrays (Future World)
Spaceship Earth (Future World)
Stave Church Gallery (World Showcase)
The American Adventure (World Showcase)
The Circle of Life (Future World)
The Seas with Nemo and Friends (Future World)
Turtle Talk with Crush (Future World)
Character Meet and Greets at Epcot
Anna & Elsa (World Showcase, Royal Sommerhus, Norway)
Baymax (Future World, Hiro's Workshop)
Goofy (Epcot Character Spot)
Joy & Sadness (Future World, Headquarters)
Mickey Mouse (Epcot Character Spot)
Minnie Mouse (Epcot Character Spot)
Mexican Donald (World Showcase, Mexico)
Mary Poppins (World Showcase, UK)
Mulan (World Showcase, China)
Just like the Magic Kingdom, there were more Characters walking around or located in special spots. Grab a park map and daily guide to locate them all.
Animal Kingdom
Affection Section (Rafiki's Planet Watch)
Animal Trails throughout the park
Conservation Station (Rafiki's Planet Watch
Dino-Sue (Dinoland U.S.A)
Discovery Island Trails (Disney Island)
Habitat Habit! (Rafiki's Planet Watch)
It's Tough to be a Bug! (Discovery Island)
Kilimanjaro Safaris (Africa)
Maharajah Jungle Trek (Asia)
The Boneyard (DinoLand U.S.A)
TriceraTop Spin (DinoLand U.S.A)
Wildlife Express Train (Africa)
Wilderness Explorers (Throughout the park)
Festival of the Lion King (Africa) – AMAZING show. It will have you singing, clapping, and swaying.
Finding Nemo (DinoLand U.S.A.) – This is a stage show that is also amazing. Your infant or toddler will love watching all the colourful characters singing and dancing.
Flights of Wonder (Asia) – flying birds. LOTS of flying birds and corny jokes. This is a personal favourite of mine and Wendy enjoyed watching the birds fly, yes even at 5 weeks.
Character Meet and Greets
Mickey & Minnie Mouse (Adventure Outpost, Discovery Island)
Rafiki (Rafiki's Planet Watch)
Chip & Dale (Rafiki's Planet Watch)
Baloo & King Louie (Upcountry Landing)
Flik (Discovery Island, usually near the It's a Bug's Life attraction)
Russell (Discovery Island)
Tarzan (Discovery Island)
Pocahontas (Discovery Island, Character Landing)
Dino Donald Duck (DinoLand U.S.A)
Goofy & Pluto (DinoLand U.S.A.)
There are also a ton of street performers and street characters walking about. Try looking for DiVine. She is beautiful and sometimes completely missed.
Hollywood Studios
Muppet Vision 3D (Muppet Courtyard)
Star Wars Launch Bay (Animation Courtyard)
Star Wars Launch Bay Theater (Animation Courtyard)
The Great Movie Ride (Hollywood Boulevard)
Toy Story Mania (Pixar Place)
Walt Disney's One Man's Dream (Animation Courtyard)
*Hollywood Studios is currently under some major construction. They are building two entirely new sections of the park, Toy Story Land and Star Wars Land. Because of this expansion, many of the attractions have permanently shut down (which makes me sad, because there were some awesome attractions there).
Character Meet & Greets at Hollywood Studios
Kylo Ren (Star Wars Launch Bay, Animation Courtyard)
Chewbacca (Star Wars Launch Bay, Animation Courtyard)
Disney Junior Pals (Animation Courtyard)
Buzz & Woody (Pixar Place)
Mickey & Minnie Mouse (Commissionary Lane)
These are just the attractions that you can take your infant or toddler on or watch with them. Another thing you can do with your little one is take your time and enjoy your surroundings and the theming. Like I mentioned before, Walt Disney World is so much more than an amusement park. The parks all have themes, and themes within themes. The Imagineers (what Disney calls their engineers) took the time to carefully create each and every detail. Trust me, there are so many things that you'll experience that you won't even think about. For example, if you walk down Main Street U.S.A. (Magic Kingdom) on a quiet day or night, be sure to look up at the windows and try to listen closely. One of the windows says Singing lessons, and you can hear someone practicing their vocals. There is so much to see. Want to take it easy, grab a Starbucks coffee at the Main Street Bakery and take a stroller through the park. Go make a wish at Cinderella's fountain with you little one. Hop on it's a small world. Just enjoy yourselves.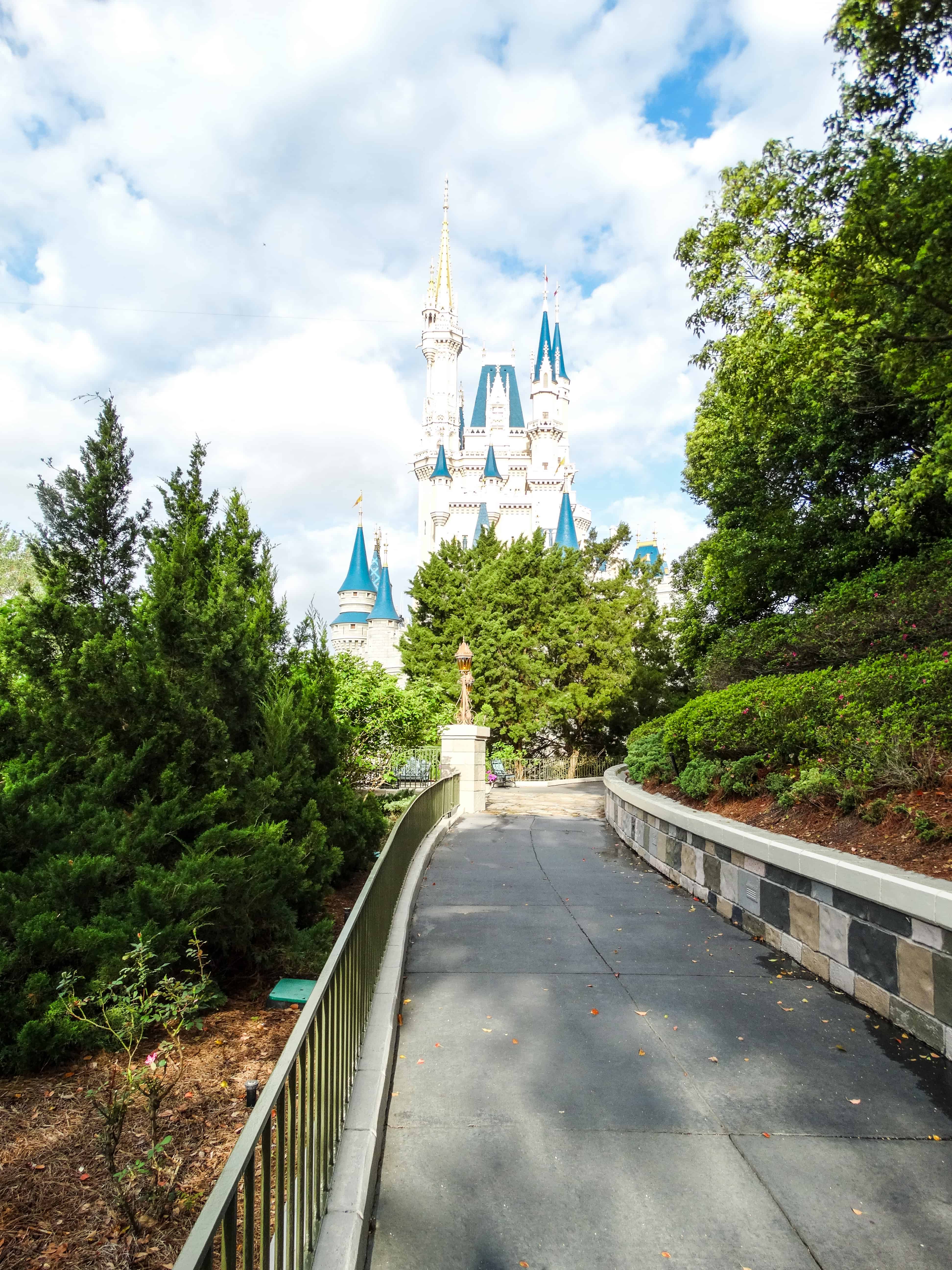 Rider Switch/Child Swap
The other really cool thing that Disney allows is something called the Rider Switch or Child Swap. So let's say you have an infant or child that is too short or small to go on one of the more adventurous rides (rides that have height requirements) well you don't have to miss out on those rides. Take your entire family and enter the line (or Fastpass+ line if you made Fastpasses). Tell the CM (Cast Member) that you want to take advantage of the Rider Switch pass. One adult and the child or children not riding will be given a Ride Switch pass and told to wait in a specific area while the other members of your party ride the attraction. Once those members return, the adult with the rider switch pass enters the attraction and doesn't need to wait in line. Just make sure to hand the pass over to the CM. I should also note that if you waited alone with the child that can't ride, you can bring another guest with you.  If you are wondering which rides offer the Ride Switch here's the list below:
Magic Kingdom Park 
The Barnstormer
Big Thunder Mountain Railroad
Space Mountain
Splash Mountain
Stitch's Great Escape
Tomorrowland Indy Speedway
Seven Dwarfs Mine Train
Epcot
Frozen Ever After
Mission: SPACE
Soarin'
Test Track
Disney's Hollywood Studios 
Rock 'n' Roller Coaster Starring Aerosmith
Star Tours – The Adventures Continue
Twilight Zone Tower of Terror
Disney's Animal Kingdom Park
DINOSAUR
Expedition Everest – Legend of the Forbidden Mountain
Kali River Rapids
Primeval Whirl
So there you have it a whole bunch of attractions you can enjoy with your toddler or infant and options when you seek the thrill but your munchkin can't ride. If you're looking to tips on bringing your infant to Disney World check out my other post titled Walt Disney World with an infant.
Until next time!