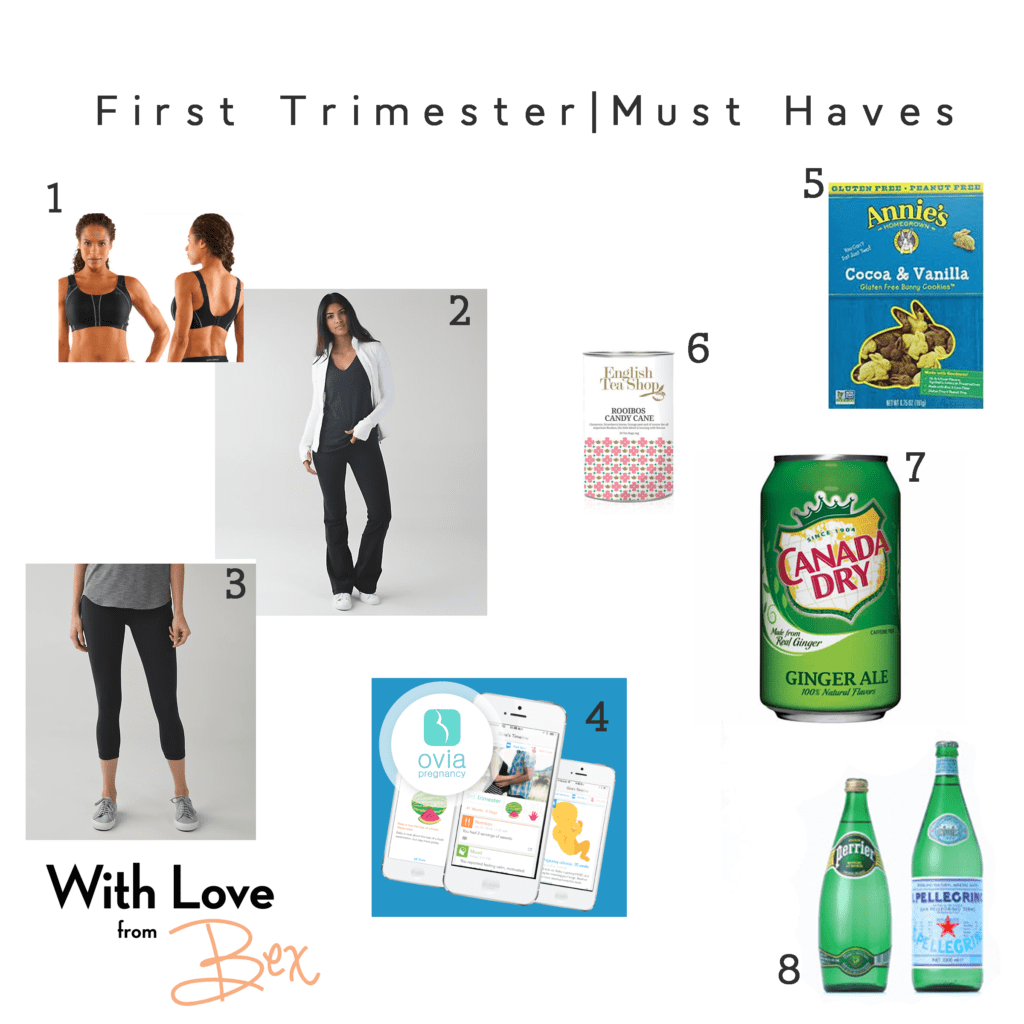 This pregnancy has been a dream come true, despite the morning sickness, exhaustion, and this 3 month cold,  I wouldn't change a second of it. From the moment I found out to the end of my first trimester, there were things that were vital to managing my pregnancy symptoms.
Under Armour Sports bra – I have pretty much lived in my new Under Armour Sports bras since week 6. My breasts were the first noticeable change during my pregnancy. I quickly outgrew my regular bras and was in major need of a bra that let my girls breathe a little. So as I was browsing through a Winner's near me, I found a few awesomely priced bras, tried them on and best purchase I have made during my first trimester. The Under Armour bras that I purchased, offer great support and are padded, which if you have breasts you definitely know how important padded bras are.
Lululemon Yoga Pants – So comfortable and stretchy. Bloating is a definite when it comes to pregnancy, especially in my experience, so I learned quickly that I needed to find a pair of bottoms that didn't make me feel sick by the end of each day. I'm almost positive that my nightly sick sessions were due to the fact that my jeans and pants could not handle the bloat.
 Lululemon Run bottoms – I had the same feelings about my run bottoms as I did my yoga pants. During the first trimester, I was in the midst of training for RunDisney's Star Wars Dark Side 5k race, so I needed bottoms that allowed my legs to breathe a little, even during the cool February mornings.
Ovia Pregnancy App – I can't say enough good things about this app. It's informative, entertaining, and user-friendly.  Check out the this cute 'what size is your baby comparisons'

Annie's Cocoa & Vanilla Bunny Cookies – These were like mini life savers during my morning sickness days. One of our friends had recommended keeping gold fish or crackers by my bedside to help with the morning sickness. Since I'm not a fan of gold fish crackers or most regular crackers without dip, I figured Annie's Cocoa & Vanilla bunny cookies would bring the same effects, and they did. Some mornings theses cookies were the only thing I could manage to eat.
English Tea Shop: Rooibos Candy Cane – Anyone else not realize how limiting it can feel being a tea drinker while pregnant. I feel like there are a ton of teas that are just off limits. I never realized that before.  Most of my flower/herb based teas are just sitting in my cupboard untouched, calling to me. BUT in saying that I also discovered brand new teas that I have come to enjoy like the English Tea Shop Rooibos Candy Cane tea. That tea had sat in my tea cupboard for months unopened until the 5th week of pregnancy, now I'm in love with this sucker. I drink it in the morning and at night. If you are looking for a tea that tastes like christmas then you have to try this one.
Canada Dry Ginger Ale – Like the cookies, ginger ale helped me get over my morning sickness. Generally speaking, Chris and I are not pop drinkers. The thought of drinking coke or any pop for that matter use to make me gag, unless it was mixed with some alcohol. To me, most pop tastes like syrup but when the morning sickness was coming on and my daily cup of joe was triggering a gag session, ginger ale was one of the few drinks to calm my stomach. Even my favourite 1st trimester tea couldn't do that.
Water, mineral water, sparkling water…. HYDRATION, HYDRATION, HYDRATION. Need I say more?
To my fellow mamas out there, what was on you Mommy Must Haves for the 1st Trimester?