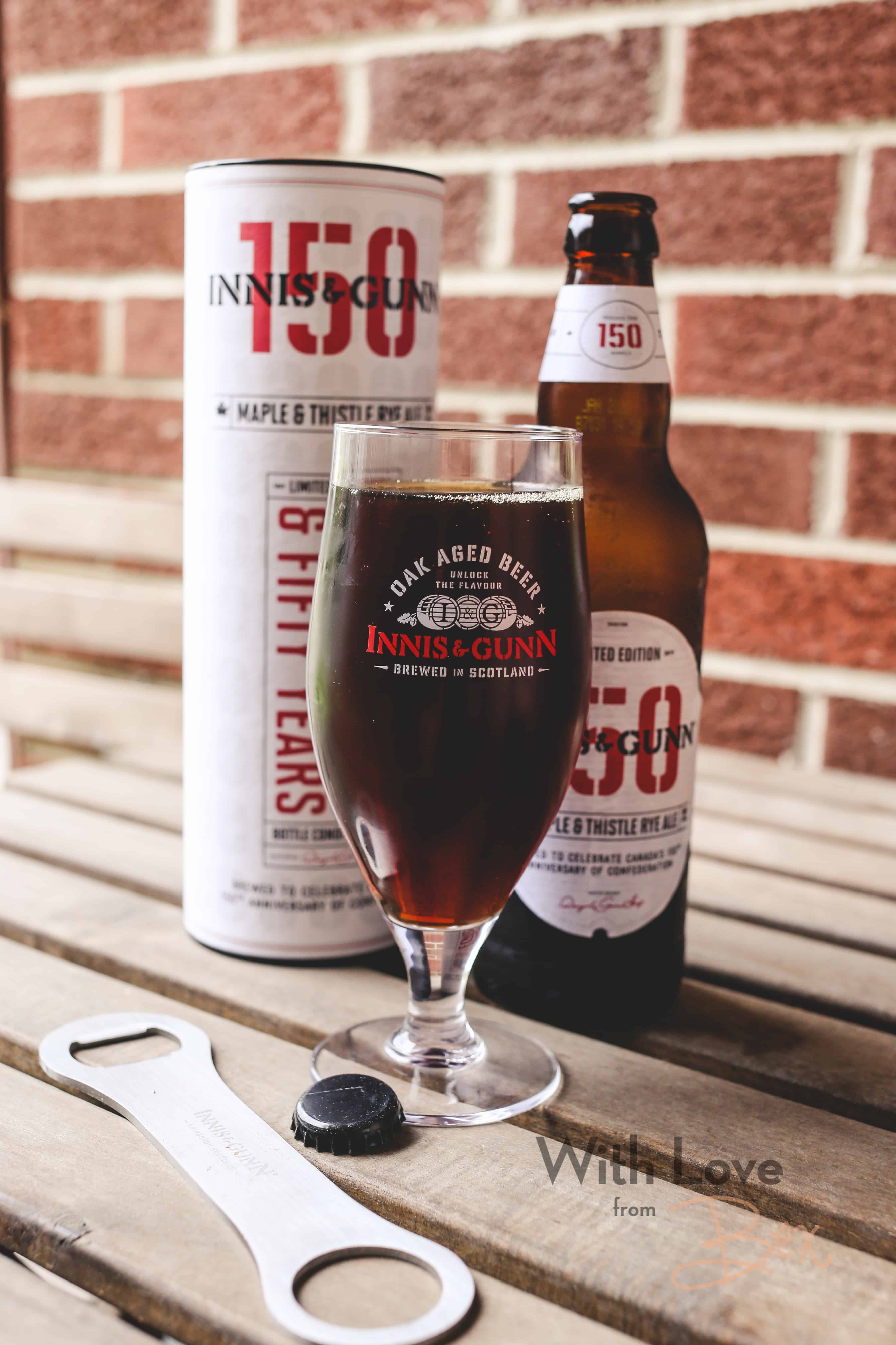 Happy Friday Friends!
Canada's 150th birthday is tomorrow and I can't think of a better way to celebrate than with a few beers and friends. It's the Canadian way. Since it's the big 150th, many companies put out special edition products in order to celebrate. To be honest, I could care less about some of the other products on the market, but when Chris and I heard Innis & Gunn were putting out a 150th special edition, we knew we had to try it! By the way, this post is in no way sponsored or paid by Innis & Gunn, all opinions are my own and I'm just writing an honest review on this special product.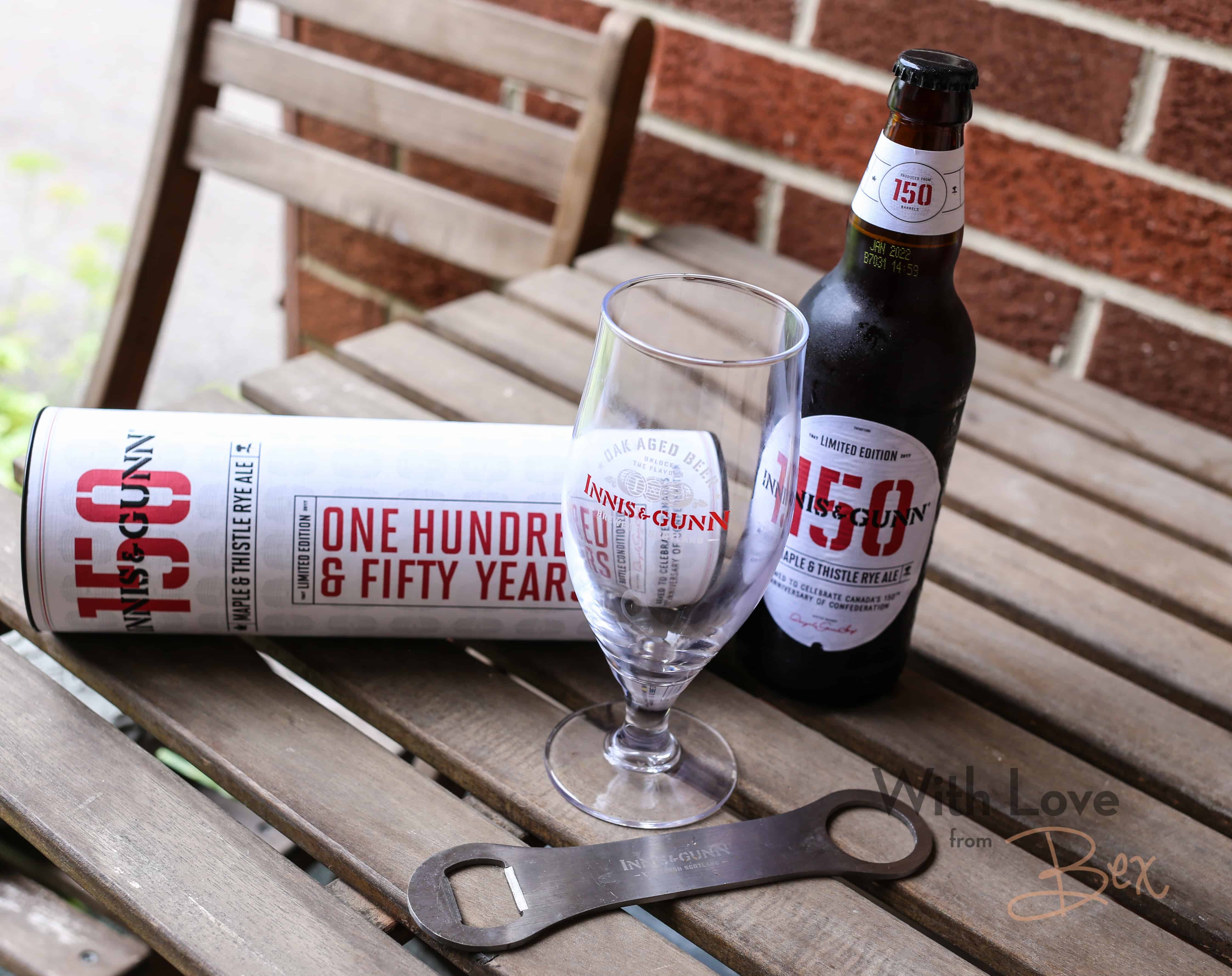 According to the Innis & Gunn website, this special edition beer was created "As a celebration of the special relationship between Canada & Scotland, and to toast this momentous year, we have brewed something just for Canada: A big, bold beer that is packed with flavours and aromas of toffee, vanilla, oak, citrus, smoky maple and orange oil. Above all though, it's packed with love. This mighty amber ale was brewed with Canadian malted rye crystal, and fistfuls of Goldings and Cascade hops, and then matured in 150 oak barrels for 150 days. After maturation[,] we added in two emblematic ingredients; a hint of Canadian Maple Syrup and some Scottish Thistle. Finally, we added some live yeast to the bottle to allow this unique brew to develop and mature over time."
Essentially it's a lot of flavour going on in one bottle. My first impression was "wow that's a big bottle of beer." Which for $9.95, I would expect it to be big. I loved that it came in a large cylinder package. It definitely makes it feel like a special edition beer.  When I poured the beer into my glass, it had a dark reddish colour to it, which is exactly what you would expect. When I smelled the beer, I could definitely pick up on the maple scent. It wasn't overpowering but very subtle. I didn't really smell a lot of the rye, but that could also be because I'm not really a Rye drinker so I couldn't tell you what Rye is supposed to smell like.
When it came to taste, it felt like there was a lot going on, maybe too much. I didn't pick up on the oak, vanilla, citrus, or the orange oil. I did taste the maple syrup and I enjoyed it very much, however, I didn't taste the Scottish Thistle as much. All the flavours were a bit too much, that it actually dulled the taste of the beer a little. I did enjoy it more than Chris did, but I think it could have been better. In terms of taste, it went down pretty smooth and dry. I found that it left a light taste of vanilla in my mouth, which went well with my peanut butter bacon Nanaimo bars.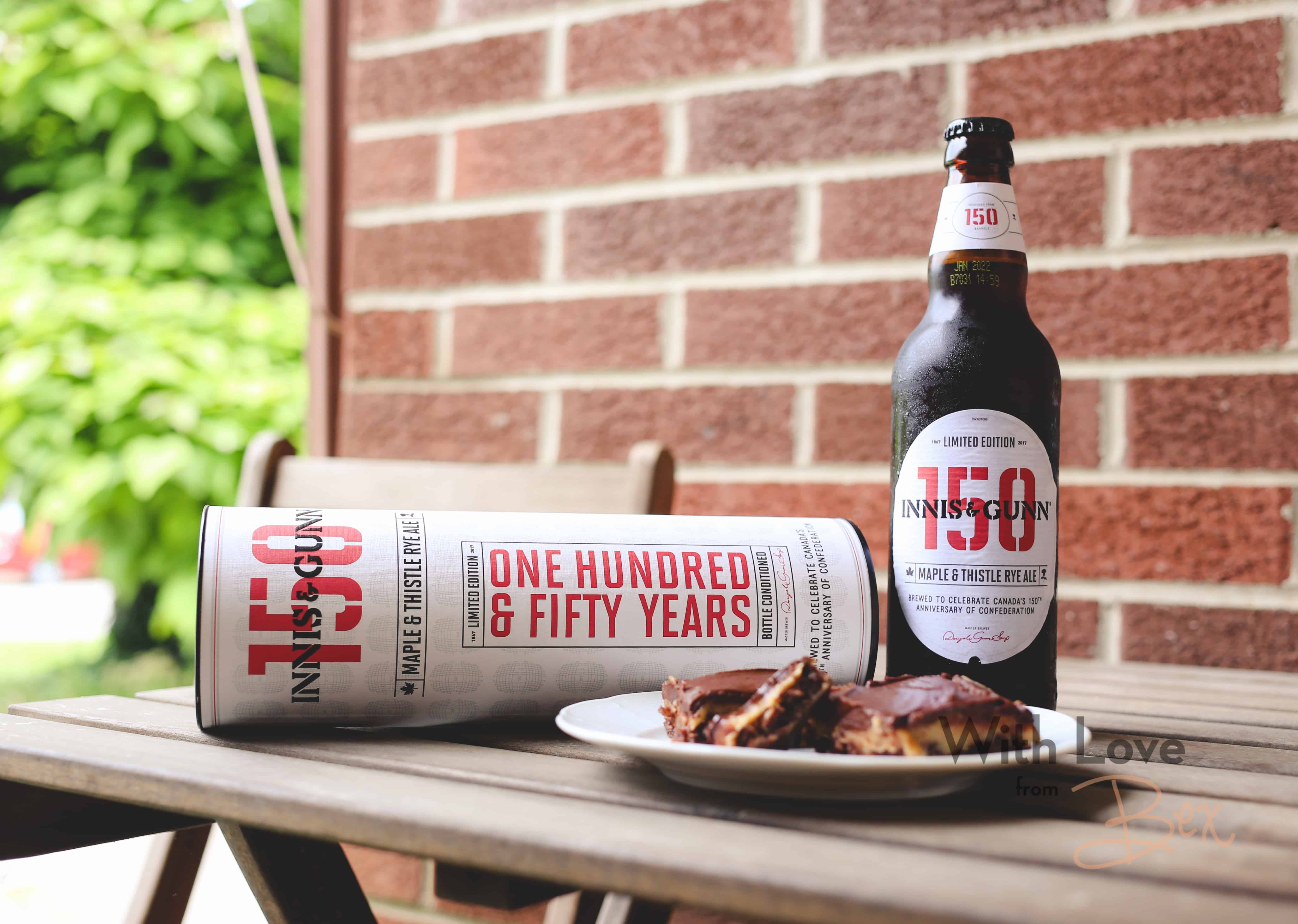 Overall, I enjoyed this special edition craft beer. It was smooth and was a nice treat to celebrate Canada Day. So if you're heading out to pick up some last minute alcohol at the LCBO, I would definitely recommend picking up at least one or maybe two and you could share with a friend this weekend!
Have you tried out Innis & Gunn's 150th beer? What are your thoughts? Let me know below or take a photo of yourself drinking it with friends and tag me on Instagram (@withlovefrombex) I would love to see what you guys are up to this weekend!
Happy Canada Weekend.