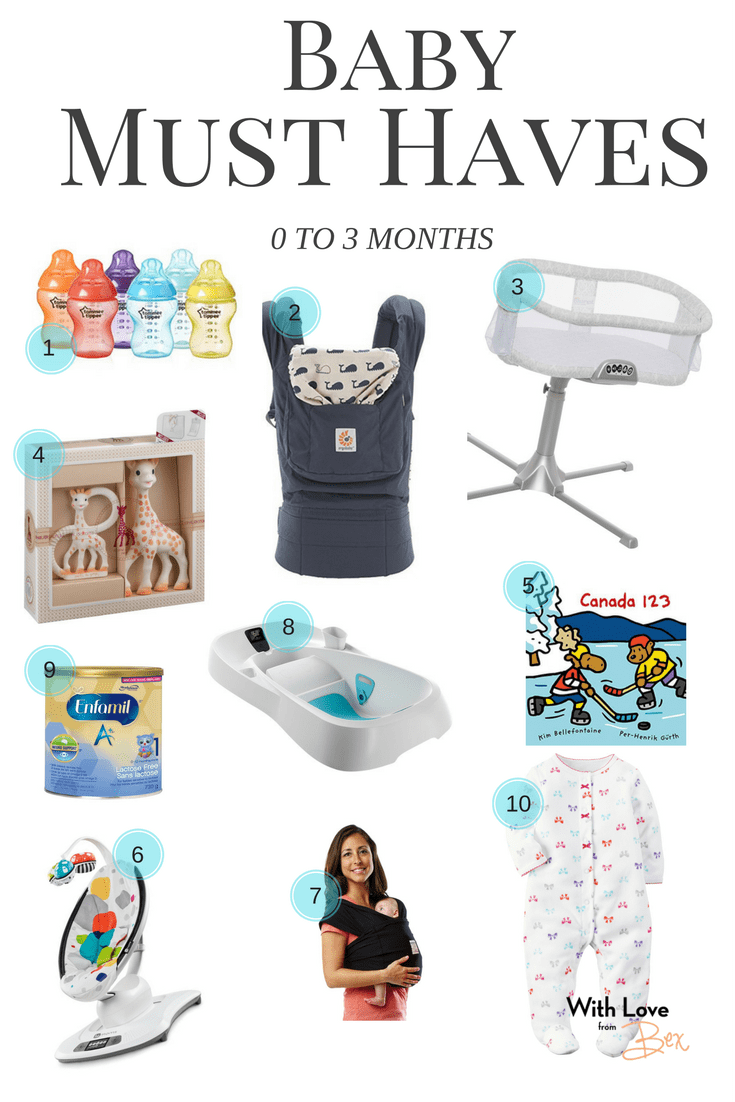 Sometimes I look at my baby girl and can't believe she is 3 months old already. My goodness time has just flown by. These last three months have been such an eye opener for us. Life with an infant is so different, there's so much that we have learned. Things we have tried that didn't worked and other things that worked wonders for us. Here are some of the items that have been a real help.
*This post also contains affiliate links. Meaning that if you click on the link and make a purchase I make a small commission. This doesn't increase your cost or change your experience at all. All thoughts and opinions below are my own.*
Tommee Tippee Closer to Nature Fiesta Bottle, 9 Ounce, 6 Count – Amazon.com – Before giving birth to Wendy, I had imagined myself exclusively breastfeeding her. Unfortunately, that didn't work out. Firstly she wasn't putting on enough weight, even though she had no issues latching, I just wasn't producing enough milk. On our doctor's advice, we introduced formula to help Wendy gain the weight we needed. We noticed right away that enough though we were only using slow-flow nipples, each one was made differently. We went through 5 different bottle/nipple brands before Tommee Tippee. Wendy took to Tommee Tippee and we haven't changed it. PLUS Tommee Tippee is an amazing company to support.
Ergobaby Original 3 Position Baby Carrier – Amazon.com – This carrier came in handy when Chris and I traveled to Disney World in October with our then 5 week old. It fit on Chris and made traveling through the airport, on the plane, and through the Parks. I personally didn't like the way it fit on me, but I loved the Baby K'tan I purchased, which Chris didn't like wearing.
HALO Premiere Series Swivel 360 degree Sleeper Bassinest – Amazon.com – Wendy loved sleeping in this bassinet. It's not cheap but any means, especially for something we used for less than 2.5 months but it did help. Chris and I both agreed that we were not okay with co-sleeping and we, well more I than we, felt that being in the same room would help with the transition to mommyhood. The HALO's height is adjustable and it swivels. ALSO there are features for sounds and vibration. Wendy enjoyed the heartbeat sounds and vibrations during the night. As a breastfeeding mama, I liked being able to swivel the bassinet closer to me when needed, and the side wall lowers so I didn't need to get up to pick up Wendy. It was so useful for those 3am feedings.
Sophie La Girafe Sophiesticated Classical Creation – Toy & Teething Ring – Amazon.com – Sophie has been a life saver in the last two weeks. We think that Wendy will get a tooth really soon. She has been very cranky, drooly, and trying to suck on anything from her fingers, to soothies, to trying to nibble on our shoulders. At first, she didn't know what to do with Sophie's teething ring but she's started to figure out that it's a great thing to chew on.  Thank goodness.
 Canada 1 2 3  Board book – Chapters/Indigo.com – We read Wendy a book every night and we love it, plus the board books are excellent for the young years. She can't accidently rip the pages.
4moms, mamaRoo, Baby Swing – Amazon.com – Friends of our let us borrow their baby swing and Wendy enjoys it. I put her in it every morning as she drinks her bottle and she stares out the window while on car ride mode.
Baby K'tan ORIGINAL Baby Carrier, Black, Small – Amazon.com – this is my favorite way to baby wear. The Baby K'tan was easy to use and Wendy seemed so comfortable. Every time I wore her, she would just fall asleep. It allowed me to get a lot of stuff done around the house without having a screaming baby.
4Moms Infant Tub, White – Amazon.com – This is a rather large tub and it barely fits in our sink but it is amazing. I love that it lights up green when the water is the perfect temperature and beeps and flashes red when it's much too hot. Wendy loves being in it and she especially loves just sitting in the water chillin'.
Enfamil A+ Baby Formula, Lactose-Free Powder – Amazon.ca – After two weeks of giving Wendy regular formula, we started to notice that Wendy would get super gassy and scream until she either farted or spit up everywhere. Then we started to notice that she was doing the same thing every time I breastfed and if I consumed any milk products. Seeing that I am lactose-intolerant which before I was pregnant seemed to be turning into an allergy….we figured Wendy might be as well. So we purchased this formula to see if it would make a difference. It did and we haven't looked back.
Carter's Fleece Sleepers – Carters – These are what Wendy sleep in. She seems to really like them plus a lot of them are so freakin' cute.