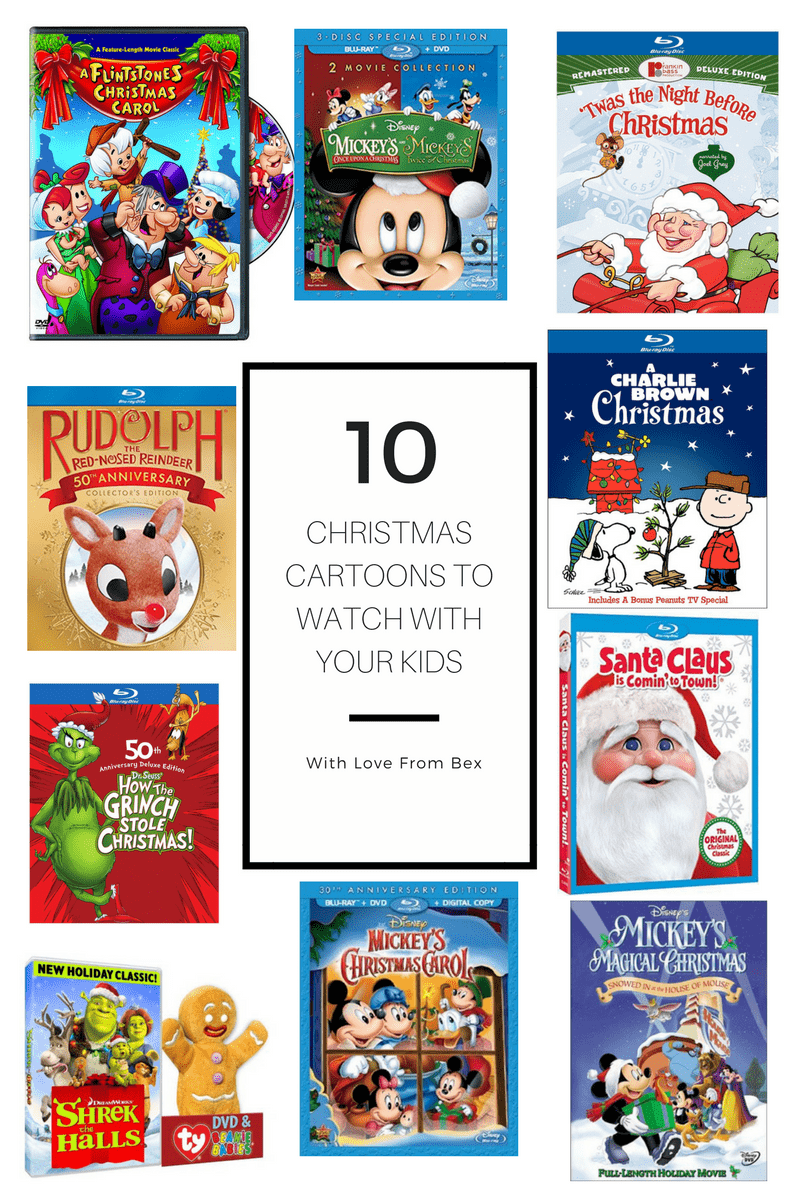 I don't know about your family, but my family has a bit of a movie obsession. Well, we actually like watching a lot more than just movies. Regardless of what we are watching the main point is spending that time together. We put something on tv and cuddle up on the couch with some popping corn. The holiday season is no different, really, except that we tend to watch more Christmas movies and cartoons. Now I'm sure that as Wendy grows and we add a few more kiddies to our clan, we'll be watching a heck of a lot more cartoons. Okay maybe not, I watch a ton of Christmas cartoons already. Here's a list of some of our favorites.
*This post contains affiliate links. Purchasing an item via one of my links means there is no additional cost to you but With Love From Bex receives a small percentage of the sale as a thank you. Thank you so much for your support*
A Flintstones Christmas Carol 
This is actually one of our family's favourite cartoons to watch around the Holiday season. I grew up reading Charles Dicken's The Christmas Carol each year. I guess I have a soft spot for hope or I want to maintain my faith in humanity, either way, I adore watching a cute cartoon with an amazing message. Here is the excerpt from amazon.com "When Fred Flintstone stars as Ebenezer Scrooge in the Bedrock Community Players production of Dickens' A Christmas Carol, his ego swells to the size of a Tyrannosaurus, and he starts to become like embittered old miser he is to portray. But by the time the curtain closes on the play, Wilma, Barney and Pebbles help Fred learn the true meaning of Christmas."
Mickey's Christmas Carol
Yup it's another Christmas Carol inspired cartoon. (I told you, I have a soft spot for it). Only this time it features everyone's favourite mouse and it's a much more condensed version of the story. Except from amazon.com "Ebenezer Scrooge (Scrooge McDuck) is far too greedy to understand that Christmas is a time for kindness and generosity. But with the guidance of some wise ghosts (Goofy and Jiminy Cricket) and a bunch of newfound friends, Scrooge learns to embrace the spirit of the season. Share this wonderful holiday treat with the whole family."
Mickey's Once Upon a Christmas
Another Disney favorite in my house is Mickey's Once Upon a Christmas. This features three stories that will warm your heart and make your little ones laugh. Here's the excerpt from amazon.com "MICKEY'S ONCE UPON A CHRISTMAS is a merry and madcap collection of adventures and magical Christmas songs celebrating the true joys of the holiday season." I find the stories touching, especially the Goofy and Max story. Overall an excellent pick to watch each year, also it's narrated by Kelsey Grammar. It doesn't get any classier than Fraser, am I right?
A Charlie Brown Christmas 
There are some cartoons that are just classics, A Charlie Brown Christmas is definitely one of them.  I don't think I could go through Christmas without watching this favourite. (yes, we have a lot of holiday favourites in my house). Chances are your kids will enjoy watching this with you, especially if they have gotten into the new Peanuts movie. In case you've never heard or watched the cartoon, here is the excerpt from Amazon.com "Christmastime is here. Happiness and cheer. And for Peanuts fans everywhere, it just wouldn't be Christmas without this classic holiday delight. Christmas lights may be twinkling red and green, but Charlie Brown has the Yuletide blues. To get in the holiday spirit, he takes Lucy's advice and directs the Christmas play. And what's a Christmas play without a Christmas tree? But everyone makes fun of the short, spindly nevergreen Charlie Brown brings back – until the real meaning of Christmas works its magic"
Mickey's Magical Christmas: Snowed in at the House of Mouse
Another Disney pick. This is actually an episode of the Disney Show called House of Mouse.  Basically, all the Disney characters become stranded at Mickey's Night Club after a snow storm hits. So to pass the time, and convince Donald to embrace the spirit of Christmas, Mickey and his friends showcase a bunch of holiday cartoons. Some of the cartoons are newish , while others are Disney classics, like Pluto's Christmas Tree (1952). This is definitely worth a watch, especially for the classic cartoons. Also, it features Donald, and what's not to love about Donald.
Rudolph the Red Nosed Reindeer 
Like A Charlie Brown Christmas, this one is also a must see classic. My parents introduced this cartoon early on in my childhood and I loved it. I don't think I really need to explain what this cartoon is about but if I must…it's about a reindeer with a red nose who doesn't fit in, an elf who doesn't like to make toys, and a Hipster with a silver and gold obsession. Enjoy and sing along with Burl Ives.
Santa Claus is coming to Town
Another stop-motion cartoon, like Rudolph, this one will teach your kids just how Santa Claus came to be. (It's the fictional history of Santa Claus). It's wonderfully done and I know that you'll fall in love with the cute penguin. Yes, Santa had a penguin, duh.
Shrek The Halls 
Shrek wants to give his family the perfect Christmas but he has no idea how. Then add in Donkey and everyone else and your family will end laughing together.
How the Grinch Stole Christmas 
We all know the story of the Grinch who stole Christmas. He's green, mean, and owns an adorable dog, Max. The songs are also pretty catchy. I personally prefer the cartoon version over the live-action version. I guess you just can't beat originals.
T'was The Night Before Christmas
Lastly, this one is my absolute favourite Christmas cartoon. Here's the excerpt from amazon.com "For some unexplained reason, letters to Santa Claus are being returned to the children of Junctionville. It seems some sour soul has angered St. Nick, calling Christmas "a fraudulent myth!" The skeptical rodent Albert Mouse has to be brought to his senses "and let up a little on the wonder why." How Albert is persuaded to change his tune paves the way for Santa's jolly return to Junctionville — and the joyous finale of this charming animated fable inspired by Clement Moore's poem." My family loves the songs in this cartoon. They will have you singing even after the cartoon is over, trust me.
So there you have it, our top 10 Christmas cartoons. I hope you enjoy the cartoons above as much as my family does. Do you have any favourite holiday cartoons that your family watches?