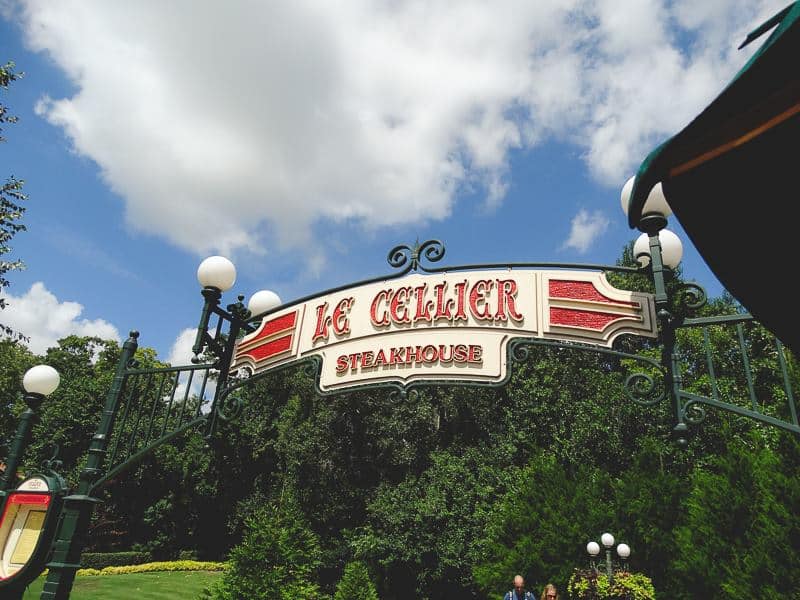 If you're new to the world of Walt Disney World, then I should mention that you can find Le Cellier Steakhouse inside E.P.C.O.T. at the Canadian Pavilion. The scenery is beautiful and peaceful. Whenever we go, Chris and I love taking our time walking through the grounds and admiring the beautiful flowers. Also, the show at the Pavillion is pretty entertaining. Martin Short rocks it out loud, Canadian style.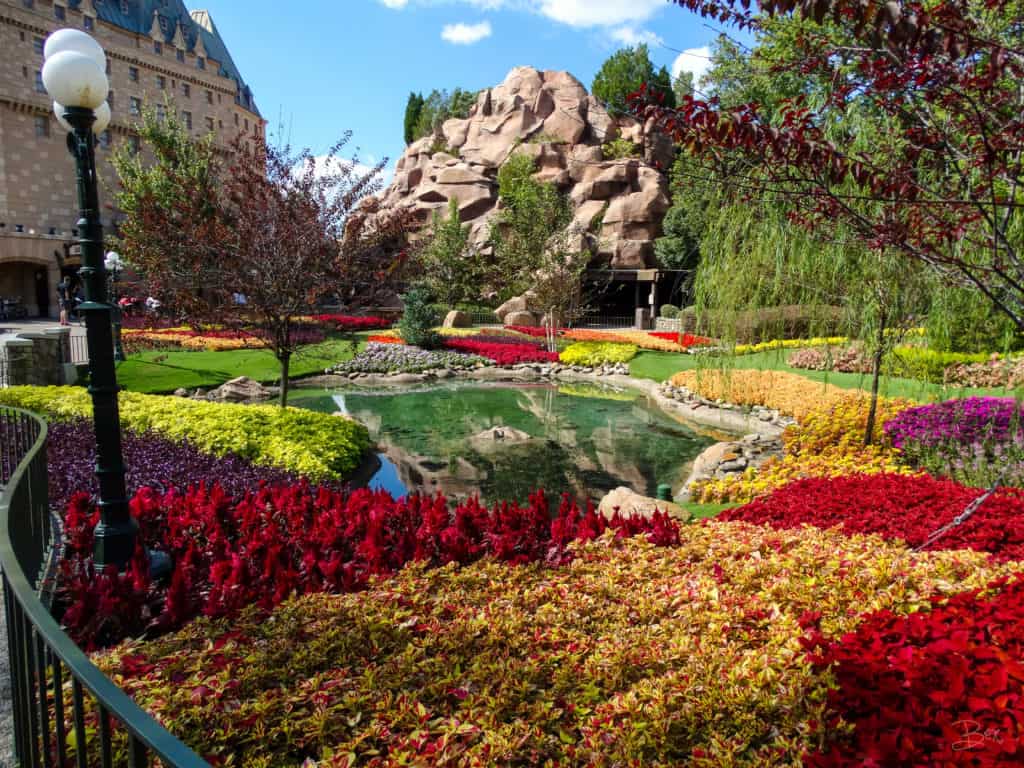 Something else to check out at the Canadian Pavilion would be the signature dining location, Le Cellier. Maybe it's because we're proud Canadians or the fact that what we order tastes really really good, but Le Cellier is on our "always must eat at" list.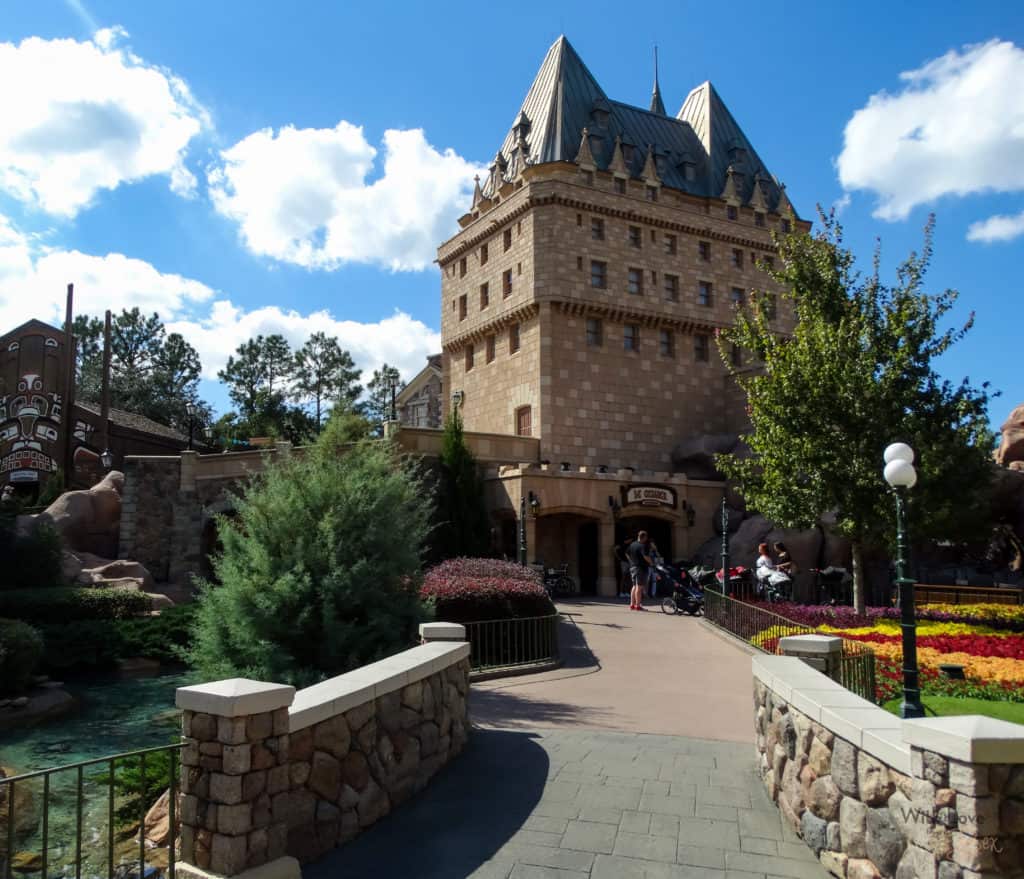 You'll find Le Cellier underneath the Hotel du Canada, which takes it inspiration from the Chateau hotels here in Canada (Chateau Frontenac, Quebec City and Chateau Laurier, Ottawa).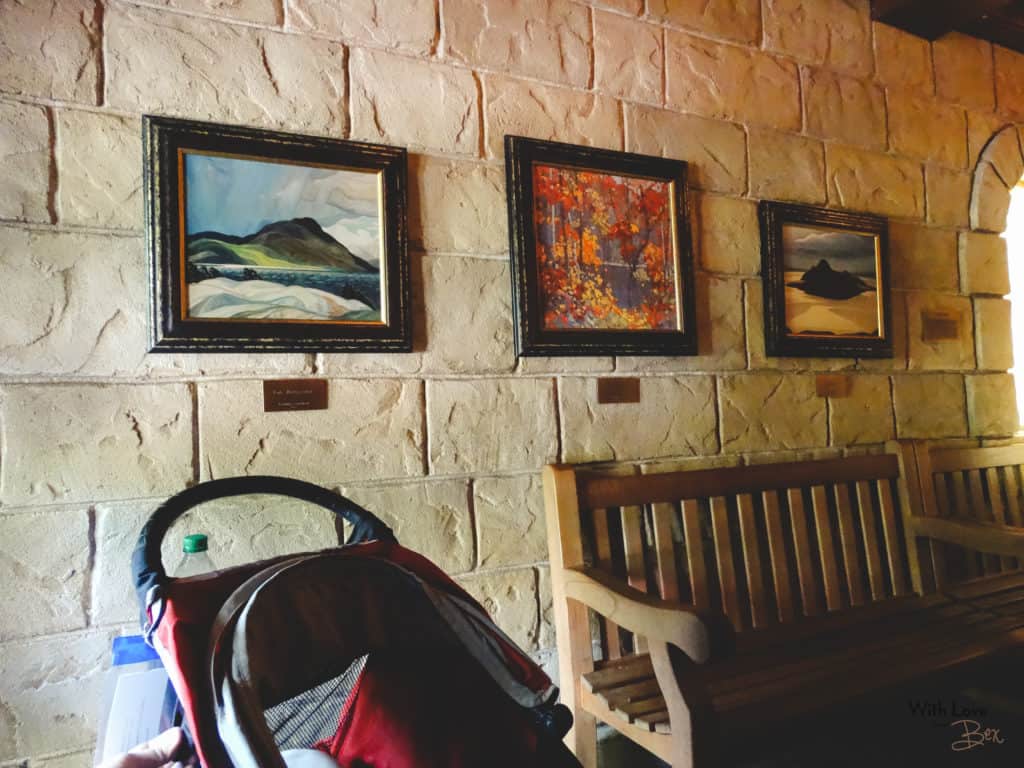 When we entered, we were greeted by some of the friendliest Cast Members. I should mention, we did receive a lot of attention the week we with there because we brought Wendy with us, who was almost 5week old.
The dining room is dimmed and does feel a little cramped compared some other dining locations at Disney World. The room is separated into provinces and territories, which is super cool and we have always had such amazing service. Each time we have gone, our server always shares a piece of interesting history or a fun fact from the province you're seated in.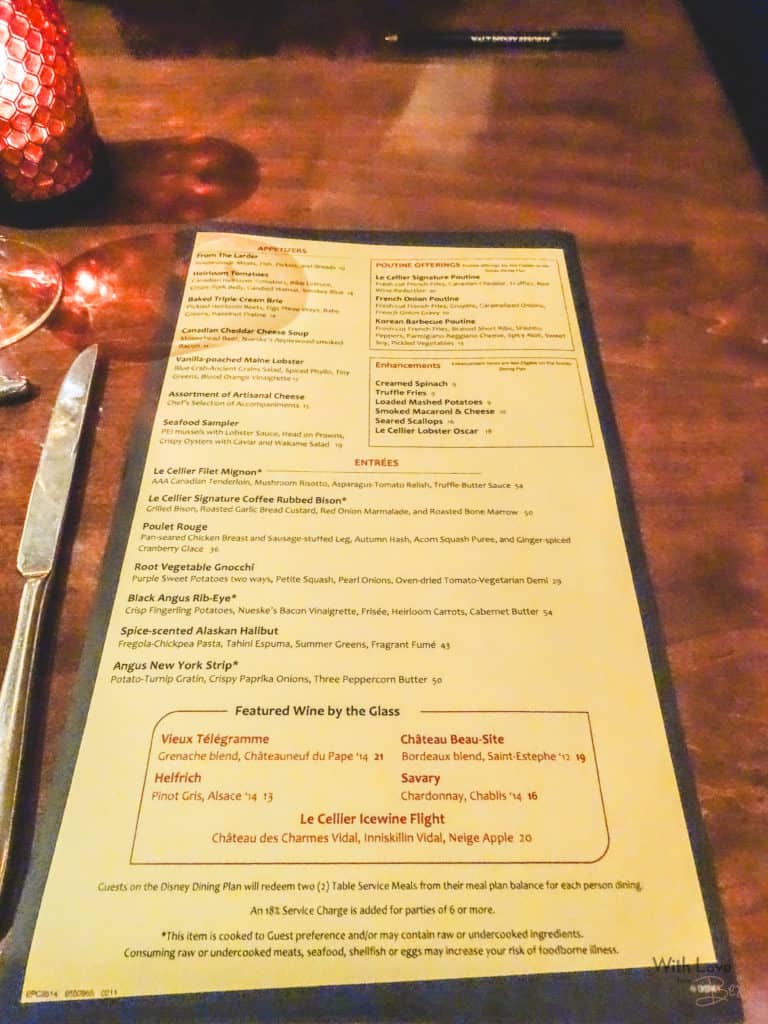 The menu has a number of different options. The most popular of which are the Cheddar Cheese Soup and the Filet Mignon. Oh my goodness! TRY THE SOUP! It is amazing with the pretzel bread that they set out on the table.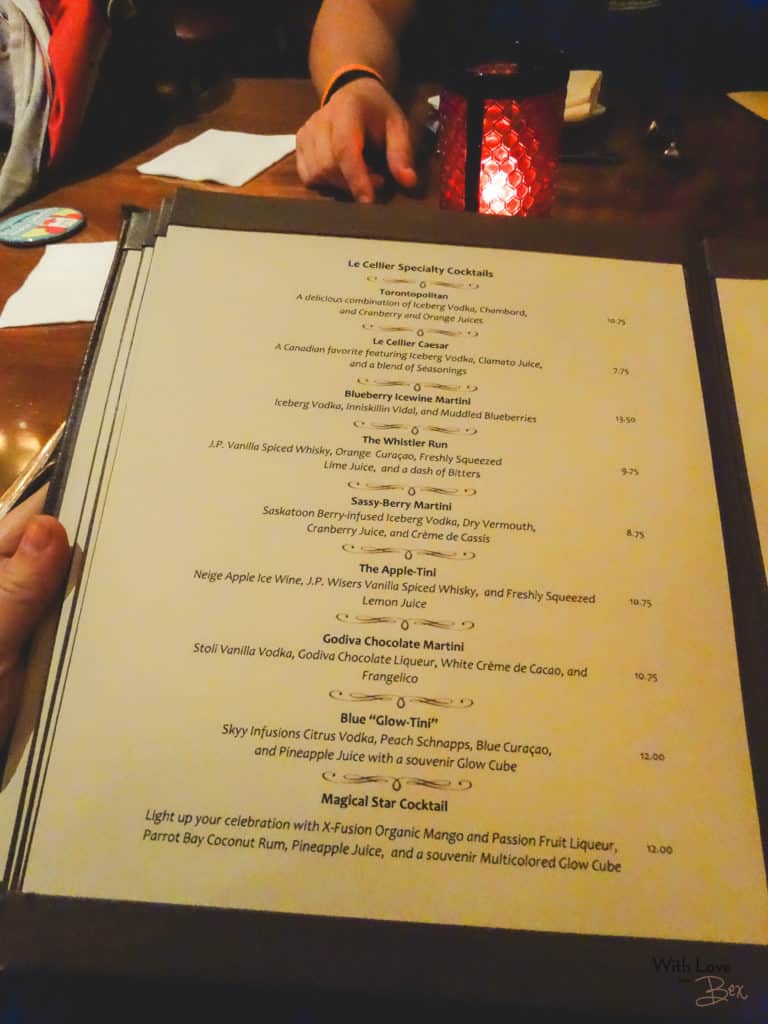 The drink menu is okay. I mean there are distinctly Canadian drinks but I don't feel like they really showcase our best. Come on, where's the HOPCITY's Barking Squirrel or Steamwhistle  or Mill Street? But I digress. I will say they do serve Caesars which is awesome. It's so hard to find a place that serves a good Caesar outside of Canada. Sorry, but Bloody Marys are not the same….not even close.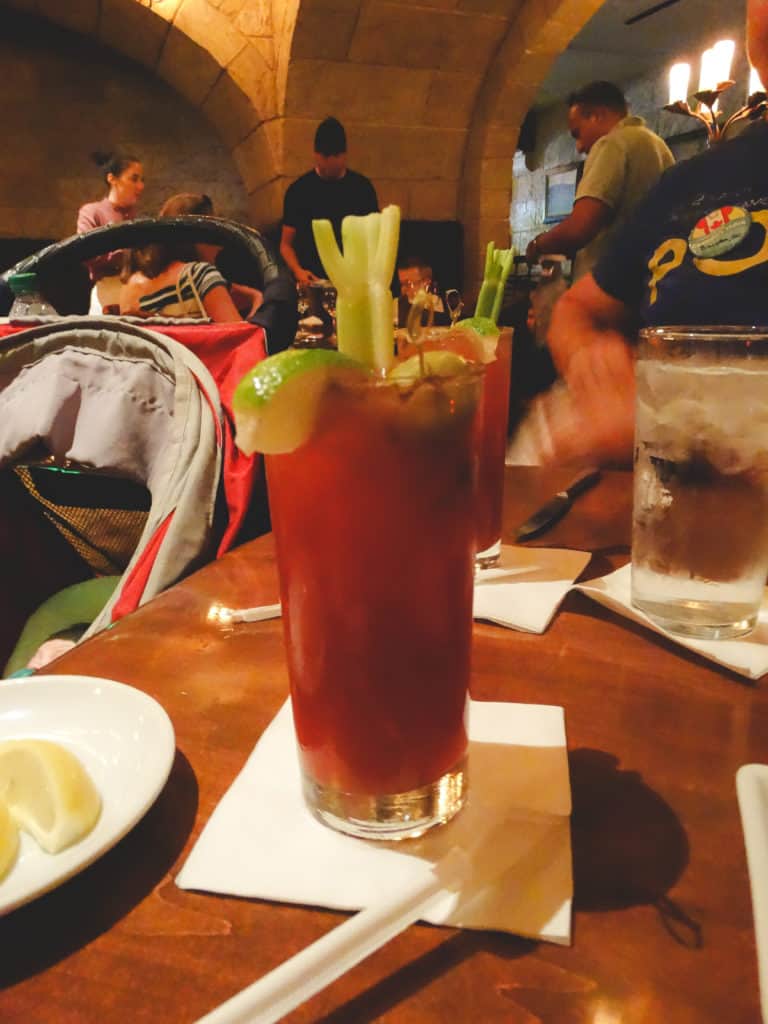 So the bread basket that they serve at the beginning of your meal has some amazing pretzel bread. Try it, love it, and wish for more. I could honestly do without the other two bread options in the basket and just eat the pretzel bread, yes it's that good. It doesn't even need the butter that they give you, either.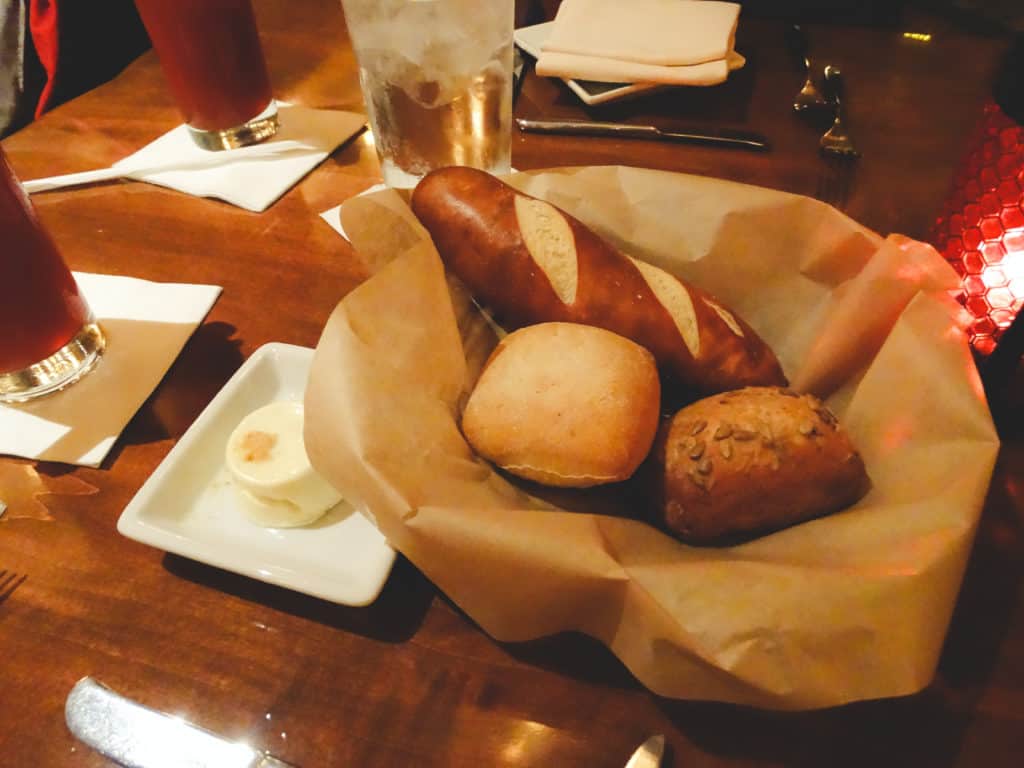 Because we have gone so many times, we have tried a number of the appetizers and entrees. Unfortunately, I haven't always taken photos of our food. I know, bad blogger, bad. So here are some of the appetizers, we have tried with photos and our review.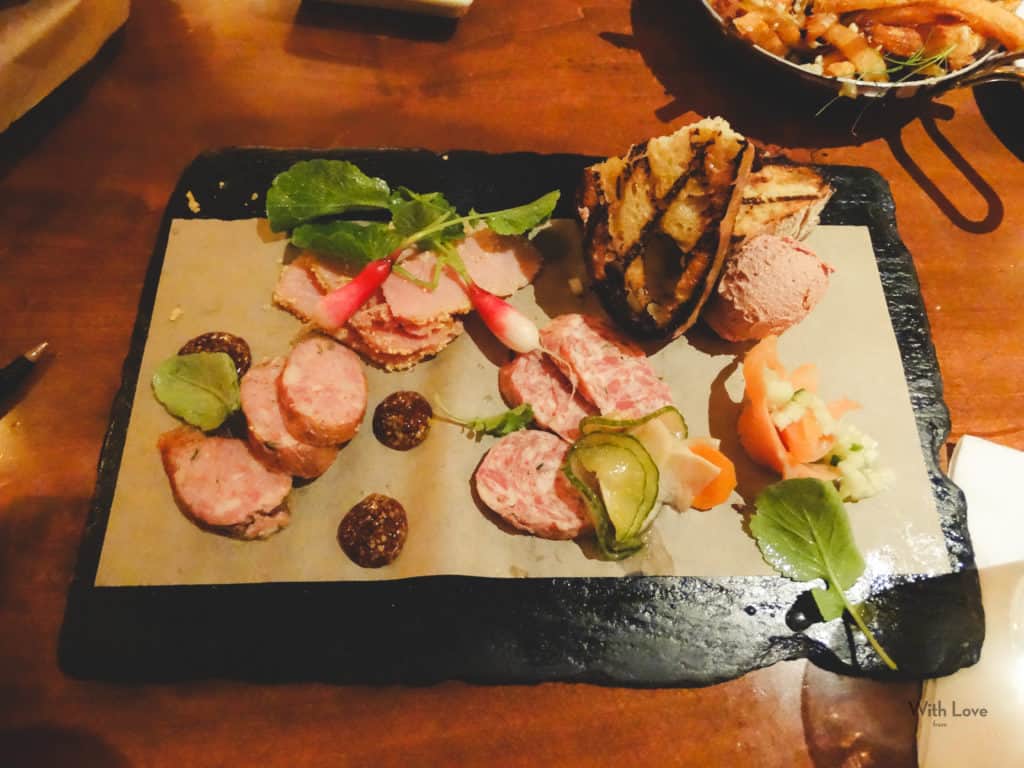 Above is the From the Larder, it includes meats, bread, yummy pickle slices, and fish. I can't remember what the meats or fish were exactly but I remember the meats were okay and the fish was not. The fish was just so slimy, I really didn't like the texture. Overall, I don't think I would order it again. It was just okay.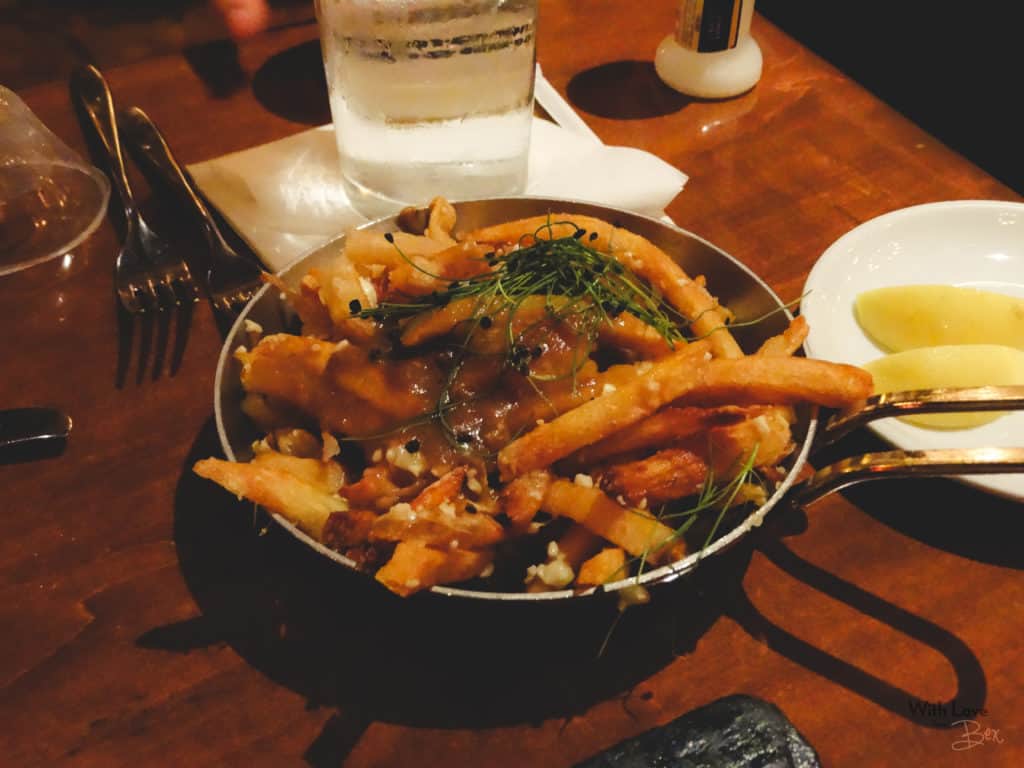 Another item we ordered was the french onion poutine. When we ordered this dish it was on the regular menu. As of April 2017, I noticed it is now a Passholder exclusive dish. Kinda odd if you ask me. Over the years, I have tried the poutines, they are good but not what I would really consider poutine. A good poutine is usually one you'll get at the Byward Market in Ottawa, or from a street vendor in Montreal and it's fries, with white cheese curds and lots of gravy. It's not fancy, it's not complicated, it's just comfort in a bowl. The poutine at Le Cellier isn't that, it's tasty but I would not call it a good poutine. Just a good appetizer.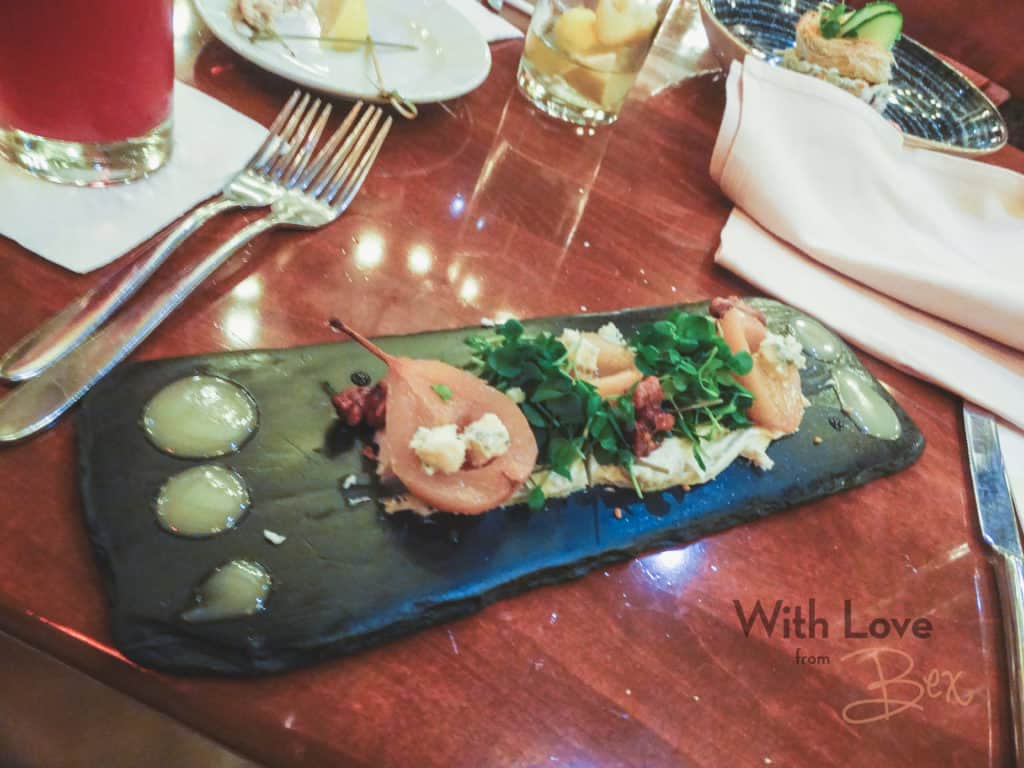 Pictured above is the poached Forelle pears appetizer. It consists of Forelle pears, blue cheese cream, candied walnuts, micro lettuce, and a pear vinaigrette. It was lovely. The poached pears with the blue cheese cream and the candied walnuts were magic in my mouth. I loved the balance of this dish. I would order this again in a heartbeat.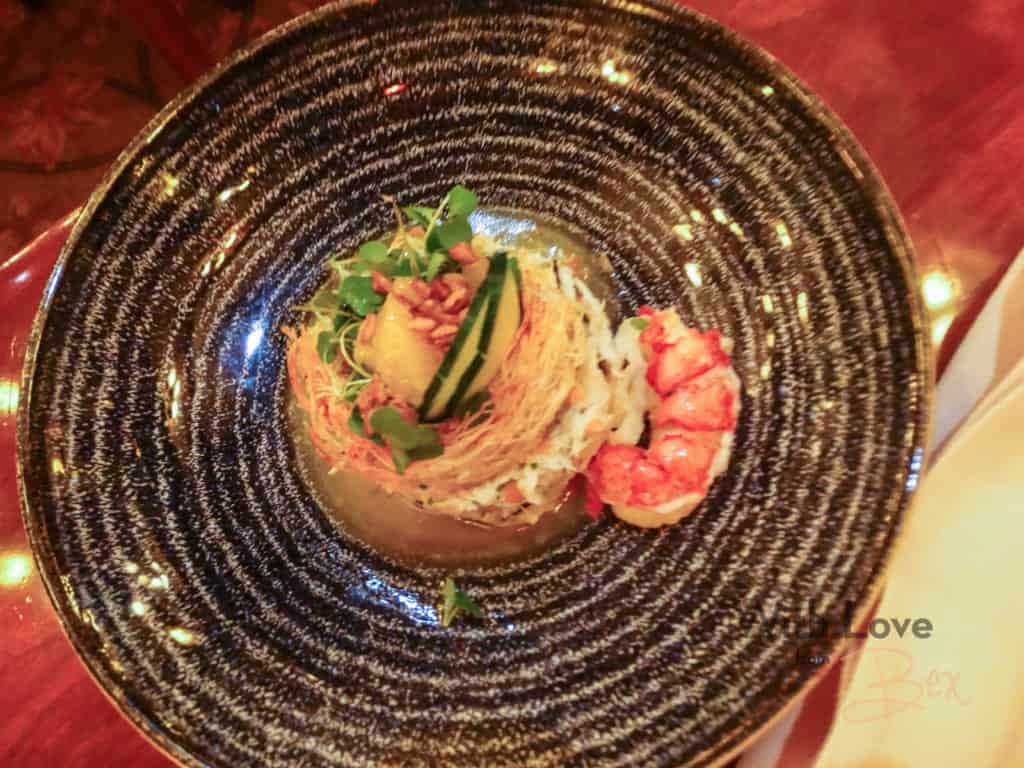 Chris ordered the vanilla-poached Maine lobster last time. It's a blue crab-ancient grain salad, spiced phyllo, tiny greens with a blood orange vinaigrette. He enjoyed it. I didn't taste this so I'll take his word for it. He said that he would order it again and I believe that, by the time I looked up his plate was clean so it must have been really good.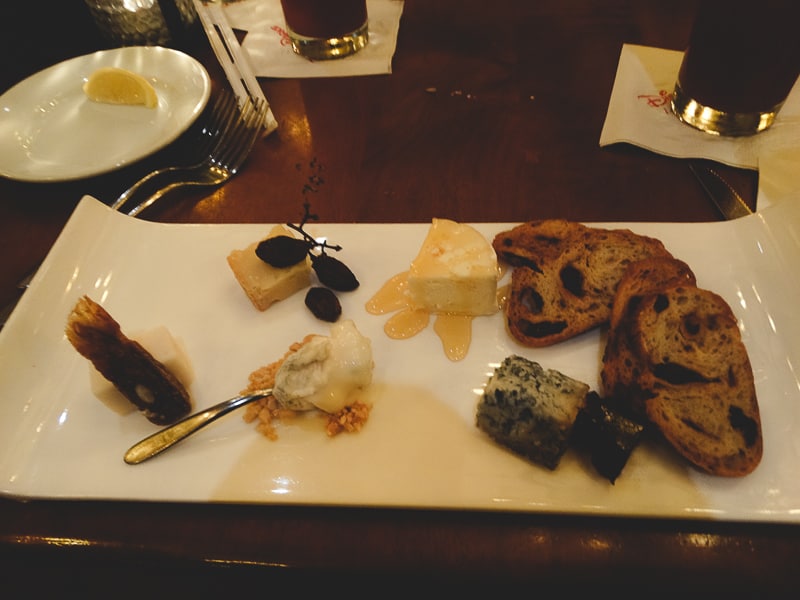 Another option for an appetizer is an artisan cheese plate. These plates are usually cheeses picked out by the chef so I can't remember what the cheeses above were. I remember all of them being tasty. It's a plate of cheese though, so you can't go wrong. I personally prefer my cheeses paired with desserts and wines so I don't think I would order this as an appetizer again but that's just me. If you enjoy your cheeses before dinner, then give this one a try.
Now for the main course. The best dish they have, at least in my opinion, the Filet Mignon.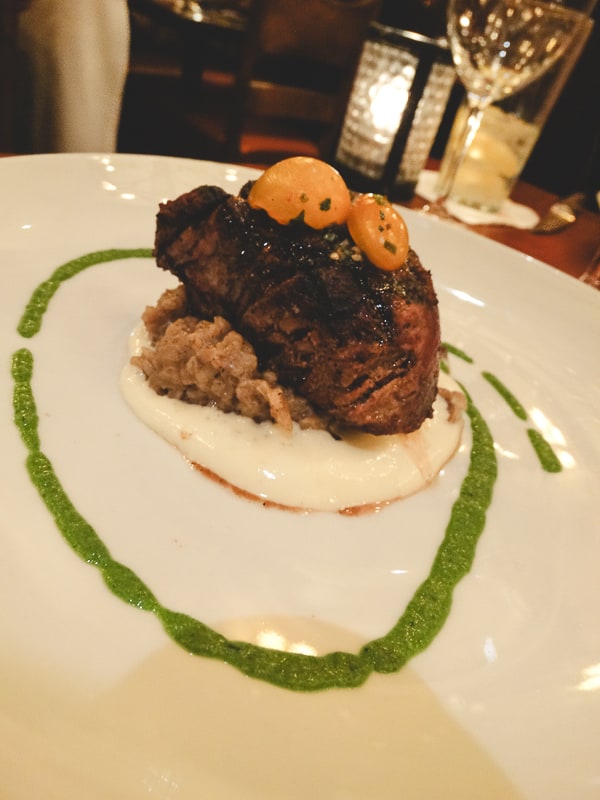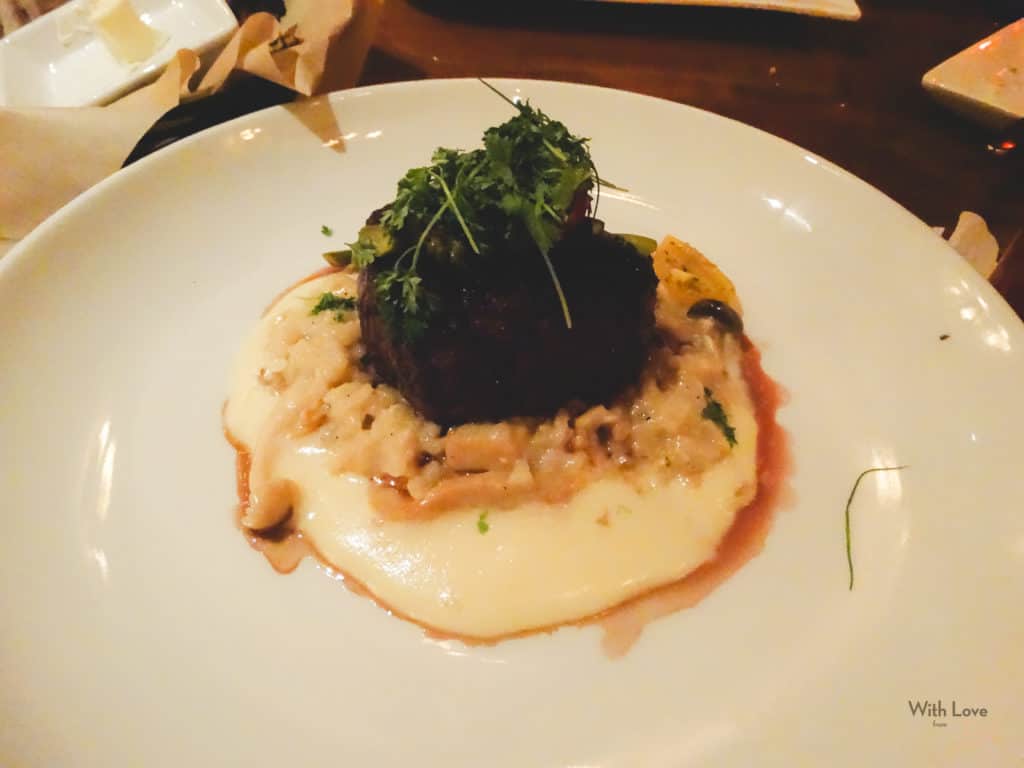 Le Cellier Filet Mignon consists of AAA Canadian Tenderloin, Mushroom Risotto, Asparagus-Tomato Relish, Truffle-Butter Sauce. It is so good. I recommend getting it rare but if you can't do the rare thing, then get it medium. It's such a tasty and satisfying dish. The risotto is a nice pair for the filet mignon. Years ago, the filet mignon used to be served on mac and cheese. The mac and cheese used to be my favourite mac and cheese on property, but then the menu changed a bit when Le Cellier went from being a regular table service to a signature dining location.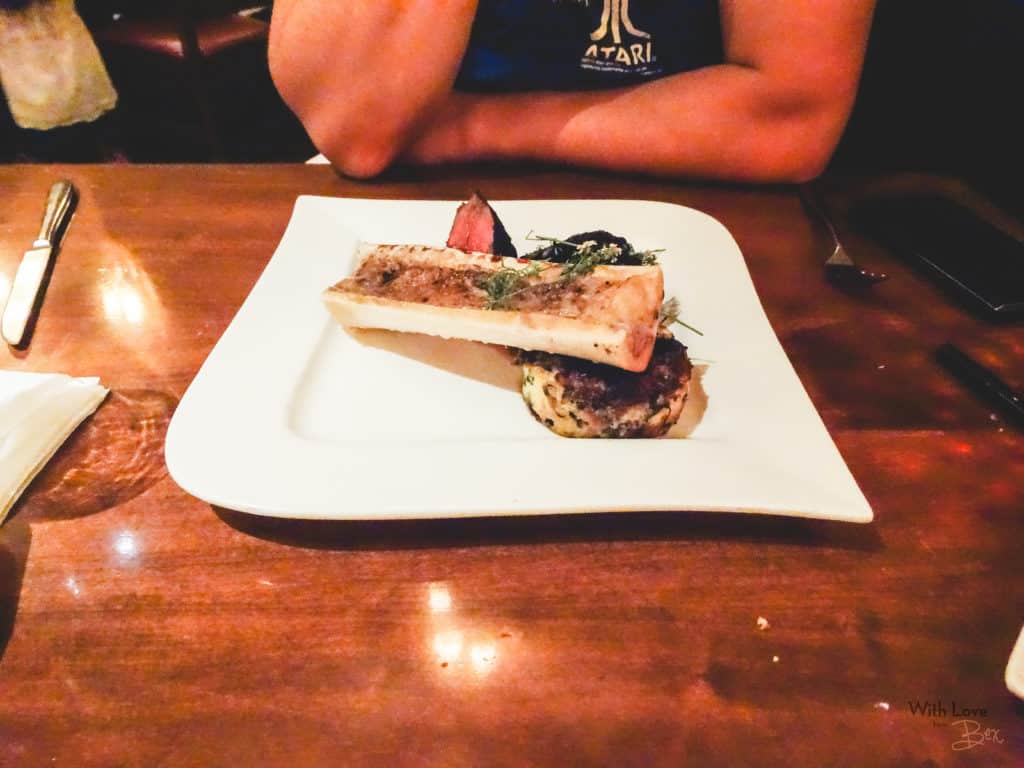 Back in 2015, Le Cellier used to have Bison on the menu. In April, the Bison is no longer available. Chris ordered this dish. He said it was good but not as good as the filet mignon. I personally didn't enjoy the bison. I found the texture off-putting, so I'll stick to my filet mignon.
Lastly, desserts. Oh sweet tooth, you never fail in making us happy. Le Cellier's desserts are simple and yummy. Out of all the dessert, we have tried, we recommend the Maple Brulee and the Nanaimo Pie. These will not disappoint.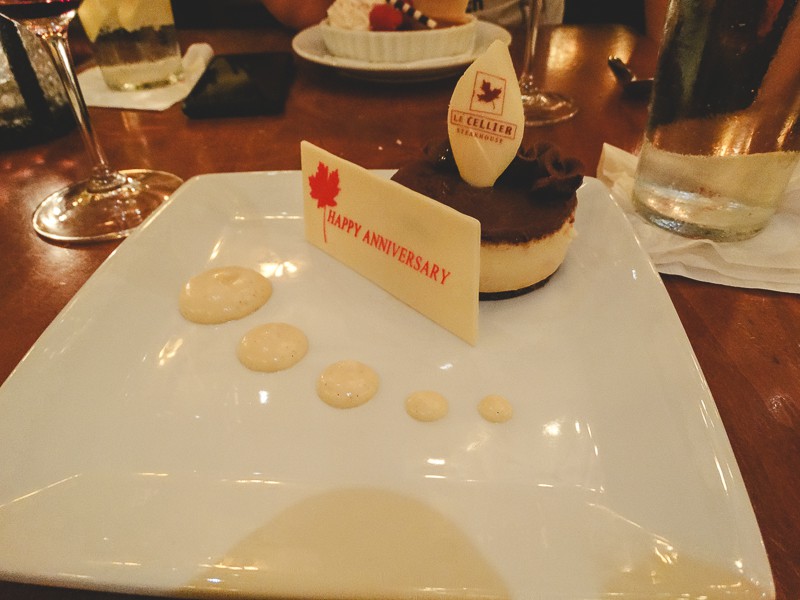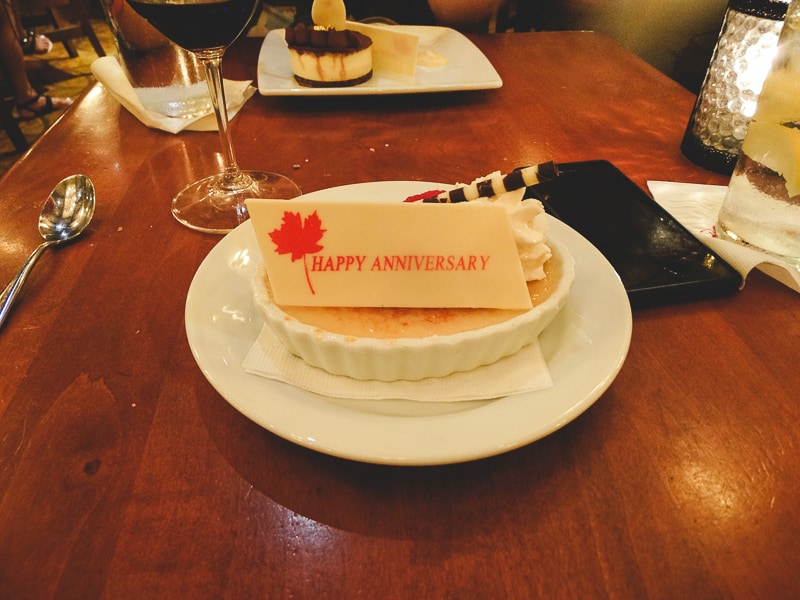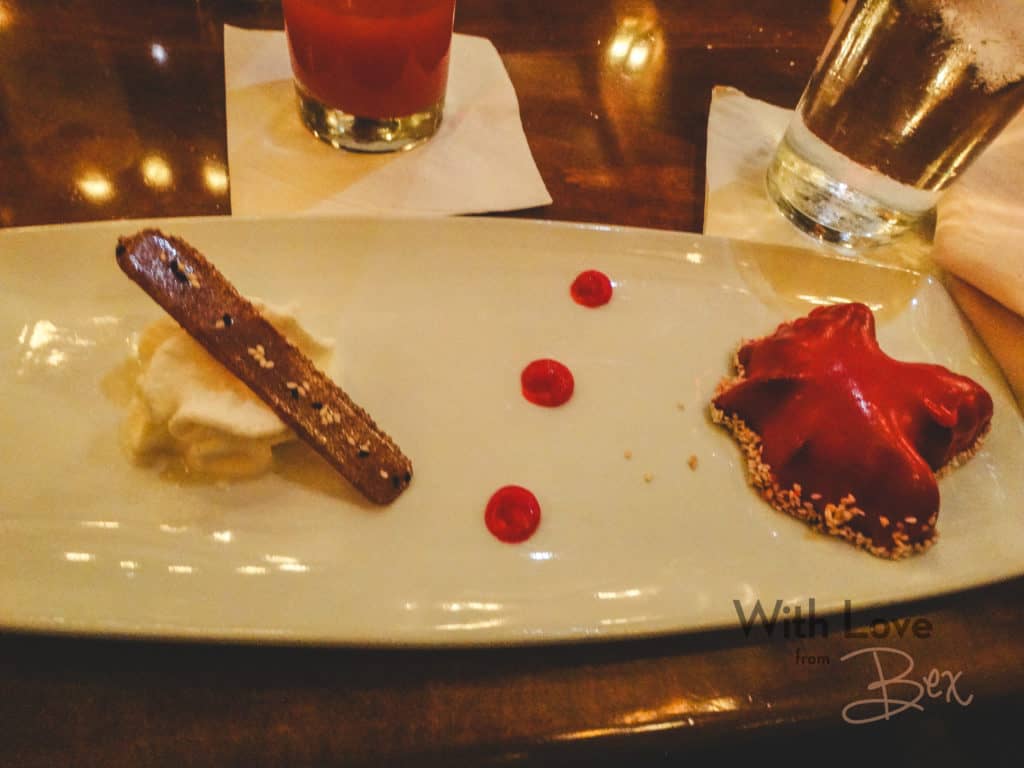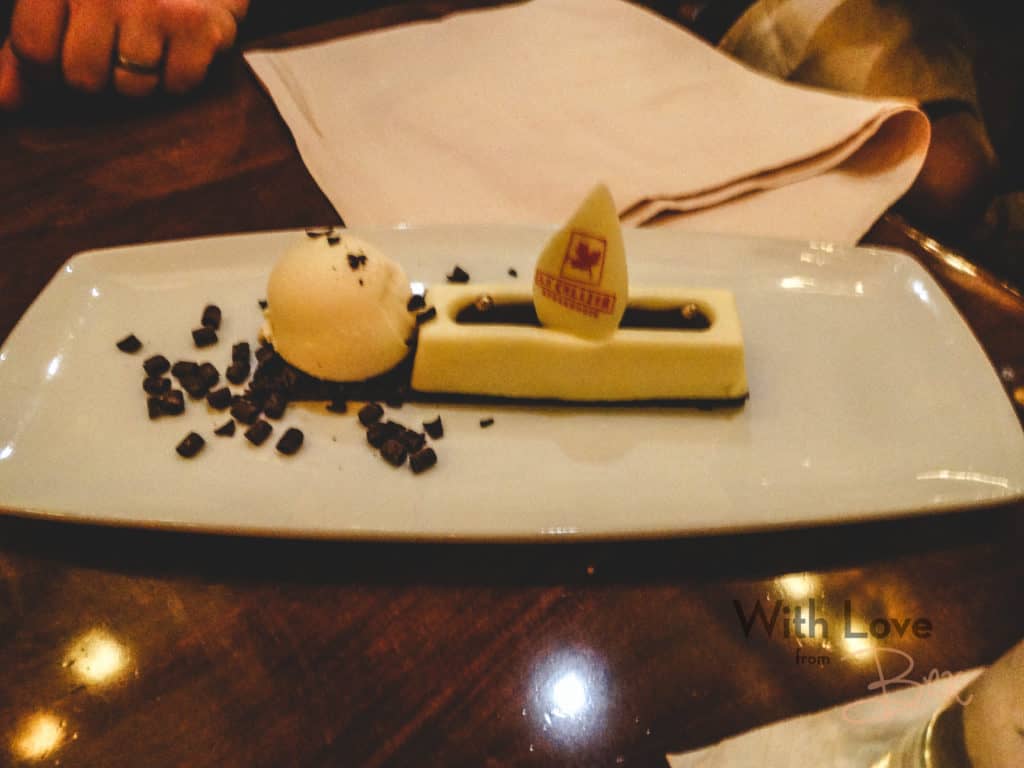 An honourable mention does go out to the maple leaf mousse. The sesame tuile is so yummy, I wish I had had an entire plate of just that.
So there you have it, our review of Epcot's own Le Cellier. It's not to be missed. Just remember if you want a seat you'll have to make a reservation early. They do accept walk-ups but it always seems like such a long wait and I don't know about you but I am not a patient person when I'm hungry. The next time you're planning your Disney World vacation, plan a stop at Le Cellier and have the filet mignon. You won't regret it.
Have you been to Le Cellier? What's your favourite dish? Let me know in the comments below. I would love to hear from you.